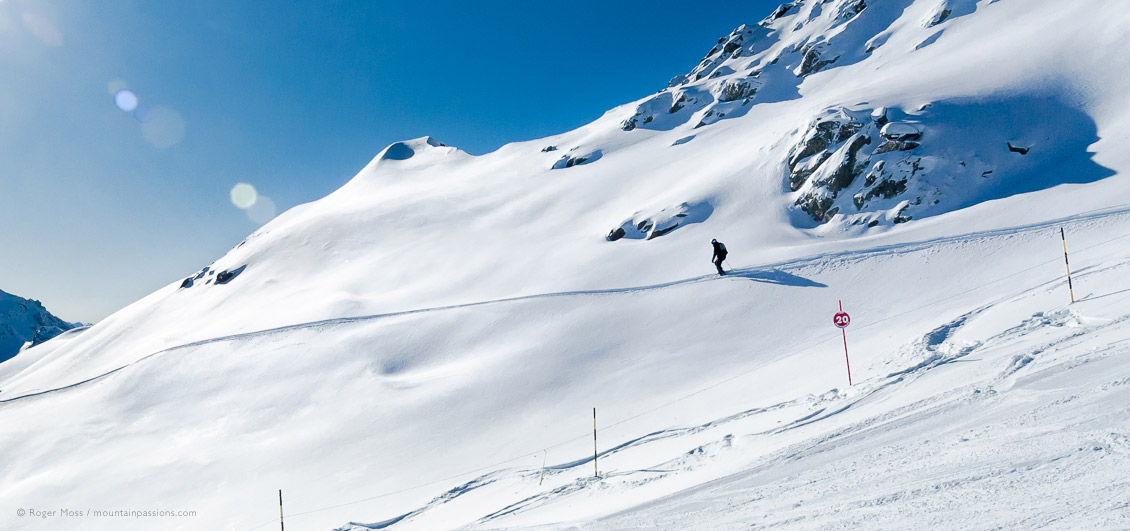 Insight: Serre Chevalier
Our previous visit to Serre Chevalier had allowed us to ski only a part of this vast domain, so we vowed to return, to get a clearer picture of what to expect during a more typical ski break. Some places take some getting to know, and in our experience, are all the better for it.
To any seasoned ski traveller, leaving Grenoble via the D1091 towards Briançon always brings a sense of adventure. The route is an experience in itself, climbing steadily past a succession of ski stations including Vaujany, Oz-en-Oisans, Alpe d'Huez and Les 2 Alpes. As we reach La Grave the first snow flurries announce the final climb towards the 2058m Col du Lauteret, but the 'Col Ouvert' signs prove to be reliable and we make it over without recourse to snow chains. All the same, we take it easy on the final long descent into Le Monêtier-les-Bains (our base during our first visit) then onward to our apartment at the Résidence l'Adret in Chantemerle.
It's impossible to remain unmoved by the outline of Mont Pelvoux and the countless other peaks of the Parc National des Ecrins stretching to the horizon beneath a steely-blue sky. Days like these are apparently pretty typical here..
Our base in Serre Chevalier: Chantemerle
Next morning, after picking up our lift-passes we take the Blétonet and Les Combes chairlifts through the tree-line and into bright sunshine at around 2350m. From here you can launch straight onto the humps and banked hairpins of a popular boardercross piste, a now-essential feature. We love them too, but as time is short we ski down beside the run on the blue-graded Combes, to pick up the Grande Serre chairlift. Finding it closed, we press on, passing the venerable Coqs draglifts and soon reach the six-seater Prorel chairlift. This powerful lift hauls us smoothly up to over 2400m, where a stiff, icy breeze is blowing in from the southeast with a Mistral-like ability to slice right through your clothing. Once beyond the ridge, though, things are suddenly calmer as we drop down on Bergers, another wide, blue-graded run, while two nearby reds go their own way for awhile before ending up right where our run does, namely the base of the Rocher Blanc chairlift.
Despite the terrain over here being south-facing, low temperatures have kept the snow in great condition so there are no nasty icy patches to suddenly unsettle our skis. Which means we can relax and take in the jaw-dropping surroundings. They're called the Hautes Alpes for good reason, and it's impossible to remain unmoved by the outline of Mont Pelvoux and the countless other peaks of the Parc National des Ecrins stretching to the horizon beneath a steely-blue sky. Days like these are apparently pretty typical here, interspersed with frequently epic snowfalls – the perfect combination in the eyes of just about any keen skier.
The Outer Limits
But we're not just here for the views. The plan is to make our way over towards Briançon, by what turns out to be the scenic route.
The onward run around the mountain begins as Le Chemin, a gentle enough cruise to be graded green before morphing into Chaussée, which is a blue with a couple of quite steep sections. Why do they do this? Maybe to build up green-only skiers' confidence and encourage them to step up to blues; after all, you have to do it sometime.
For your effort you're rewarded with a real sense of being right away from it all, a factor which almost always makes perimeter runs well worth discovering, even when they might look unexceptional on the piste-map.
That's Briançon down there…
At the foot of the piste lies a decision or two: continue on the red-graded descent snaking its way down into Briançon, take the gondola down (or up) or do as we do and stop for lunch at the Chalet de Pré Loup mountain restaurant. It's cunningly sited between the gondola and the children's ESF Piou-Piou children's learner area and also throws in startling crow's-eye views of the remarkable fortified city far below. On a sunny day like today it's a tough place to leave, but we still have some distance to cover if we're going to head back over to Chantemerle and beyond.
So, the Prorel gondola it is, then. This really is quite a lift, whose first section (or 'tronçon') brings skiers and visitors up from Briançon, a cable-distance of 1222m, with 414m or vertical. But it's nothing compared to the second stage, which hauls us another 2370m, along the way climbing through 728m – by any standards an impressive ride.
At the top we climb out in perfect sunlight onto still near-perfect snow, although there's also a taste of the chill winds we encountered earlier, so we ski straight across to pick up the nearby Serre Blanc chairlift. We've ridden our share of breezy lifts over the years, but today this is in a different league. Before we're anywhere near the summit we feel like we're being freeze-dried, and tough-out the rest of the ride while literally aching to be safely over the ridge. When we get there, doing so proves challenging, as skiers all around us are also discovering, but we push on, powering our way for the next minute or so feeling like Arctic explorers, while nature's wind-tunnel whips the snow into impressively swirling clouds. At which point we notice that everyone (ourselves included) is smiling at the mad unreality of it all, and the sense that we're all sharing something of a mini-adventure. Less than a minute later, as suddenly as it began, it's all over and we've morphed back into ordinary skiers out for some afternoon fun in the sunshine.
Heading back, to Villeneuve this time
While boarders hone their tricks in the large snowpark to our right, we ski on, taking Angea (blue) down to the Cote Chevalier fixed chairlift for a sedate haul up through a steep tract of larch forest. This time we decide to cruise down towards Villeneuve by way of Génépi, Alpage and the much longer Marteau runs. One of the joys of skiing here is the wealth of sheltered return pistes among the forested mountainsides, and this perfect example drops us neatly just beside the novice area. From here it's just 200m or so to the shuttle-bus pic-kup point, for connections along the valley between Le Monêtier-les-Bains and Briançon. Given time, there's a lot more we could have done before heading back, but we've previously explored the sector about Le Monêtier and know just what it offers. It's also well-connected with the other areas these days, after massive investments in lift upgrades by owners Compagnie des Alpes. Our experiences tell us that obviously it won't be quite so relaxed during peak season periods – particularly the French school holidays – but we haven't encountered any signs of bottlenecks during our time here, and there's an awful lot of terrain on tap to keep everyone happy – including near-limitless off-piste.
So, what impressions do we take with us after having finally broadened our knowledge of the ski area? Well, the first thing to say is that it all fits together remarkably well. You might take that as read, but you'd be ignoring the fact that for many years British skiers have had a slightly confused picture of just what Serre Chevalier actually is. Okay, there are multiple villages spread along the valley but other areas are similarly dispersed, although more often vertically, i.e. at different altitudes on the mountain. Apply the same mindset here, substituting horizontal for vertical and you suddenly see that this place really is a cohesive, practical proposition. And given the snowfalls, sunshine record and above all the wealth and quality of skiing on offer for all levels, you'd be crazy not to come and ski it.