Ski Equipment – is it better to rent or buy?
We offer you some tips on renting versus buying your winter sports gear
From the moment the first snow starts to fall in the Alps or even before, skiers and snowboarders can hardly wait to get on the slopes for their annual winter break. It's an exciting prospect and takes time to plan and for many, a time to do some sums to balance out the budget. So when it comes to equipment, is it better to rent or buy?
Ski holidays cost an average of 73€ per person per day*
According to a survey commissioned by the ANMSM (Association Nationale des Maires des Stations de Montagne) and carried out by ConsoMontagne (2018)*, a ski trip costs on average, 73€ per person, per day. The average French budget for a week with the family on a winter sports holiday is 1,579 euros. About 73% of visitors will ski and there's a fast growing number of boarders at 11% in 2018 rising from only 6% the year before. With other visitors taking part in snowshoe walks, ski-touring etc. there's a huge market for sports equipment. Without blowing the budget completely, we look at whether it's better to rent or buy equipment and offer you some tips.
1. How often do you ski?
If you are a frequent skier and visit the mountains for more than two weeks during the winter season, it's a good idea to invest in your own skis, poles, boots and snowboard (according to your preference). It costs somewhere between 120 and 200 euros to hire equipment for the average skier or beginner. This can be reduced by pre-ordering online with ALPINRESORTS.com where you are guaranteed the best price. But renting can also be more expensive if you opt for a premium package. Working it out, if you do this three times a year, for a total cost of around 600 euros you could make an investment in some quality skis and boots that will last several years.
Not everyone can afford to splash out that sum of money all at once so it would be worth buying from the huge range of used skis on sale at the end of the season. It's worth noting that having your own equipment isn't always convenient or cost-free. They are cumbersome to carry if you're flying or travelling by train and are often subject to fees by the carrier.
Advertisement
Save precious skiing time when you book your ski equipment online with ALPINRESORTS.com After a quick and easy reservation everything will be waiting for you when you get to the resort. You get to choose the shop and there's a BEST-PRICE GUARANTEE.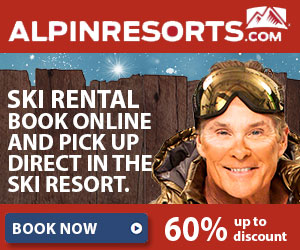 Make BIG savings by booking online today!
2. Children
If you're travelling as a family and you're wondering whether it would be better to purchase equipment for your children the answer is no. It's a simple fact that children grow and they will need frequent upgrades to keep pace with their shoe size! Plus, renting childrens equipment is cheaper than for an adult.
If you are booking a package ski holiday check the details for special deals on ski hire. Alpine specialists Peak Retreats organise family ski holidays in resorts throughout the French Alps. You can pre-book all your equipment through them safe in the knowledge that you have got a great deal and just need to collect it on arrival.
3. Clothing
You can find skiwear at very reasonable cost in cut-price supermarkets and sportswear chains such as Decathlon. But did you know you can also hire skiwear from specialist companies? SkiTogs, based in Oxforshire in the UK, claim they can clothe anyone from toddlers up to large men. If you want to save luggage space, it is now possible to hire skiwear at many of the popular Alpine ski resorts. Companies like Ski-Chic offer a rental service where you can pre-order top brand clothing online and pick up at one of their shops, or they will deliver your clothing straight to your accommodation.
4. Special Offers
Always check resort websites for special offers, especially at the beginning and end of the ski season.France Montagnes' annual Skiing into Spring campaign has an exclusive new deal for 2020: For every ski package purchased, no matter the age of skier, you can get a adult beginner package completely free. This package includes ski lessons, equipment hire and the ski pass. See the list of resorts and to book Skiing into Spring.