Skiing for Beginners
Hints and tips for first-time skiers in the French Alps
You want to learn to ski, but where do you start? Information overload can make planning your first ski trip an alarming experience – but don't panic. Talk to friends who ski, read resort reviews, decide when you can travel and look at what's on offer. Here are some tips to help make your first ski trip enjoyable enough to make you want to go again, and again…
Our advice is to avoid the busiest periods and instead take advantage of the quiet weeks, when you could have the pistes virtually to yourself and your accommodation will be significantly cheaper.
When is the best time to learn?
Absolute beginners can learn to ski at any time during the ski season (typically early December until late April) and expect to get tuition with one of the licenced ski-schools which operate in just about every ski resort (or 'station') in France. Our advice, though, is to avoid the busiest periods and instead take advantage of the quiet weeks, when you could have the pistes virtually to yourself and your accommodation will be significantly cheaper.
Early Season
The weeks before the Christmas and New Year peak time may offer a bargain ski holiday but beware, as snow conditions may not be good until later in the season. If you're considering a last minute offer, check the live webcam images for the area before deciding. Snow cover can vary enormously between ski areas.
Good For: those who can get away at short notice and take advantage of early snowfalls.
January
Until the French schools begin their half-term holidays in early February, January can be an excellent time for learning to ski. Snow conditions are often at their very best and slopes have relatively few skiers, but it can be very cold and the days are short. Lower ski resorts are also more likely to be traditional mountain villages which offer a more authentic French ski experience. Try resorts like Les Carroz or Samoëns in the Grand Massif ski area, or Morzine, Les Gets or Châtel in the Portes du Soleil.
March and early April
Avoiding the two weeks around the Easter Holidays, you should still have good conditions. It will be less cold thanks to longer days and the onset of spring. Beware of south-facing resorts at this time of year as their lower slopes can get very slushy in the afternoons, creating difficult conditions for learners.
Find a resort which is predominantly north-facing such as Valloire in the Maurienne Valley or which offers some easy, high- altitude terrain like Les 2 Alpes, Tignes or La Plagne.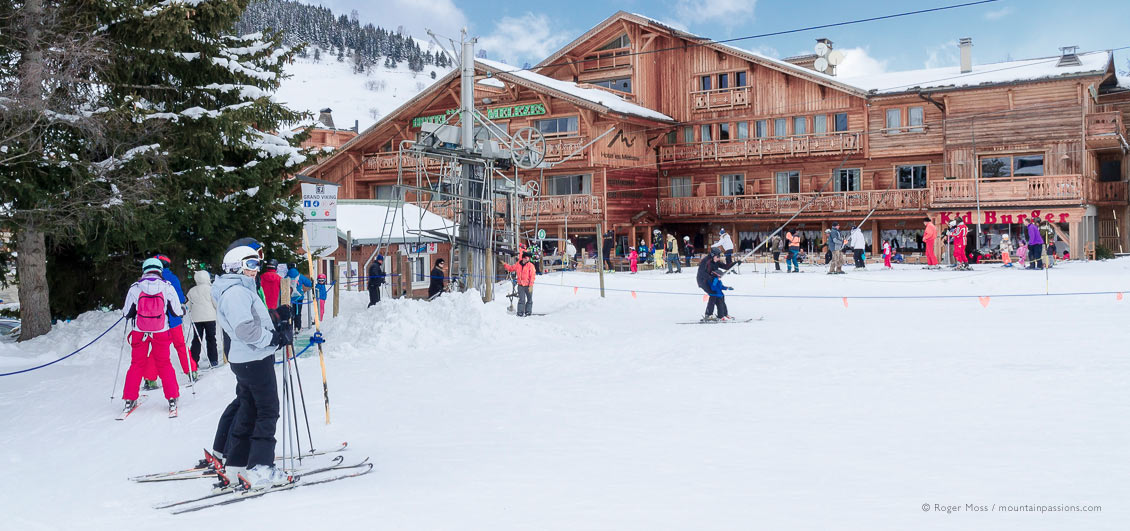 What to wear
Beginners will need to buy or borrow some basic ski clothing. Buying skiwear to learn needn't be expensive, with sports outlets such as Decathlon selling "basics" at very reasonable prices. Beginners spend more time standing around and falling down than other skiers, so wear several layers, a polo neck, a helmet, and in really cold weather, some thermals as a base-layer.
Essential Skiwear – a practical minimum kit for beginners:
Ski-jacket with an inside pocket – many resorts have a hands-free lift pass which can be placed inside your jacket on the left-hand side but not next to your mobile phone. Don't be tempted by padded or puffa jackets, which will soon overheat you when the sun shines.
Salopettes. Budget price salopettes (ski trousers) are fine to learn in. Spend a bit more to get breathable, stretchy fabric that gives more overall comfort. Never attempt to ski in jeans.
Ski-socks. Our tip is to spend a little more on two pairs of smooth, fitted ski-socks rather than a temptingly cheap pack of towelling-lined 'tubes'. Your feet will thank you.
Ski-gloves or mittens must be waterproof – look for ones which have a clip allowing you to attach them to your jacket. Losing them (or dropping one while on a chair-lift) is a disaster.
Ski helmet. Essential for children but now worn by most adults. They are compulsory in Italy and Austria and some states in North America. Helmets can be hired along with your skis and boots and help protect your head in a fall or if someone bumps into you. Our advice is to wear a helmet from day one.
Sports sunglasses. Don't wear expensive sunglasses; get a pair of cheap sports glasses designed to take shocks – and make sure they absorb 100% UV, which is higher at altitude. In really cold conditions, or if you experience bad visibility during falling snow, you will be more comfortable (and be able to see more clearly) with ski goggles. Lenses are tinted in various colours, lighter ones generally being more useful as light levels drop in poor visibility. Dark lenses, logically, are intended for brighter conditions.
Never ski without sun protection. It may sound crazy but you need extra protection at high altitudes – even in January use a quality, high-factor sun-block. Buy it before you leave for the mountains; it will be cheaper…
Hiring Equipment
Shoe size, weight, and ability. Trained hire shop staff will do their best to fit you with the correct size boots, and the skis most suitable for a beginner. Make a note of your European shoe size and your weight in kilos before you go, although most hire shops have English-speaking staff who tend to be familiar with British shoe sizes and imperial units. You will be asked for your weight and your skiing ability. Always be honest about this – your answers will determine the precise settings on your skis which will release you safely should you take a tumble – if the settings are incorrect and your feet remain fixed to the skis you can twist a knee, or worse. Either way, you won't be skiing again that week.
Boot fitting. When you try on ski boots for the first time you won't believe how tight they can feel. However, once on and correctly fastened they should become more comfortable. When you ski you'll be leaning forward, so try to do this by bending your knees slightly when you try on the boots; your toes should not feel cramped. When you start to ski, if your boots feel loose or if you experience any discomfort (tingling, cramps or sores) don't be afraid to return them to the shop. Skiing should be fun but in the wrong size boots you'll be miserable. The staff will check that the boots are being fastened correctly and, if necessary, exchange them. Since your ski bindings must be adjusted to the specific dimensions of the boots you're using, have your skis with you for re-adjustment.
The right skis. If you feel your skis aren't doing what they should, have a talk with your ski-instructor, or discuss the problem at the hire shop and get their advice.
Ski helmet. Don't buy a helmet just to learn, hire one with your other equipment. It's not expensive and it can save your life.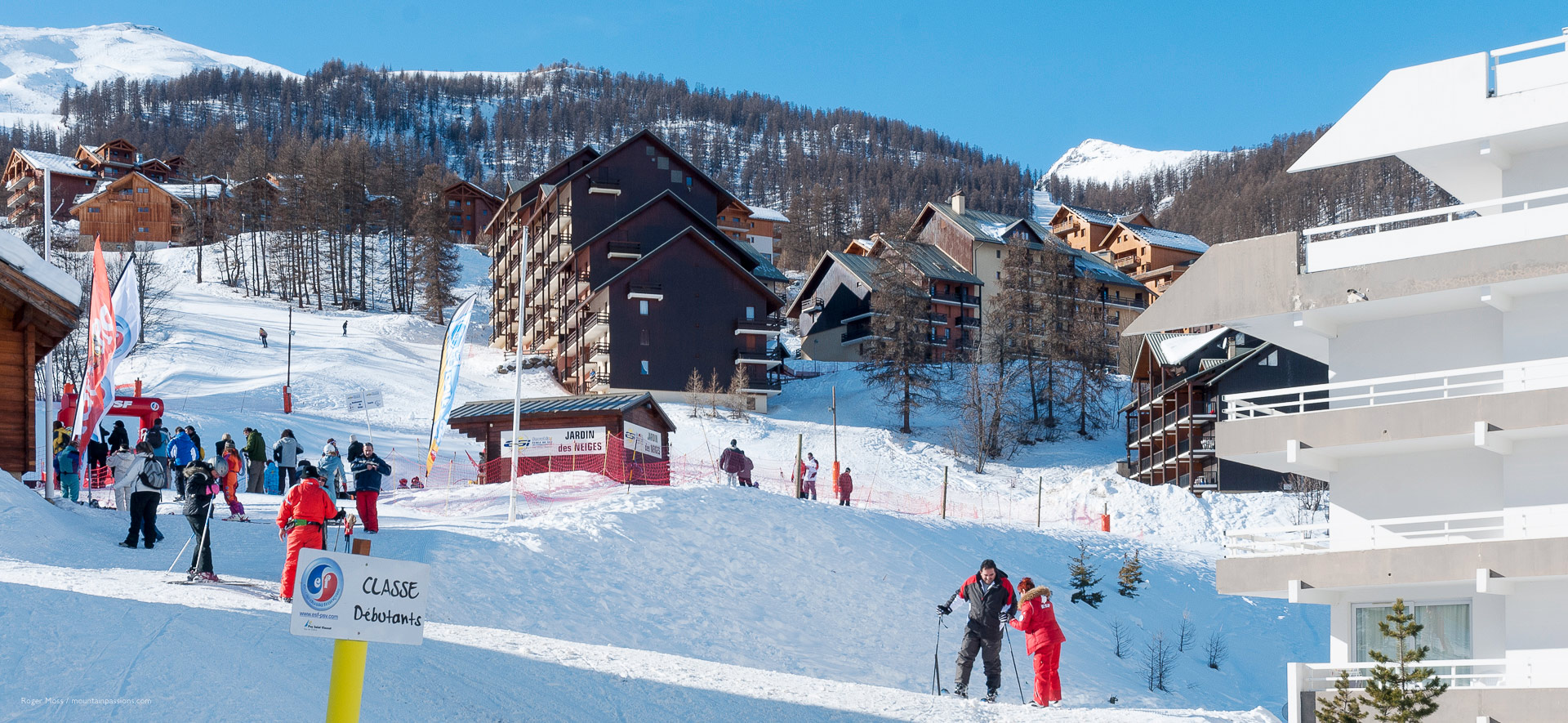 Choosing where to stay
Faced with so much choice, choosing somewhere to stay on your first skiing holiday can be confusing. Here's some insight to help you in your decision-making.
Sociable types could opt for a catered chalet or package deal – great if you want to avoid cooking and love meeting other people. Beginners may prefer to be with a group of other learners, to share experiences and get mutual support.
A good option for couples who want to relax away from the crowd are hotels offering half-board deals. These are often terrific value but you have to be prepared to take what's on offer for the evening meal and may feel that you're missing out on visiting restaurants.
Self-catering holidays will definitely save you money on your first ski trip, and often well beyond. Budget apartments are often located beside the ski slopes but may lack the space, comfort and facilities you might expect. Go for a mid-range apartment and you will find the greatest choice, with some amazing offers outside the busiest periods. Visit our Latest Ski Offers page some great deals. Many new apartment complexes have pools and spa facilities as well as being ski-in/ski-out. Beginners should enquire whether the ski access is suitable for learners, though, and remember that you may need to walk to your ski-school meeting point on the first day or two, so ask whether this is possible.