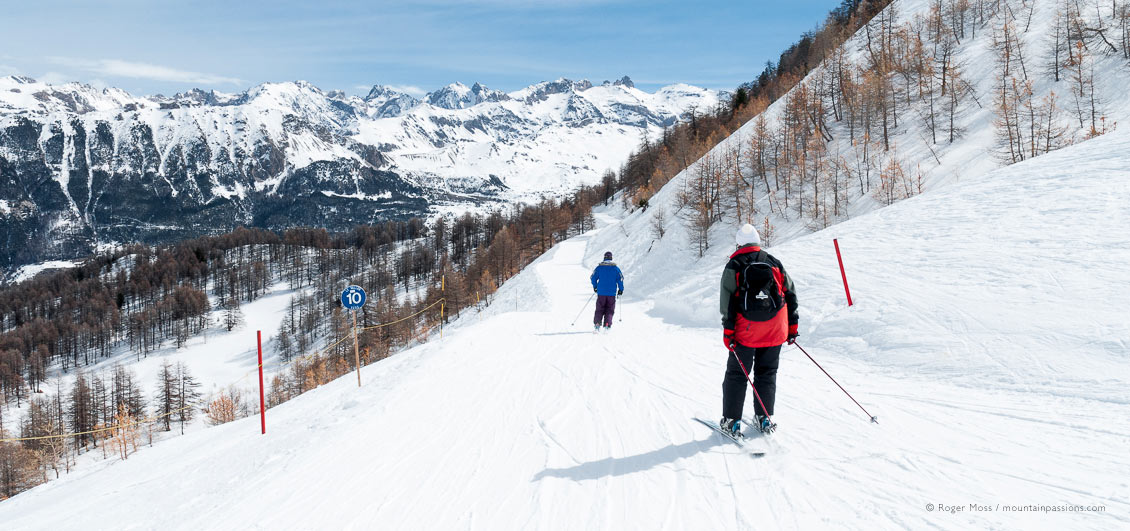 Insight: Vars
Our arrival, beneath a clear blue sky, gives no hint of the dramatic change of conditions which have been forecast repeatedly for the night ahead. Sure enough, we awake to the kind of vision which in any other circumstances would have dissuaded us from even thinking about skiing until visibility improved. But we have an appointment with a guide, so find ourselves dutifully togging up, joining a nearby gentle piste and making our way in near-disbelief, and against driving snow, down to Vars Les Claux. When we get there strong gusts of wind are threatening to rip the colourful event banners strung across the road. Our host, though, is optimistic and — so far, at least — the Chabrières gondola lift is still functioning.
There's barely a soul over here, and we're in powder heaven as we glide down through red-graded tree-lined pistes all the way down to Vars Sainte Marie.
Fresh, soft snow and a clear blue sky in Vars
Things look distinctly marginal to us, though, and we edge up the mountain at a snail's pace while peering out apprehensively into the snowfalls swirling around us. When we alight, despite the marginal conditions the sensation of the fresh powder beneath our skis raises a smile and we glide off in the tracks of our guide, thankful for his company and knowledge of the mountain.
For an hour or so we float around the more sheltered pistes above Les Claux until the wind starts to drop and visibility begins to improve. Encouraged, we take the chairlift across the valley and head up through the forest to emerge at Peynier (2273m). There's barely a soul over here, and we're in powder heaven as we glide down through red-graded tree-lined pistes all the way down to Vars Sainte Marie. The return haul via the I and II drag-lifts gives us plenty of time to ponder the growing appeal of a chocolat-chaud, which we're about to sample in the Peynier mountain restaurant.
Duly revived, we head off on the blue-graded Mélèzes piste down to Les Claux, re-cross the valley and work our way up to La Mayt (2580m).
By now the bad weather is a distant memory, leaving only fresh, soft snow beneath a clear blue sky — perfect conditions, in fact, for a visit to the Col de Crevoux (2530m) and on up to the Pic de Chabrières. This involves taking the Chabrières draglift for an epic 1550m ride at 3.7m/sec. Not surprisingly, then, this lift is for confident skiers only, but we have to say that it's well worth the effort and will leave you in no doubt that Vars really is the domain of big-mountain skiing. From 2750m the views are truly panoramic, with orientation panels to help take in everything visible on the vast, unbroken skyline, while far below you can make out the tree-lined pistes of Crévoux. Now, if they could only link it…
From the Pic we make an exhilarating onward red-graded swoop on the Col Sans Nom and join the blue-graded Saluces piste to the Razis chairlift which hauls us to the Pointe de Razis (2571m). From here it's an enjoyable cruise back down to the tree-line and into Risoul 1850. The village has developed since our last visit, yet still retains its youthful appearance. We're already aware just what the local tree-lined runs offer novice and intermediate skiers, so content ourselves with taking the Prés du Bois chairlift and a gentle green run back to the Platte de la Nonnehigh-speed chairlift , which hauls us all the way back up to the Pointe de Razis.
Can it get any better than this..?
Only our growing appetites tell us just how far we've travelled since our dutifully early start this morning, so we work our way back to our lunch destination. After a long plunge on the blue-graded Vallon, we take the Vallon drag-lift to La Mayt and join the long blue cruise on the aptly-named Heureux over to the welcoming mountain restaurant of Les Cassettes. In perfect snow conditions, it's one of the best powder descents we've ever experienced.
How do you follow that? In our case it's an easy decision: head back over to appreciate a little of what the early morning visibility had denied us. We're not disappointed, and enjoy the perfect end to what has turned out, against all expectation, to be a blissful day's skiing. For us, Vars is right up there with the very best of French ski areas. Add the terrain of Risoul 1850 and you begin to wonder how much longer it will be before the rest of the world finally discovers La Fôret-Blanche.