All About Ski Touring
Getting away from the crowds
More and more people are turning to ski touring; it's in fashion, yet the appeal is timeless. Who hasn't dreamed of leaving the lift queues and the crowded pistes behind to go further up the mountain and find perfect, untouched snow? If you want to discover how your skis can take you into a perfect untouched Alpine wilderness this winter, read on..
Who hasn't dreamed of leaving the lift queues and the crowded pistes behind to go further up the mountain and find perfect, untouched snow?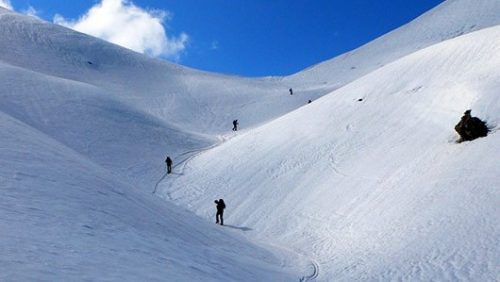 So, what is ski touring?
Ski touring, also known as ski de randonnée, ski mountaineering and back-country skiing, usually involves doing the same mountain walks that you do in the summer, but on a pair of skis. But in winter, of course, the landscape is completely different; long silent white valleys, snow-laden trees on forested paths, where chamois play in the snow. The magic of winter really transforms this unique environment. However, it's not a sport for the faint-hearted, as you'll spend 80% of the time (but not distance) going uphill. The climbs can be demanding, with steep corridors and snow caves to contend with. But it's all worth it when you reach the summit, for the spectacular views and the thrill of making the first tracks in untouched powder, in a remote and pristine Alpine landscape.
Do I need to be super fit?
You don't need to be superhuman, but you do need a reasonable level of fitness and have some skiing experience (you'll expend considerably more energy on a normal ski tour than, for example, walking the dog). A few hours of uphill terrain can be very tiring, and if the conditions aren't great, or your skiing isn't up to scratch, the descent can be just as arduous – falling over and getting up in deep off-piste powder requires a lot more energy than on groomed slopes. So basically, the fitter you are the more you will get out of it.
This also applies to your skiing level. If you can just about do a green slope without falling over, you're obviously going to have difficulty ski touring. As a minimum, you need to ski red pistes competently, and ideally have some off-piste experience behind you. You'll also encounter many types of snow while touring, so you need to be able to cope with both deep fluffy powder and concrete-hard ice patches.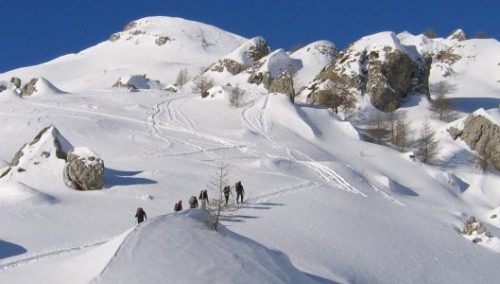 Beware…
Ski-touring isn't without risk, and avalanches, rock-falls and accidents do happen. There is no exact science for predicting avalanches but factors involved in deciding whether or not it is too dangerous include looking carefully at the snow conditions and the various potentially weak layers, the type of terrain you are in (steep, exposed, rocky etc), the weather (precipitation, wind, etc.), your group's ability and the goal. Experience and local knowledge are invaluable in helping to make the right decision. Spacing-out when traversing slopes and other precautions can also help to reduce the risk.
Ski touring often involves traversing a glacier. Glaciers are criss-crossed with crevasses which are often hidden from the naked eye in winter by snow cover. Falling into a crevasse is a serious accident (and often fatal). Traversing glaciers on skis is usually done with group members roped together, and requires an understanding and knowledge of glacier safety.
Other hazards in the mountains include rock falls, which are especially dangerous when the rock faces in the mountains start to thaw, and care should always be taken when skiing under cliffs.
Another human factor to watch out for when ski touring is our great ability to influence each other, which could lead unaware followers into dangerous situations. This is why it's imperative to go with someone with experience, or a qualified high-mountain guide. Have a look at this guide to guides to choose the right guide. You should also consider going on an avalanche safety course, so you'll know what to do if an avalanche strikes.
How do I start?
For your first time ski touring, you should start with day tours on easy terrain, so you can learn essential techniques, such as skinning-up, kick turns and mastering different snow conditions. Learning about mountain safety should go hand-in-hand with this, and it is worth investing the time and money to go with a guide (or on an organised course or ski tour) to learn properly. Undiscovered Alps Introductory Ski Touring trip is a good example of an introductory course with avalanche safety, off-piste skiing technique, day tours and an overnight tour. It is led by an experienced UIAGM high mountain guide in the Southern Alps – a perfect destination, with a wide variety of day and overnight tours for all levels.
You should NEVER go ski touring alone, even if you are experienced, and ALWAYS treat the mountains with caution and respect.