Skiing with a Disability
Ready to ski? Resorts are ready to welcome you
People with disabilities now have plenty of choice about where to ski. Resorts are upgrading lifts and ski school staff are undertaking specialist adaptive skiing (Handiski) training. We aim to help you make the right decisions to get on the slopes and give you a few ideas about where to go.
Taking part in snowsports and experiencing the thrill and excitement of downhill skiing is now a real possibility for virtually anyone, regardless of their disability.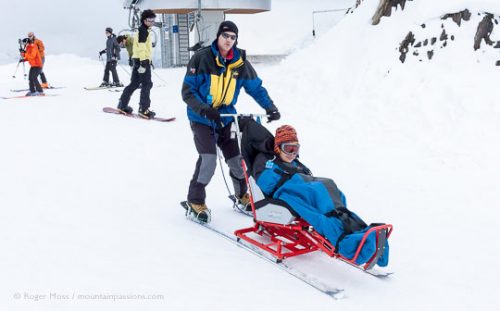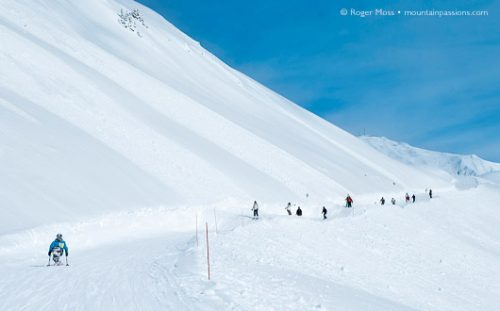 Getting Started
If you've never skied before then it would pay to travel to the slopes already knowing what equipment might suit your particular needs. Some resort ski schools have a wide choice of equipment for beginners to try. If possible, visit a 'snow-dome' (such as at Castleford, near Leeds) offering weekly adaptive ski lessons. Information about these and other instruction can be found on the Disability Snowsport UK website, which is packed with information. Ski2Freedom also have a comprehensive amount of information on their website including a directory of where to ski, ideas for other activities in winter and summer, and the help that only people with direct personal experience can give.
If you would rather learn and ski with a group of people, there are charitable organisations who can help.
Disability Snowsport UK is a good starting point. They run activity weeks both in the UK and abroad and raise funds to help disabled people have the opportunity to travel to the mountains and enjoy the freedom and sensation of skiing.
Which organisation you approach depends largely on your disability. For example, the Back-Up Trust helps people with spinal injuries.
Book equipment in advance
Once you have booked your lessons or have already tried out some equipment in a snow-dome then you probably can't wait to hit the slopes. Most areas now have qualified instructors and you should enquire in advance whether they will be able to provide the instruction and equipment you need.
Always book your lessons and equipment in advance. A non-beginner or intermediate skier who knows which ski equipment they need will find their choice of where to ski broadened considerably but this is beginning to change. Even the smaller family resorts such as Combloux are finding they can welcome disabled skiers. This is largely due to the constant upgrades in lift infrasructure enabling sitskiers to ride the lifts and access more terrain.
If you have your own equipment investigate bag transfer services which deliver to your destination as long as you have someone there who is prepared to receive it and store it until your arrival.
---
---
Deciding Where to Ski
Do you need adapted accommodation?
French ski resorts aren't generally perceived as being too aware of the needs of those with limited mobility. However, we can recommend some destinations which are making great efforts to accommodate disabled skiers and where some apartments and hotels have adapted accommodation. The Savoie Mont Blanc region has a comprehensive list of Handiski resorts on its website which would act as a good starting point to research places to stay.
Has your chosen resort got adapted facilities?
Check with someone who knows the resort, perhaps the Tourist Office, accommodation provider or your ski instructor, and find out if there are accessible toilets and restaurants in the village or on-mountain. Note where they are and inform your ski-buddy or instructor.
Do you need a 'Ski-Buddy'?
Why pay more for your lift pass — especially if you need a Ski-Buddy? Most French ski areas will offer 50% off ski passes for a disabled skier and their ski buddy ( buy 1 get 1 free). This information is not always stated clearly on websites so it is best to contact the resort to check. Resorts such as Avoriaz offers a second lift pass free (Portes du Soleil ski area) and La Plagne (where you can get up to 50% off the second pass) clearly states their disabled skier discounts on their website. In the Hautes Pyrénées, Luz Ardiden offers 2 passes for the price of 1 for a disabled skier and a buddy. It's also worth noting that if you are heading to North America, Winter Park in the NSCD offers group rates and consider two adaptive skiers to be a group.
What equipment do you need?
If you've already skied and you know what equipment you require, reserve it when you book your travel — owning your own equipment will give you more independence and increase the choices of where to ski. See the guide by the French manufacturer Tessier, whose website is also a wonderful source of information about skiing in France and lists many ski schools, accommodation providers and organisations on its Links page.
Tailored Instruction
The French ski school ESF has instructors who are specially qualified to teach standing (uniski or dualski), seated (skichair and nordic sledge), partially-sighted and blind skiers (guiding), and more and more schools are acquiring equipment suitable for disabled skiers. All ski areas are dedicated to increasing the opportunities for disabled skiers — an example being the Rhône-Alpes Region, which is subsidising the provision of specially-designed skiing equipment for the disabled (dual-skis, ski-karts etc.) for local ski schools. This equipment is then lent free of charge to ESF customers for their lessons.
The prices for teaching are exactly the same as for the able-bodied. The equipment supplied is approved for use on ski-lifts, and the charge for skiing is often subject to reductions for seated skiers and their companions other than the instructor. Visit the ESF UK website and click on Handiski under Other Experiences on the menu. You will find a comprehensive guide on where you can find ESF instructors and equipment or look out for the Handiski symbol on individual resort websites. Independent ski schools often offer a more tailored service, a wider range of equipment and English speaking instructors. Many British ski schools offer disabled ski instruction— See our Resort Recommendations or visit your chosen resort website for contact details.