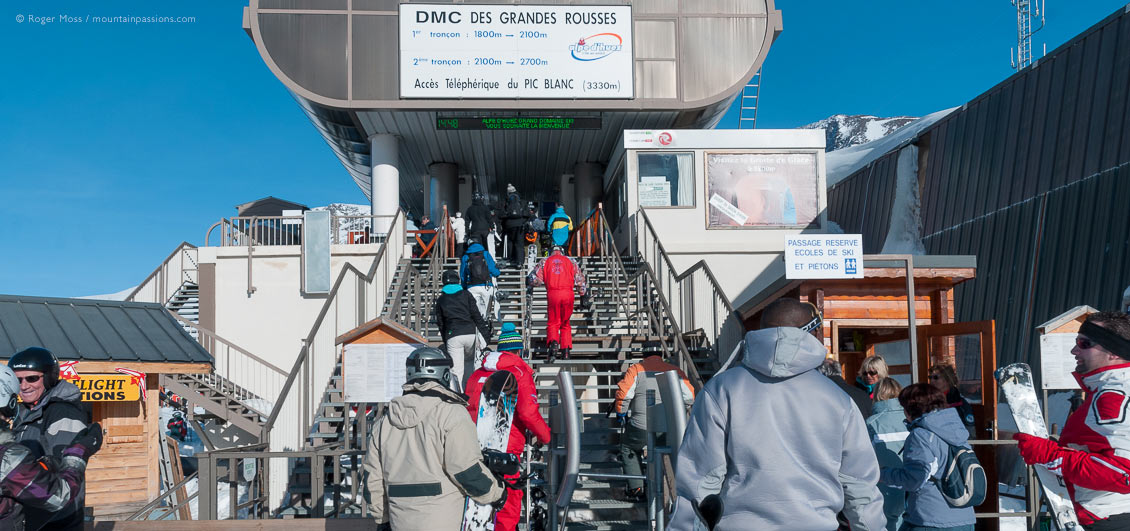 Insight: Alpe d'Huez
Seeing it from the inside, of course, turns out to be a much more hands-on experience. When we finally arrive by car Alpe d'Huez actually feels a lot bigger on the ground than it had looked when we skied down into it from the mountain, a result of the purpose-built village – 'town' now feels a lot more appropriate – having gradually evolved and expanded over a period of more than seventy years.
Architecturally things have changed a lot, particularly around the Jeux area, where the latest developments (and redevelopments) have responded to what today's increasingly-discerning visitors are looking for.
When TV coverage of the Tour de France included the gruelling climb to Alpe d'Huez, it wasn't only the epic battle to win the stage which fired our imagination.


Installed, up and away
After making ourselves at home in our apartment in the Résidence le Cristal de l'Alpe, we resist the temptation to relax and instead make our way over to join the nearby Télécentre cabriolet-style lift. This endearingly-quirky device from the early-'80s offers step-on/step-off convenience and transports skiers to and from the ski-school meeting points. It's not the speediest of lifts, but at least allows skiers plenty of time to enjoy bird's-eye views of the eastern side of the village, plus events on assorted pistes and drag-lifts.When we step off we transfer to the DMC (Double Mono-Cable) gondola lift and join the other skiers and snowboarders heading smoothly up to 2100m. From this point it's possible to ski over into Oz-en-Oisans without taking another lift, but we transfer instead to the gondola's second stage (or 'tronçon'), this time up to around 2700m.
At the top, in addition to longer descents into Oz, you can continue all the way over to the Vaujany -Villette gondola – in fact, competent Black-run skiers can even descend to below the village itself without taking a single lift. As we've discovered, the lift system has been very well-planned.
Our target today is the 3330m Pic Blanc, which is accessible from the village either via the three-stage Marmottes gondola/funitel lifts, or by our route today, the final stage of which uses the Pic Blanc cable-car.
As expected, the ride is sensational, as the scenery slowly falls away all around us. At the top we surge out wobbly-legged to find the purpose-built orientation platform, from which it is said that in clear conditions around one-fifth of France is visible. Either way, there's no doubting that it's one of the classic panoramas of the French Alps.
Alpe d'Huez Sarenne: the Big One
But it's not merely the views, however arresting, which have brought us here. Right now both visibility and snow conditions are excellent, but not destined to remain that way for long, since an approaching depression looks set to bring 'substantial and potentially prolonged' snowfalls. Since our time in Alpe d'Huez is limited to just a couple of days, if we're finally going to ski the legendary Sarenne (at 16km, the world's longest pisted run), it's clearly a case of now or who-knows-when.
Sarenne is classified Black, mainly on account of the distance involved, but apart from two or three steep sections, it's not overly demanding technically. Once a steep and quite narrow launch-point is out of the way, the piste turns and then widens at the head of a steep but not-too-deep section, after which things ease to something more akin to a Blue cruise. Somewhere deep beneath the snow is the Glacier de Sarenne.
On our right we soon pass the turn-off which feeds onto the famous Tunnel piste, said to be the toughest on the mountain. A few minutes later we've passed the base of the Cristallière chairlift, and all is peaceful, apart from the occasional passage of a skier or snowboarder.
From now on the mood is one of away-from-it-all ski-touring, our progress being marked by a succession of steep walls followed by long, relatively gentle cruises. We can imagine that it must all feel very different in less perfect visibility, particularly after fresh powder lies deep, but even on a fine day like today it's a great place to be.
The perfect picnic spot
We're not the only ones who feel that way; around the half-way point we pass a relaxed group of skiers and 'boarders seated around a perfectly-sited picnic table. Visible in the far distance beyond is what must be Les 2 Alpes. Like everything else, right now it seems a very long way away.Further down things begin to narrow as we drop into the Gorges de la Sarenne, through which we snake our way serenely, enjoying the unspoilt landscape of dormant larch trees and the snow-covered stream after which the piste is named.
As we drop ever deeper the shadows close in around us and temperatures drop correspondingly, so we're grateful to see ahead of us the first signs of life for a very long time, in the shape of a cosy chalet-style mountain restaurant. Beside it is a welcoming snack-bar, complete with a partly-sunlit area of tables for hungry and by now mile-weary skiers like us. We therefore grab a table, place our order and recharge our batteries, while reflecting on what we've just experienced.
Job done – and yet…
Normally we'd settle for that and work our way back up to the main village for a shower, a change of clothing and a look around. But having come this far (and aware that the fast-approaching bad weather must soon be upon us) we climb aboard the nearby Alpauris chairlift at its mid-station and ride up to the opposite side of the valley. At the top we transfer to the Louvets high-speed chairlift and ski off onto Col, a Blue-graded scenic run around the side of the mountain which then serves up an overview of the compact ski village of Auris-en-Oisans. The scenery is very different over here, and the pistes are mostly north-facing, which helps maintain snow quality.
While not the most attractive or traditional-looking development, in its own way Auris is a charmer and packs a surprising variety of terrain into its relatively modest area. It's also quick and easy to cross the Gorges de Sarenne and reach Alpe d'Huez, as we discover when we take the Auris Express chairlift and ski back down to rejoin the bi-directional Alpauris chair. In either direction, the spectacular ride is almost worthy of a theme-park.
Did someone say 'snow'..?
It's just as well that we've packed such a lot of skiing into our first day, for no sooner have we returned to our apartment than the anticipated weather front sweeps in with a vengeance, producing some of the heaviest snowfalls of the season. When we awake the following morning the village is subsumed in great billows of drifted snow, allowing the clearance crews to demonstrate their impressive skills in keeping things moving for visitors. Alpe d'Huez really is quite a place.