Winter Activities with Animals
Making nature part of your winter holiday
Among the host of activities on offer in the mountains, the most special for us are those which bring us closer to nature. The prospect of observing animals in their winter habitat, following tracks on a snowshoe walk or participating in adventures with huskies on a sled ride or ski-joering with ponies. We look at a few of the myriad close encounters of the animal kind to experience, including a treat for your own canine companion.
…activities which bring us closer to nature…
Cani-Randonnée
A gentle (or not so gentle) start…
In Les Bauges near Chambéry, discover Nordic Event, a company who runs events and outings with their team of sled-dogs (with or without snow). For this animal adventure, you will be teamed up with a dog who will accompany you for an afternoons guided walk to discover the stunning scenery of the Massif des Bauges.
Technicality/Fitness Level
Previous snow-shoeing experience would be an advantage. You have to be reasonably fit to take part in the 3 hour ramble as your canine buddy will set off at quite a pace. You will both find a comfortable rhythm eventually and you will be stopping from time to time to admire the scenery.
Read our feature "Snowshoeing – A Beginner's Guide".
Details
Nordic Event run events using their 30 strong team of Siberian and Alaskan Huskies. The snowshoe walk with dogs costs 45€ adult / 25€ child (6-12 years) bookable online.
Most ski resorts run snow-shoe walks and dog-sledding activities. Look out for excursions with a difference such as animal tracking – great for kids, full-moon outings, or how about attending the Grande Odyssée dog-sledding championships, held in the Alps every January.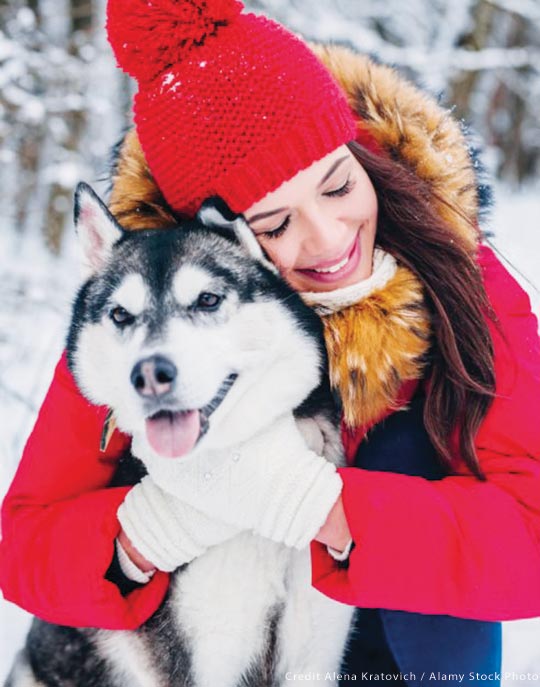 ---
Balade Gourmand with Llamas
Technicality/Fitness Level
Ideal for family outings, a gentle afternoon walk in the company of these soft and docile llamas is irrestible. Owner Gilles Tosca, runs these events from the charming village of Valloire in the Maurienne valley, French Alps. Little children will be able to proudly lead their llama companion on this family hike. After a walk among the typical hamlets of Valloire or in the snow-covered forests, a convivial snack is served with tasty local produce.
Details
Find more information on the website www.lamas-de-valloire.fr, tel:06 26 23 83 24 Adults 25€, children from 8 -16 yrs 16€. Free for children from 4 – 7yrs.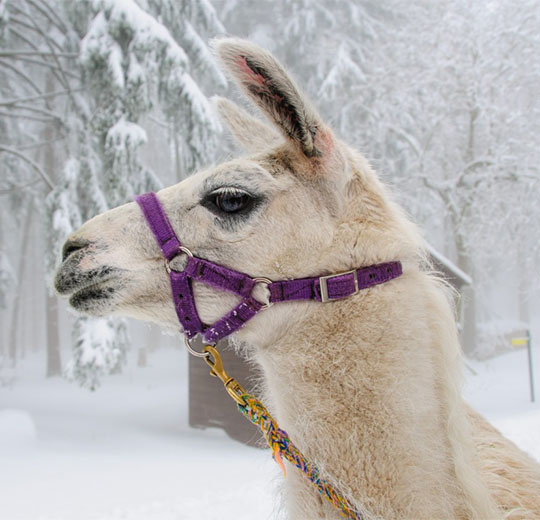 ---
VIP Treatment for Dogs, with MoreMountain
If you love to share your winter holiday with your pet, then here's a great idea to make sure they are pampered and safe. Luxury chalet company MoreMountain offers an Alpine Pups Package where dogs are treated like VIPs. Available at selected self-catered chalets in Morzine, you will find treats for your companion including a bag of cookies, a coat for the cold, and a cozy basket. You can also be assured that the chalets have been selected because they are dog-friendly spaces with enclosed space outdoors. There's also a guide to some super dog-walks in this pet-friendly resort.
Details
Visit www.moremountain.com/special-offers/alpine-pups/ or tel: +33 686 02 18 05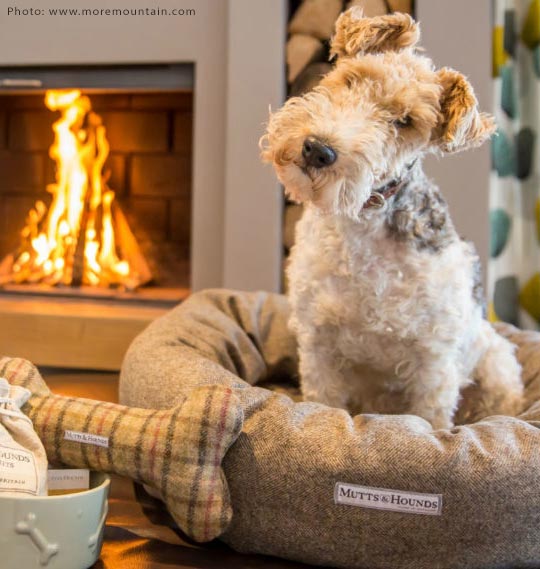 ---
Ski-Joëring
This age-old Nordic way of getting about in winter has been transformed into an exciting activity that any moderately skilled skier can enjoy. All you need is your skis and a sense of fun and adventure. The VolteFace equestrian centre located at an altitude of 1350 m, on the immense Savoie Grand Revard playground, offers different formulas, in an initiation version of 45 minutes or in a half-day course for the most experienced. On the 2 km of groomed trails, the feeling of freedom in a wild landscape is perfect.
Technicality/Fitness Level
An intermediate skier should already have the basic skills, which are essentially in the legs and feet – just hang on and your four-legged tractor does the rest.
Details
Contact: www.volteface-cheval-savoie.com tel: 04 79 25 86 36. Prices: 45min initiation – 55€, ½ day course: 85€ Meeting place: Plateau Sud, 73230 La Féclaz