Oz-en-Oisans
Alpe d'Huez Grand Domaine, Savoie, French Alps
In the Grandes Rousses Massif, south-east of Grenoble and accessible via flights into Lyon, Grenoble, Marseille and Nice (plus Cuneo and Turin).
Not the most visible feature on the map, Oz is sited just off the route from Bourg d'Oisans to Vaujany – alternative bases from which to ski the huge Alpe d'Huez area.
The Ski Area
Snowfalls can be substantial thanks to the presence of multiple high peaks surrounding the Alpe d'Huez Grand Domaine ski area. Oz is lift-linked direct to 250km of terrain, with something for all levels of skier, although the emphasis is on relaxed intermediates. There's also a safe and sheltered beginner area right next to the village. It's easy to cover a lot of distance here, with lots of blue cruising runs, and if you're up for something more energetic there's some serious vertical drop on offer, too.
The link between Oz-en-Oisans and Vaujany will be easier from this winter 2021/2022 with the addition of the Clos Giraud télémix lift which combines chairs with gondolas - great in poor weather or for learners and pedestrians. The new departure point is at Montfrais (1650m), much lower than the old station. The arrival is on the Alpette 2050 plateau at the same level as the middle station of the Dôme des Rousse cable car.
Black-run fans have a few long local pistes to tackle, including drops into Vaujany and Villard Reculas, but the main attraction, starting from the 3330m Pic Blanc, is Sarenne, at 16km, the world's longest black-graded piste.
Resort Information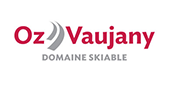 Oz-Vaujany
Pistes Total:
75 km

12 Green
14 Blue
12 Red
3 Black
Ski Resort Lifts :
22
1 Magic Carpets
8 Draglifts
3 Chairlifts
1 Cabriolet
6 Gondolas
2 Cable Cars
Alpe d'Huez Grand Domaine
Pistes Total:
250 km

42 Green
37 Blue
39 Red
17 Black
Ski Domain Lifts:
80
41 Draglifts
24 Chairlifts
3 Cabriolet
10 Gondolas
6 Cable Cars
Green Credentials...
The ski station has achieved the label "station verte" or "green ski resort".
Oz has introduced ways of managing waste and fuel consumption. This includes a cleaner fuel for the snow-ploughs, adjusting lift speed according to passenger numbers, the replacement of single-use plastic with cardboard and wood, recycling waste bins.
The new Eau d'Olle Express gondola gives day skiers direct access to the Grand Domaine from the valley thereby reducing car journeys up the mountain.
---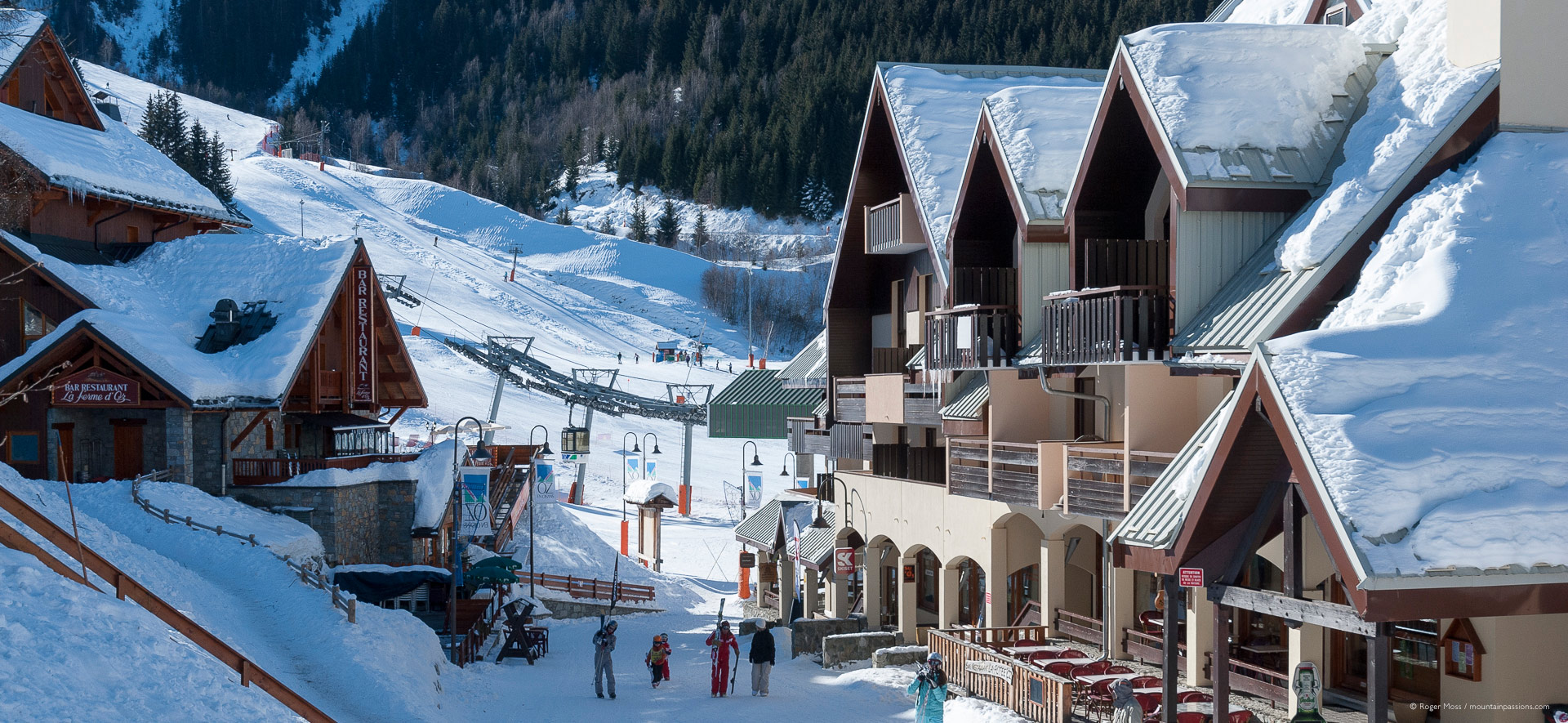 The Ski Village
The relatively recent chalet-style ski village (founded in the late-1980s) is compact and has a pleasing low-rise skyline. Better still, the centre is blissfully traffic-free, with the lying snow being groomed overnight, so you can ski through it each morning direct to the lifts. The only downside is that the deep valley location means that in winter the village is in shade for much of the day, so people don't tend to hang around outside for après-ski socialising.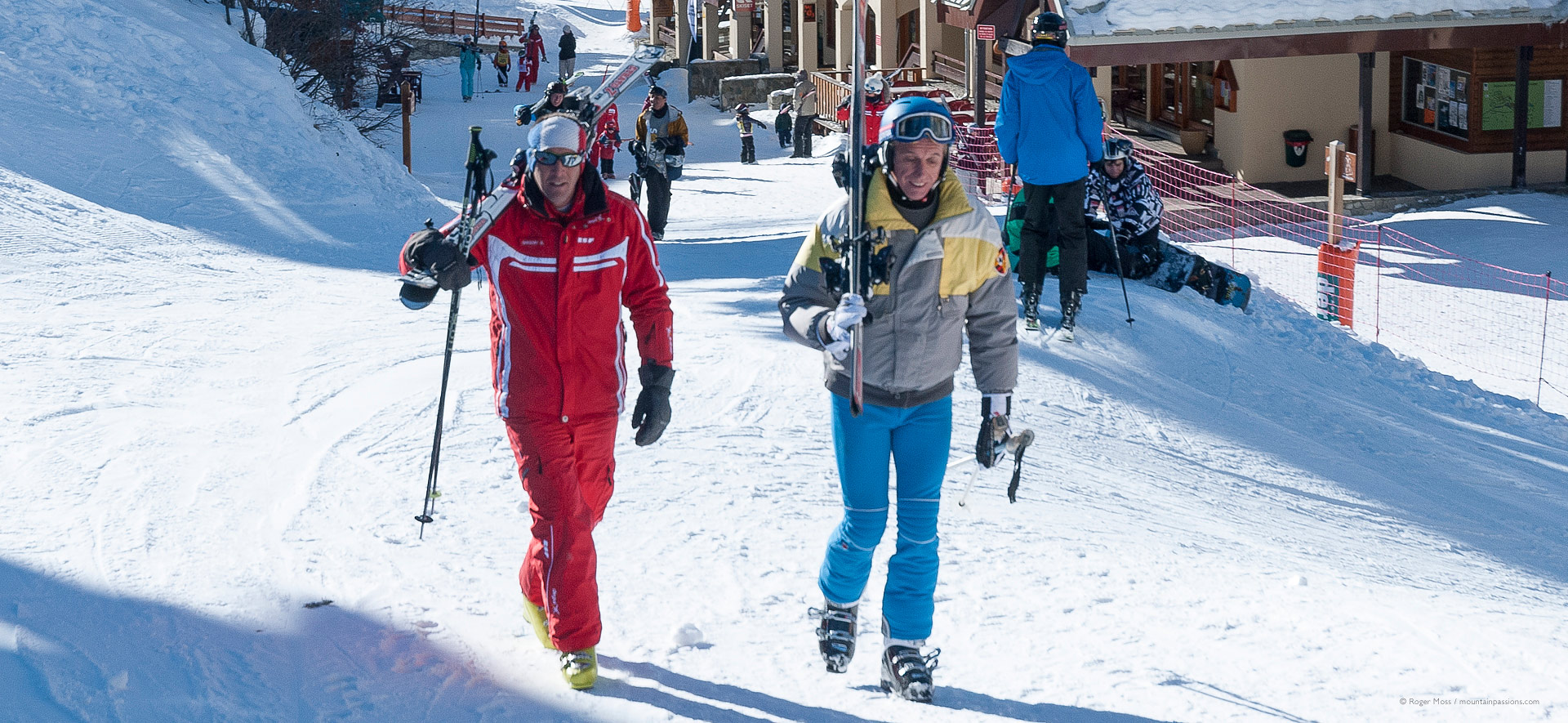 Why go skiing in Oz-Vaujany ?
Skiers or snowboarders looking for a sheltered, alternative base from which to explore the wealth of groomed terrain above Alpe d'Huez. It's also a solid choice for families with first-timers, who can learn beside the village while their experienced companions head up the mountain. If it's not high on energy, Oz will appeal to anyone who prefers a clean, calm and compact village setting. Oz offers free car-parking – outdoors, although there's also reasonably-priced covered parking. Some accommodation is desirably ski-in/ski-out, too.
With the addition of the Eau d'Olle Express, Oz-en-Oisans will make a great access point to Vaujany, Alpe d'Huez and the rest of the Grand Domaine. Day skiers can leave their cars in the valley and take this new 10-person gondola direct to the foot of the slopes.
Skiing There
Beginners / Families
Intermediates
Advanced / Expert
Mountain Scenery
Snowboarding
Not the best base for boarders.
1 Snowparks
Cross-Country Skiing
Two circuits at 2100m, access via cable car.
30km Cross-Country and Nordic Ski Trails
Yes please...
Big-mountain skiing for all levels.
Access to 250kms of skiing.
Attractive, traffic-free village.
Free open parking (reasonable charge for covered parking).
Retains snow-cover well.
Sheltered location.
Night-skiing evenings.
Yes but...
Deep valley keeps village in shade for much of the day.
Traffic-free means some carrying of baggage at either end of stays.
Return runs are quite steep (but less-confident skiers can ride the gondola down instead).
Our Tips
Ski Red-graded return runs (not much more demanding than the Blues) whose surface holds up well.
Practical Information
Les Chalets des Neiges
Oz-en-Oisans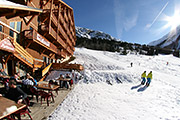 This collection of six typical mountain style chalets housing 68 apartments is situated in a superb position above the pedestrianised village centre and has easy access to the ski lifts and the ESF ski school. There's the possibility to ski to and from the chalets if the snow conditions allow. Ski lockers are on the ground floor of each chalet.
We stayed in a two-bedroom apartment with one double bedroom, one twin and a sofa-bed. The balcony overlooked the slopes but don't expect to do much sun-bathing here, the village is largely in shade during the winter. Inside, it's warm and cosy with a high standard of furnishings and equipment. If you plan on cooking meals, note there's only a hob and a microwave in the kitchen unless you have one of the larger apartments. There's a well-stocked supermarket opposite the residence which sells fresh bread and pastries as well as take-away pizzas.
After a long day on the slopes you can relax in the private indoor heated swimming pool or sauna.
The only drawback of the chalet location is having to carry all your luggage from a drop off point to your apartment and then removing your car to a free open car park or covered car park (payable - 5€ per day or 29€ per week).
Marketed as a family ski station, there are only a handful of bars and restaurants in the village. There is a pool and ice-rink but otherwise après ski is a quiet affair.
For further information and bookings contact:
Peak Retreats
023 9283 9310
reservations@peakretreats.co.uk
---
rue du Clos du Pré
38114 Oz en Oisans
Tel:+33 (0)7 87 07 05 95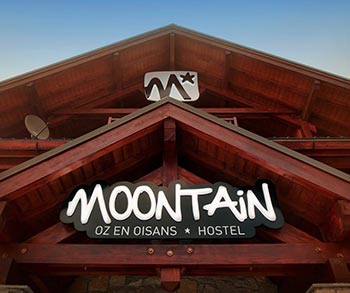 Hostels are currently the trendy concept in the world of tourism. The principle is simple: a warm and modern place where people from diverse backgrounds meet. More than 5 years ago, Moontain Hostel was the first mountain hotel of this type. Designed, connected and modern, the concept encourages exchanges between guests. With its twenty rooms, to share, exclusive or privatized… travelers have the choice of their accommodation format. On the catering side, the hostel is open to the public. The restaurant favours small local producers and artisans. Not to be missed, the all-you-can-eat raclette dinner (€21).
---
Chalet Clementine
Oz-en-Oisans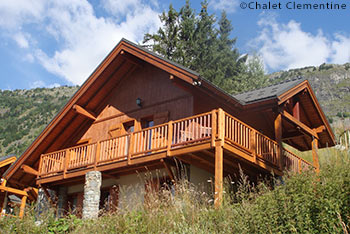 Chalet Clementine is part of an exclusive development of 33 detached chalets tucked away in a quiet corner of the village. It has stunning views of the Belledonne Mountains from it's extended balcony. Sleeping 8 people, the chalet has 4 bedrooms, two bathrooms with separate toilets, and offers a convivial lounge and dining area. Free WiFi. Book direct with the English owner via their website or Owner's Direct.
---