Insight: Puy Saint Vincent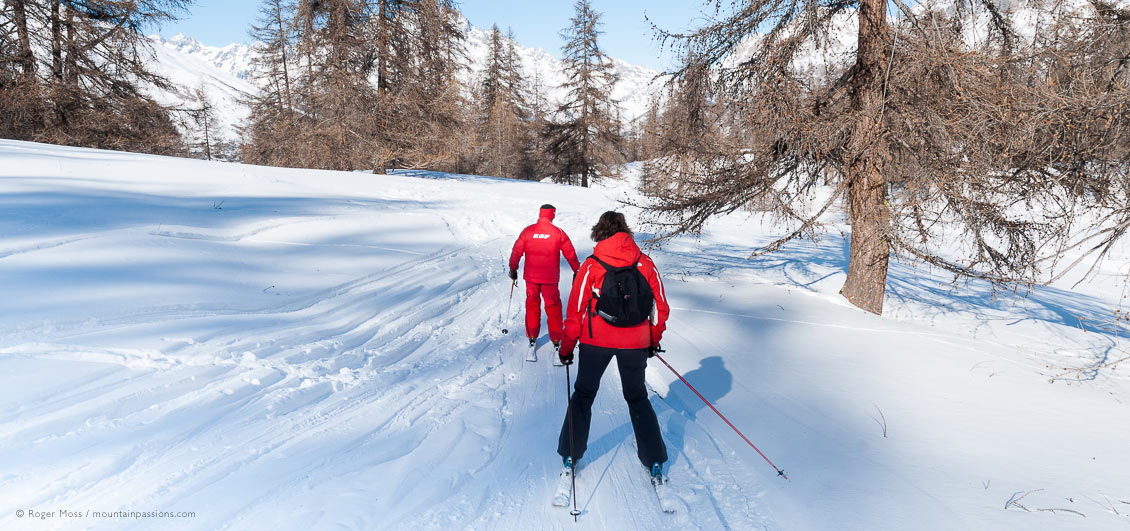 Insight: Puy Saint Vincent
Puy Saint Vincent's pistes are clearly visible to skiers over in Serre Chevalier, yet somehow this place is often regarded as being inaccessible. In fact, the drive from Briançon is a short one (around 20km) and easily accomplished if you ignore initial road signs and instead stick to the main road until a second route is signed at L'Argentière-la-Bessée. If we'd known that we'd have got to Puy Saint Vincent more speedily, but in the process missed some of the scenery which adds an impressive visual backdrop to skiing in this quite remarkable location.
…things open out to reveal a first glimpse of the snowy splendour of the high mountain sector basking beneath a clear blue sky.
Up and away in Puy Saint Vincent
Our accommodation at the Dame Blanche turns out to be piste-side, and as soon as we're installed in our apartment we head down to the ski-room, boot up and ski out straight down to the lifts of the 1600 village. Getting there takes little more than a minute or so, giving little time to find our feet before things narrow for the final run to the lifts, where we have a rendezvous with an ESF guide who grew up in the next village, and has skied just about every corner of the local mountains.
Rather than take the nearest lift, we begin by skiing down to the 1400 village, where we pick up the Prés six-seater chairlift, which has been designed to carry gondola-style cabins as well as chairs (at which point it will become a télémix lift).
The haul takes us smoothly up to 1850m, where we take the blue-graded 4 Fontaines piste past the Draille drag-lift and back over to the 1600 village. It's a nice, gentle introduction to the safe and mostly wide tree-lined runs beloved of early-intermediates who prefer to stay low for now, and on which more experienced skiers return to the villages from steeper terrain above the tree-line. The next haul, on the Crête des Bains 4-seater chairlift, is again mostly through forest, until things open out to reveal a first glimpse of the snowy splendour of the high mountain sector basking beneath a clear blue sky. At the top of the lift it's clear that there's more still to come, so we take a brief scenic cruise on the aptly-named Traversée piste, which takes us a little further round the mountain to pick up the Rocheur Noir chairlift.
Higher above Puy Saint Vincent…
This time it's a modern 4-seater fixed lift with a magic-carpet-style loading system, so it's no slouch, taking us smoothly to just above the shadowy and remote-looking Vallon du Formel. The lift serves just a couple of runs but with several options. Take the lower end of the Crête du Rocher blue piste and you'll join the Traversée run we've already skied, while the red-graded Vallon des Auffes does much the same, but via a more direct route. We take the blue before turning off onto Draille, a steepish red which falls away through forest to a simple but effective drag-lift which gets us back to our turn-off point. This time we join Crêtes, a blue-graded boundary run, for a gentler cruise through the tree-line, complete with a brief but highly-enjoyable off-piste excursion through silent forest where the snow lies deep and largely untracked.
Further down we pass a chalet-style mountain restaurant, whose sun-deck is beginning to fill with hungry skiers, so decide to ski back over to the 1800 village for an early lunch in our apartment. Easy. We're getting to like this place, and starting to find our way around – not something anyone is going to find too difficult, given Puy Saint-Vincent's winning combination of a well-planned piste layout and clear signage. When we head back out the sun is still shining and down here at least there's barely a breeze, so we decide to head high and see how things look and feel up around the topmost terrain, on the flanks of La Pendine (1750m).
The view from (almost) the top…
Being in a ski-in/ski-out location means that going up begins by going down, so we ski down to the 1600 village to join the Bergerie 4-seater high-speed chairlift, which takes us smoothly back above the tree-line to the start of the red-graded Clos d'Aval. This useful piste drops back down through the forest, but unlike its counterpart also served by the Bergerie lift, it first passes both the Bruyères drag-lift and the Lauzes chair-lift. Take the former and you'll be able to ski down on the blue-graded Mésanges to the Grand Combe chairlift serving the very topmost terrain.
Do as we do, though, by continuing to the Lauzes chair, and you'll find that the ensuing ride tops-off at 2100m, and with plenty of room to spread out on some of the longest runs in the whole domain (with around 700m vertical drop). Before we do so, we pause to take in the sensational views of the Parc National des Ecrins. Visible ahead of us in the far distance is the topmost terrain of Serre Chevalier, and far below it our starting-point in Puy Saint Vincent.
Skiing the outsider
Turning right off the lift onto the red-graded Coqs we find that the piste soon divides, offering a choice of routes skirting a tract of protected forest (home of the Tetras or Black Grouse). The right-hand fork eventually feeds onto the Clos d'Aval and heads back to the 1600 village, but stay left as we do and you're on Bois des Coqs, where things are altogether wilder and more remote-feeling, as we discover when we peer into the rugged abyss of the adjoining Vallon de Narreyroux.
The run is in every sense a real beauty, a back-to-nature experience which can be prolonged all the way down to 1400m by taking the blue-graded La Balme down through the forest to join Les Lutins for a final green cruise into the lowest of the ski villages (with the option of a run back to the original mountain village of Puy Saint Vincent). For now, though, we stick to Bois des Coqs to take another lift ride back up to 2100m. This time, however, we cruise over via a succession of blue pistes to pick up the Pendine 4-seater chairlift and ride all the way up to 2677m, the highest lift-served point on the mountain. Above us is the 2750m summit of La Pendine, while turning right from the lift's top station puts you straight onto the the black-graded Carmen. We turn left, and have a choice of two reds: Pendine, which is unpisted, and Grand Combe, on which we cruise contentedly with barely a soul for company.
Up here there's an sense of heady remoteness heightened by the shadowy presence of the cavernous Vallée du Formel falling away mysteriously to our right beneath the towering Crête de Dormillouse (2944m). Despite these powerful distractions, we focus on the view immediately ahead of us, where the piste splits neatly in two. Rather than follow Grand Combe back down to the base of the Pendine chairlift we opt instead for a gentle right turn onto Dahus, another useful red which eventually morphs seamlessly into our old friend Bergerie as it enters the tree-line.
There's something endearing – and in a more practical sense reassuring – about Puy Saint Vincent's approach to piste planning, and the return runs are wide enough to allow skiers to filter back onto the principal lower routes with no sense of crowding. Yes, we're here during a quite period, but it's clear that even in peak season things should remain more than manageable. The layout of the capable lift system also makes it perfectly possible to stick above or below the tree-line, according to your preference and ability, not to mention weather conditions.
Fun in an unpressured setting
Despite its relative compactness, we find ourselves leaving Puy Saint-Vincent the following day with more than a little regret that we don't have much longer to spend here. There's no pretence about this place – it's all about having fun in an unpressured setting. For much of the time that suits us just fine, and we know that many leisure skiers feel just the same. We've also warmed instantly to the away-from-it-all surroundings, coupled with the sense that we've stumbled upon somewhere which many skiers have yet to hear about, let alone ski. Either way, Puy Saint Vincent has a big heart and earns a well-deserved place on our 'we'll be back' list.