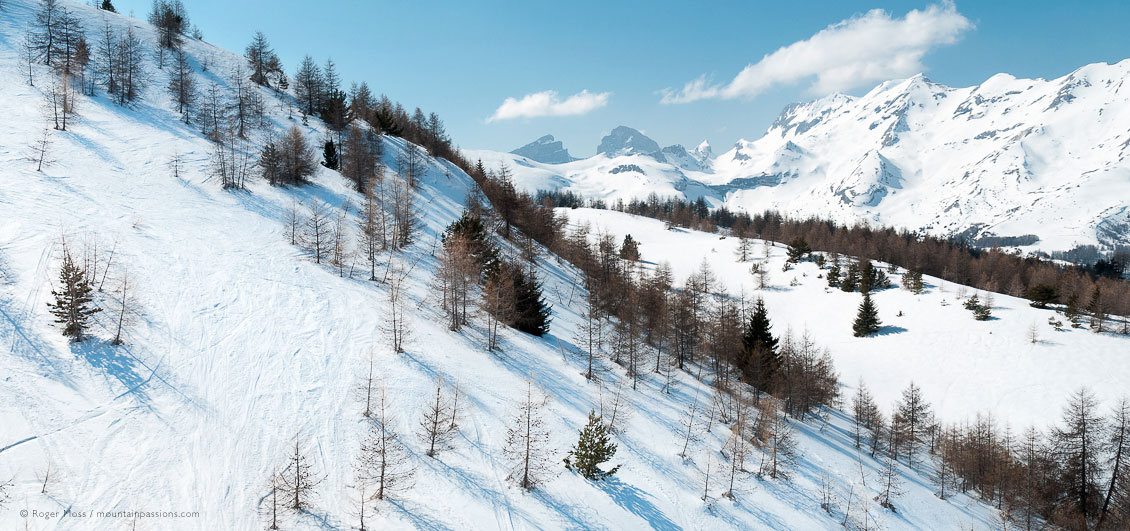 Insight: Le Dévoluy
The drive up from nearby Gap is a breeze, but our own arrival via Grenoble and the celebrated Route Napoléon is a more time-consuming approach, despite offering an unforgettable introduction to the captivating scenery of the Southern French Alps. Much of it still slumbering beneath a thick blanket of snow, but the village of La Joue du Loup, situated to one side of the ski area of Le Dévoluy, looks and feels welcoming, with development on a refreshingly human scale. So far, so good.
Les Meules snakes its way ski-cross style through what feels at one point like the ultimate half-pipe before firing us back out again neatly beside the village, with broad smiles on our faces..
Le Dévoluy popular with intermediate skiers
The following morning we board the Fontenettes télémix lift to begin discovering the ski area. Getting our bearings proves interesting at first, since our piste-map is a model of clarity when it comes to illustrating the lifts, but fails to name the pistes. That's different. Fortunately they turn out to be well-signed, and we have a great time dropping down the blue- and red-graded runs towards the forest above the village.
Heading over to the SuperDévoluy sector couldn't be simpler, the liaison being accomplished via a choice of routes, the simplest of which is a long blue cruise from the top of Fontenettes. We have every intention of doing so, but along the way pause for a welcome lunch-break at L'Op Traken before heading back up to 2200m on the Festoure high-speed 6-seater chairlift to appreciate the extraordinary views. From the top the full effects of the season's mammoth snowfalls are clearly visible, even in late March.
This image provides the vast backdrop to our the exhilarating, more direct onward run all the way down into SuperDévoluy. En-route there's a choice of red-, blue- and even green-graded terrain, guaranteeing its popularity with aspiring early intermediate skiers and while still being thoroughly enjoyable for those with a great deal more mileage under their skis.
Family-friendly architecture
The scale of SuperDévoluy's original architecture isn't to everyone's taste, but we can tell you that it actually looks a lot better when you're skiing down towards it than it does on the printed page. In its time it's also offered countless ordinary families in the region an unexpected opportunity to secure their very own ski apartment along with the prospect of limitless visits to the mountains. They still come, of course, and bring with them a refreshingly down-to-earth atmosphere of fun which you can sense as soon as you arrive.
Not that everything is obvious. Experience has taught us that the outer reaches of any ski area often produce some of the most memorable and least-trafficked skiing. Sure enough, above SuperDévoluy our instincts are rewarded on Les Meules, a real roller-coaster run which snakes its way in skier-cross style through what feels at one point like the ultimate half-pipe, before firing us back out neatly beside the village, with broad smiles on our faces. With more practice you could have even more fun, which is something we look forward to doing when we're able to get back to update our impressions.