Winter Activities in the Mountains
More fun in the snow
There are more and more winter activities available to try if you're a non-skier, or simply feel like taking a break from the pistes. Experts are on hand to help you master the skills required for more technical activities, but it's possible to get a taste of adventure with very little preparation if you join up with a guide. Here are some great activities to try – and where to find them.
…with a little guidance, you can experience some thrilling activities, on and off the piste…
Snow-Shoeing
A gentle (or not so gentle) start…
Head off to find perfect peace in the kind of unspoilt natural scenery which even off-piste skiers don't get to see – join a nocturnal group outing to experience them beneath a star-lit sky…
Technicality/Fitness Level
It's as relaxed (or as demanding) as you want to make it. Today's lightweight snow-shoes (raquettes de neige) incorporate special features to grip securely on steep, snow-covered terrain or even ice. Essentially, you just need to know how to distribute your weight in order to get the best out of them.
Read our feature "Snowshoeing – A Beginner's Guide".
Getting Started
Join a group taster session for absolute beginners – a great way to combine fun with learning. You'll soon gain the few skills required and learn about your surroundings. If the group thing isn't for you, then the classic option is to enlist the services of an ESF (Ecole de Ski Français) instructor or a qualified independent mountain guide whose detailed knowledge will also help you find exactly the kind of terrain you're looking for.
Look out for excursions with a difference – full-moon snowshoe walks, on-mountain evening meals followed by snowshoeing down to the village, dusk walks with apéritifs in a mountain hut, animal tracking, etc.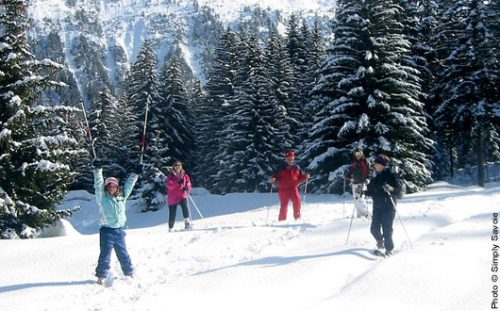 ---
Dog-Sledding – the call of the wild
Technicality/Fitness Level
The amount of effort required varies according to the snow conditions. Deep snow will require much more strength to control the sled, especially if you come off – we speak from experience! In average conditions, the driver (musher) will need a good sense of balance and be prepared for the occasional hop-out-and-run moment to assist the dogs over steeper humps (which you might not encounter). Meanwhile, the passenger gets to relax under a warm blanket and enjoy the ride.
Getting Started
Don't worry; you won't be doing this alone. Qualified professionals offering dog-sledding experiences provide basic instruction and will accompany you, so you'll generally be travelling in convoy with other experience-seekers. And at the end you get to get up close and bond with 'your' dogs. Read our feature about when we went dog-sledding in La Chapelle d'Abondance – a gentle route, and a good introduction to the sport.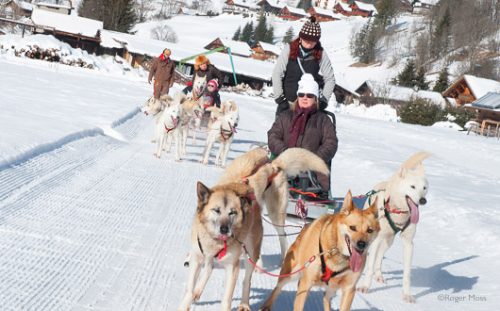 ---
Ice Climbing: scale a frozen waterfall
You'll be getting vertical (walking over glaciers or low angled snow or ice slopes counts as mountaineering) but you'll be roped-up for safety. Learn how to climb using special crampons and ice-axes, then round it all off with a warm glow of personal achievement…
Technicality/Fitness Level
You don't need to be super-fit or have rock-climbing experience, but it's quite physical, so a reasonable level of fitness is a distinct advantage.
Getting Started
The ice is normally in good condition from mid-December until the end of March (unless there are prolonged periods of warm weather). Go with a guide or join a dedicated beginner's course to learn the essential techniques to help you make the most of this amazing experience safely and securely.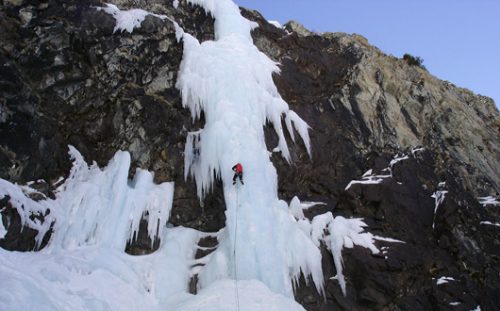 ---
Snowkiting: now you can ski uphill, too
Ever wanted a near-effortless tow, whatever the slope might do? Snowkiting (or 'kite-skiing') offers just that, and the experience can be highly addictive.
Technicality/Fitness Level
Any intermediate skier will already have most of the basic skills, to which you add controlling a flexifoil-style kite which hauls you to go where you want to go.
Getting Started
Obviously you need snow, a stiff breeze and plenty of open space. If you're new to handling a big, powerful kite some specialist instruction is essential – and you get the equipment provided, too..
---
Ski-Joëring: an age-old mountain tradition revived
Think dog-sledding, but without the sled – and on skis, behind a horse or pony. Originally a practical way of connecting remote mountain communities, ski-joëring is currently undergoing a revival as the perfect way of getting right back to nature.
Technicality/Fitness Level
An intermediate skier should already have the basic skills, which are essentially in the legs and feet – just hang on and your four-legged tractor does the rest.
Getting Started
Select a ski area whose activities include ski-joëring sessions and book a session with qualified a professional. Operators will provide the short, flexible skis required.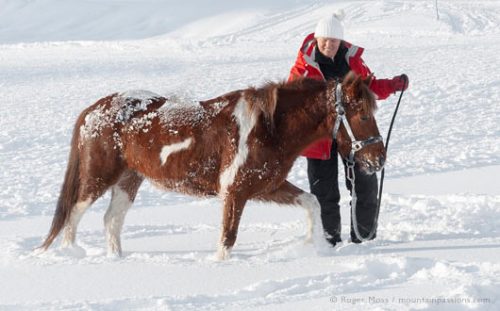 ---
Sled Dogs – a new sport in Les Gets
What is it?
Here's a winter sport originating from Norway where skaters wear snow skates – called 'Sled dogs' – to descend the slopes. A snow skate is a boot with a flat skate moulded to the bottom. The boot is light, comfortable and the ski-width sliding surface ensures a grip on all types of snow. Snow skates are easy to control, so are perfect for skiers of all levels to learn or perfect their snow-sport skills, improve fitness or train for competitions – with little risk of injury.
Getting Started
Anyone can try snow skating – ice-hockey players, artistic skaters or roller skaters now have an exciting opportunity to try their sport on snow. Beginners can learn to skate on snow during their winter holidays. Equipment is available to rent in Skimium shops in Les Gets.