Insight: St Martin de Belleville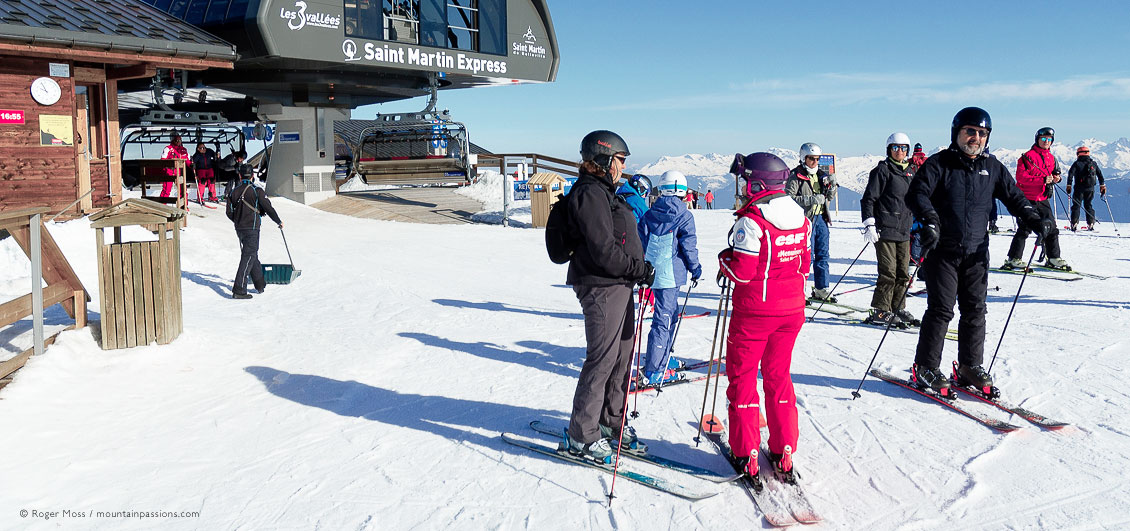 Insight: St Martin de Belleville
On the busy N90 from Albertville the attention focuses intently on the fast-approaching exits signed to familiar-sounding ski areas. As we approach Moûtiers those of us homing in on the 3 Vallées split from the Bourg Saint-Maurice traffic and peel off once again, this time leaving those bound for Brides-les-Bains, Courchevel and Méribel, while we focus on the climb signed to Saint Martin de Belleville, Les Menuires and Val Thorens.
the nervous chatter of skis on icy, early morning snow reminds us that the end of another ski season isn't far away..
At home, in a 3 Vallées hideaway
Turning off into Saint Martin de Belleville feels good, not just because it's the closest of the three, but also since it still looks and feels like a mountain village, and seems determined to stay that way. Our accommodation at Chalets Caseblanche is no threat to the skyline, despite the scale of this recent chalet-style ski-in/ski-out development. Over the years we've stayed in all kinds of self-catering ski accommodation, but this is right up there, and we feel instantly at home.
As we head out the following morning the nervous chatter of our skis on icy, early-morning snow reminds us that the end of another ski season isn't far away. Things improve visibly, though, as the Saint Martin 1 gondola takes us smoothly up to the 1800m mark, the departure point for a couple of blue-graded return runs. We transfer to the Saint Martin Express high-speed 6-seater chairlift, however, for a haul up to 2404m.
Into Méribel, or onwards to Les Menuires?
It's a key liaison point, offering skiers the choice of onward drops into Méribel Mottaret (1750m), Méribel Centre (1450m), some great return runs to Saint Martin de Belleville or a blue-graded cruise over to Les Menuires on the Gros Tougne piste. We intend to remain high for now, though, so follow it only as far as the Granges chairlift. A couple of minutes later the high-speed 6-seater drops us at the Roc des Trois Marches (2704m).
From here it's possible to take the Alouette red piste over to the Montvallon gondola for a ride up to 2952m for scenic, mostly-red drops into Méribel Mottaret, with 1200m of vertical. Our time being limited, we save that option for another trip and instead enjoy the rest of the day re-acquainting ourselves with the excellent terrain above Les Menuires.
Day two: it's time for Val Tho'
The following day we take a similar route, this time working our way over to ride the Bruyères gondola from Les Menuires up to the Col de la Chambre (2841m). From here a wealth of possibilities opens up above Val Thorens, and we pack in as much as we can before working our way back to Saint Martin de Belleville for an unpressured late lunch at le Trait d'Union, a gem of a mountain refuge in a secluded setting above the village.
During previous visits to the 3 Vallées we'd made a point of skiing over to St Martin de Belleville, not least since it's the perfect spot for a relaxed lunch. This time, however, we had the opportunity to stay here and get to know it much better. What we discovered was a cheerful, welcoming and practical base from which to explore all that ski terrain. We therefore look forward to returning to Saint Martin de Belleville from time to time – and not merely for lunch.