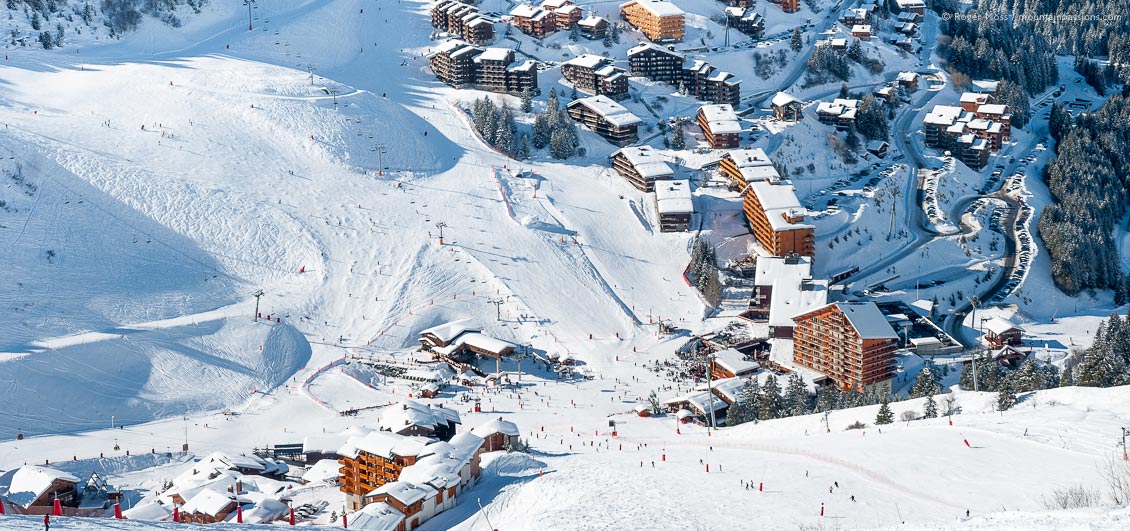 Insight: Méribel
O
ur first glimpse of Méribel is from a cabin of the Olympe gondola lift, which has carried us on a truly epic 25-minute journey up from our base in Brides-les-Bains, with pick-ups along the way at the modest but increasingly desirable hamlets of Le Raffort and Les Allues. All the while we've been gazing in awe at the effects of the heavy and sustained snowfalls which have contributed to the 3 Valleys' reputation as a world-class destination for skiers.
As we step from the gondola we join a rapidly-building wave of skiers already converging on the heart of Méribel 1450 and reckon we've got here not a minute too soon. Getting from the gondola to the other lifts takes a couple of minutes, during which we share the collective buzz of anticipation. Like all skiers we love arrivals, and the moment when we have to decide where to begin exploring a ski area. This time, however, the scale of what's out there waiting to be discovered is something else.
Up from Méribel and over into Courchevel, via Combe Saulire
Size may not be everything, but it's hard to ignore, so after checking the piste-map, we decide to do what most skier do, and get the most obvious, time-honoured attractions out of the way first, before everyone else shows up. Climbing aboard the Saulire gondola for the haul up to the exposed 2378m summit gets us straight to an impressive point of entry to the neighbouring Courchevel sector. At the top the visibility is just perfect and so is the snow depth, as we thread our way among the other skiers attacking with varying degrees of aggression the already-forming moguls on the steep Combe Saulire then relax on the ultra-wide, immaculately-groomed final cruise past restaurant terraces an on into the unmistakable front-de-neige of Courchevel 1850.
This place is a magnet for celeb-spotters but we're here to ski, so we press onward below le Forum and a couple of minutes later find ourselves arriving in Courchevel 1550. In all it's taken us little more than thirty minutes to get here from Méribel. Now that's what you call well-connected. However, given the numbers of people who had also decided to head over, it doesn't exactly qualify for great adventure status, even if it is an established classic. But we have to admit that it was fun, and having got it out of our system we take a gondola-ride followed by a cable-car, and find ourselves back up at Saulire, with the idea of spending the rest of the day getting to know some of the ample terrain which lies above Méribel.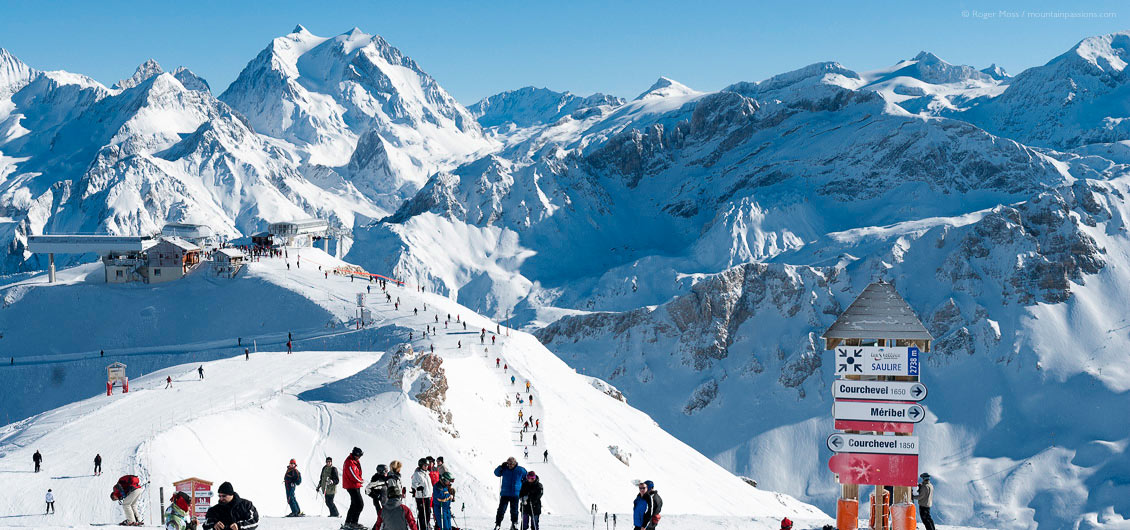 As we'd expected, the red-graded return steeps have also become quite heavily moguled, but near-perfect weather conditions mean that the snow remains forgiving, with barely hint of slush. We soon discover Chardonneret, a much calmer blue cruising run, which connects to other less-travelled terrain, giving us plenty of time to enjoy the scenery on our way down to Méribel 1450. Blending into the forested lower sections are some of the showpiece individual chalets which have become synonymous with Méribel. It's easy to see why this long ago became one of the most desirable of all Alpine locations.
Relaxed skiing like this certainly has its appeal (and feels even more so if it's accessible instantly from your doorstep). We're clearly not the only ones who share this sentiment, judging by the large number of skiers starting to make their way down sedately to see the displays of the Rossignol Demo Tour, which rolled into town a few days ago. Méribel 1450's bar and restaurant terraces are starting to fill with early finishers – hardly surprising, since at any hour the village is a lively hang-out, particularly for those who don't have lift to catch and head back down the mountain.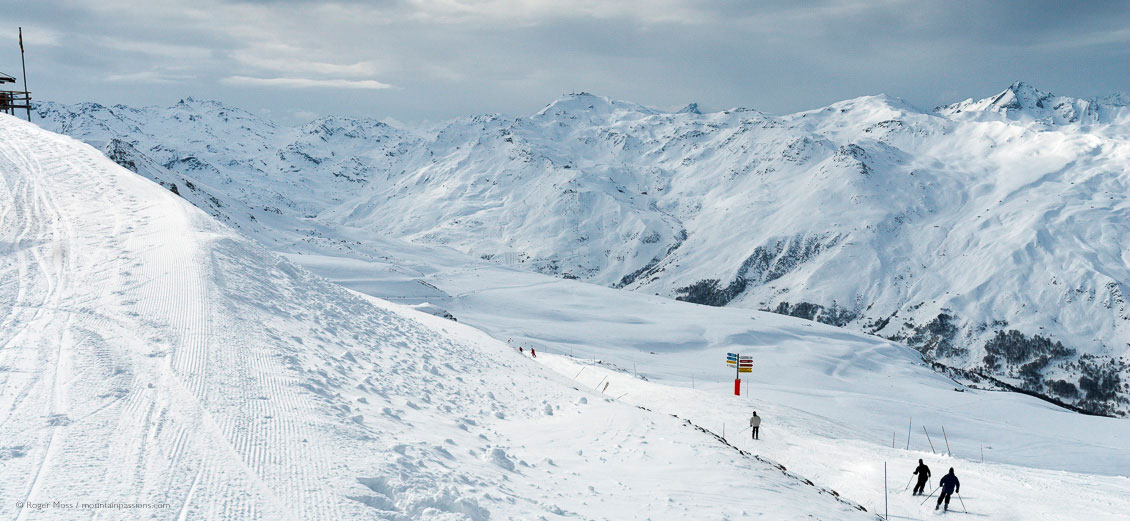 Méribel to Saint-Martin de Belleville: skiing red (then turning blue)
The next day we return to re-ski a handful of reds and blues, warming up for a foray over to the Belleville Valley. The Tougnète gondola and onward chairlift haul us up to the dividing ridge for one of the great Alpine panoramas, beyond which lie Les Menuires and Saint-Martin de Belleville, our target for this morning. Our chosen route (recommended by fellow journalist and ultimate ski enthusiast Arnie Wilson) is Jerusalem, a red-graded piste which would be very easy to overlook on the map. Skiing it, though, we can see the appeal, starting with a couple of steep and currently moguled sections, followed by a series of much faster roller coaster humps before a sudden turn feeds onto a long blue run which snakes its way into the village of Saint-Martin de Belleville. Thanks for the tip, Arnie.
After a relaxed restaurant lunch overlooking the village square, we take the drag-lift beside the novice area and climb aboard the chair-lifts for the long ride back up to Tougnète. It soon becomes all too clear that weather conditions are now deteriorating fast, making it unwise to head over to Les Menuires, let alone Val Thorens. After a long lift-ride memorable on this occasion for searingly glacial winds, we finally get to defrost ourselves on the much more sheltered terrain above Mottaret, filling in a few gaps in our knowledge for awhile before powering down among the trees and into Méribel 1450. Today it's an even better place to be, with no hint of the blustery conditions making things increasingly difficult for skiers elsewhere.
Further down the mountain things look even calmer, so rather than joining the return gondola for a long descent right away we extend our skiing time by discovering one of the less-obvious routes on the piste map. Villages, a long blue-graded scenic trail, leads us through silent, remote-feeling landscapes before dropping through woodland and petering-out just above Les Allues. From here a couple of minutes' walk brings us to the intermediate station of the Olympe gondola for the final descent into Brides-les-Bains. Having previously merely skirted it, or passed through en-route to other areas, we've enjoyed spending some time getting to know Méribel. Being in the heart of things, it delivers exactly what mile-hungry skiers are looking for, and despite the image, the villages feel surprisingly friendly. In fact, both on and off the mountain you won't be short of company here.