Insight: Courchevel Moriond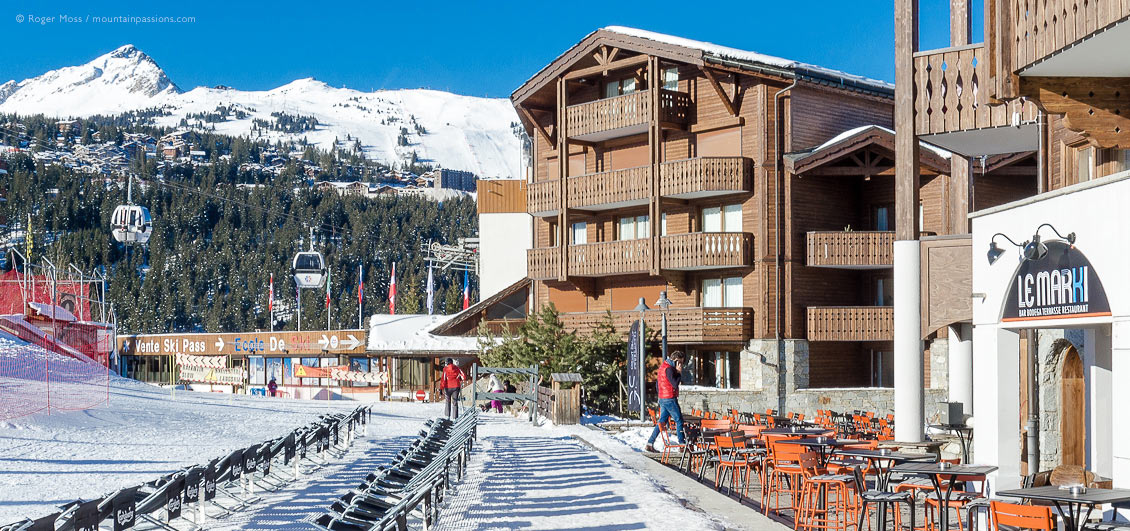 Insight: Courchevel Moriond
Driving up from Moûtiers to Courchevel Moriond reveals just how much things have changed since our previous visit, with lower villages having benefitted noticeably by association with blue-chip Courchevel (formerly Courchevel 1850). Courchevel Moriond follows suit, and keeps its ski credentials largely hidden from those passing through en-route for the topmost spot.
Skiing from Courchevel Moriond, whether you're a day-visitor or planning to stay, means getting to know the Cimes Blanches public car park – initially a slightly bewildering experience, for which the payback is great convenience, since there's direct access to the lift pass office and ski lifts on the front-de-neige (shown above). For us the even better news is that there's also direct access to our accommodation at the Hotel Les Cimes Blanches, (now the completely refurbished Fahrenheit Seven apartments). That's just as well, since parking, like most things here, doesn't come cheap.
Setting off from Courchevel Moriond
After picking up our lift passes we hop into one of the cabins of the adjoining Ariondaz high-speed gondola lift. Updated for the 2017/18 season, Ariondaz is now an ultra-modern, high-speed 8-seater lift. The haul up to Mont Bel-Air (2052m) gives us a useful overview of things on this side of the mountain, passing between mostly gentle, green-graded terrain before climbing more steeply, as green runs give way to blue and then red grading.
At the top there's a simple decision to make if you intend to remain in the Courchevel Moriond sector: either ski back down to the village on a choice of mostly wide, undemanding pistes or take a red or blue cruise over to the Chapelets six-seater high-speed chairlift serving three rewarding reds which drop from Le Signal (2250m). During our stay, though, snow conditions make us more inclined to join the many skiers taking the third option of following an initially gentle blue down to the foot of another nearby lift.
Down to Courchevel or continue to Méribel?
The powerful six-seater Aiguille du Fruit chair (below, left) hauls us up through the tree-line and over a couple of ridges before dropping us a few minutes later at 2400m. From here it's a gentle run all the way down into Courchevel, with overviews of air traffic movements at Courchevel's famous Altiport to make things a little more entertaining.
It's an easy liaison, and if you've set your sights further afield then transferring from the Aiguille du Fruit chair to nearby Marmottes six-seater or the slightly-longer four-seat Suisses will get you up to La Vizelle (2659m) for a choice of fairly steep onward runs into Méribel Mottaret (1750m), Méribel Centre 1450m or all the way down to Méribel Village (1400m). If you're not a confident skier (the pistes can get quite churned up, due to the number of skiers heading down) the Saulire Express offers a gondola ride down.
Dropping in on Courchevel (and Courchevel 1550)
We take the Altiport piste and head past the world's steepest international airport until the piste eventually feeds onto the super-wide Verdons for the classic final approach to Courchevel's front de neige. We don't stop just yet, though. Instead we let our skis run until we reach Courchevel Village (1550m), looking noticeably quieter and less the place to be seen than its hip neighbour.
To get back to Courchevel we could have taken the six-seater Tovets chairlift but opt for the slower Grangettes gondola, whose slightly higher arrival point drops us conveniently right in the heart of La Croisette. It's a good place to be, since on the opposite side of the complex are the departure points for three gondola lifts: Chenus, Verdons and Jardin Alpin.
Over to La Tania for lunch
In addition to serving gentle novice terrain, the latter also drops skiers above the Biollay chairlift, for access to the Saulire cable-car. That makes it a viable alternative to the longer, more direct Verdons gondola which most skiers heading for Méribel and beyond via the cable car will be taking. For now we take Chenus, which heads up to 2238m for a choice of descents into La Tania.
They turn out to be quite steep, with tree-lined lower sections – one of the attractions of being based on this side of the 3 Valleys, particularly if winds or poor visibility compromise things higher up the mountain. As for La Tania, yes, it's high-rise but not unpleasantly so, and its sheltered location, friendly vibe and down-to-earth prices make it a great lunch-spot.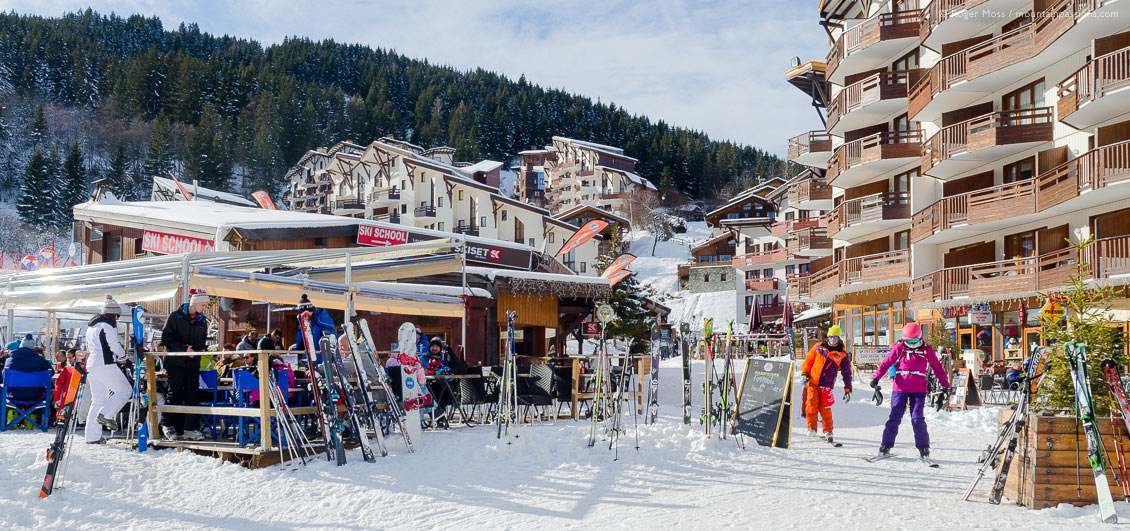 Heading up from La Tania – to where, exactly?
We've covered some distance from Courchevel Moriond to reach La Tania but we're still within the area covered by the Courchevel Valley lift pass. With 150km of pistes and over sixty lifts, that's more than you'll find at even some linked-domain ski areas elsewhere – and we still have the pistes of Courchevel Le Praz (1300m) and Saint Bon (1100m) to explore. That obviously requires good snow cover, in view of their more modest altitudes, but the pistes are mostly graded red, you'll be below the tree line and you can clock up an impressive 1640m or so of vertical drop between Saulire and Saint Bon. From the bottom a free shuttle bus will get you back to Courchevel Le Praz for a choice of lifts, depending whether you're heading for La Tania or Courchevel Village.
During our days skiing from Courchevel Moriond we were armed with full 3 Valleys passes, which enabled us to head further afield via Méribel. If you'll be doing the same be sure to read our Independent Resort Reviews of Les Menuires, Val Thorens and Orelle.
Thoughts on Courchevel Moriond as a base
Yes, it sits right on the edge of the piste map and might not look like an obvious choice, but that means that so far at least there's a refreshingly unpressured vibe. Word is getting out, though, and Courchevel Moriond's fortunes are clearly in the ascendent. As for the skiing, we enjoyed the local terrain, and soon came to know the routes to and from Méribel. How much distance you can cover will depend on snow conditions and your skiing/fitness level. If both are good then plan your route carefully in advance, set out early and you should be able to ski over to the Orelle sector and back in a day. You just have to hope that not too many other skiers have the same idea – not surprisingly, steeper key pistes can become moguled from mid-morning onwards, which can slow progress, as can peak time lift queues in Méribel Centre.
Come outside school holidays, though, and you'll enjoy premium skiing, great grooming, a capable lift system and near-limitless terrain to explore at your own pace. The rest is up to you.