Courchevel Moriond
Les 3 Vallées, Savoie, French Alps
Four villages located south-east of Moutiers in the vast 3 Vallées ski area.
Illustrious lift-linked neighbours include Méribel, Les Menuires, Saint-Martin de Belleville and Val Thorens.
High-altitude terrain makes this one of the more snow-sure areas in the Alps.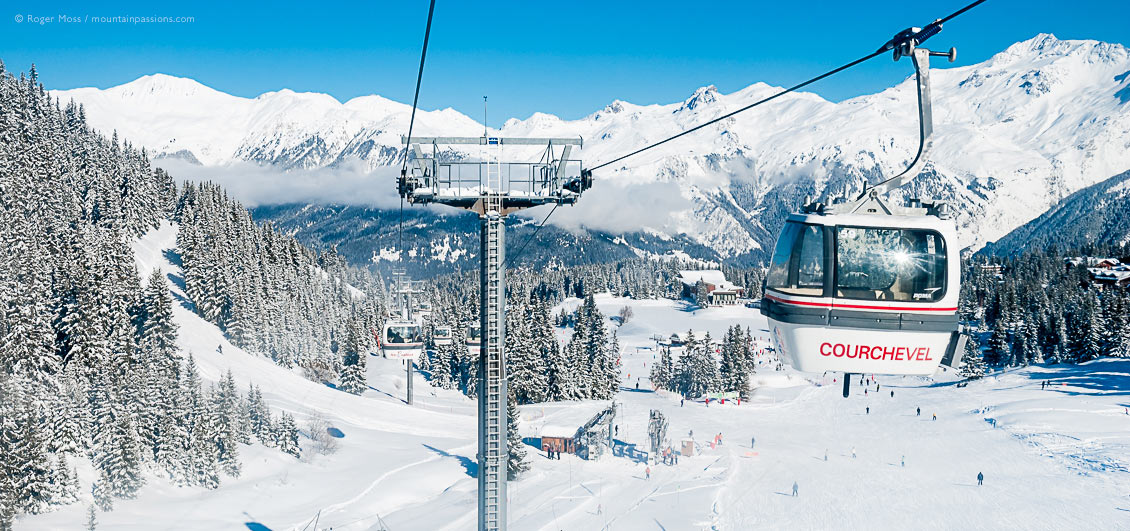 The Ski Area
Courchevel is part of the 3 Valleys, the world's largest ski area.
Courchevel's own terrain (and cheaper lift pass) could be all you need.
Billed as the world's largest ski domain, the 3 Vallées really do offer something, somewhere for all skier levels and tastes. While not exactly being in the very heart of it all, skiers based in the Courchevel sector do at least have a capable lift system which allows confident intermediates to see and ski it all, given sufficient time. The obvious proviso of setting out early isn't just to ensure that you enjoy the best snow quality; you'll also minimise any disruption when passing through the potential bottleneck of Méribel.
Once that's safely behind you there are some enjoyable long, open cruises down to Saint-Martin de Belleville, a wider choice of runs into Les Menuires, the celebrated high-altitude terrain above Val Thorens and finally the largely red-graded terrain of the Orelle sector. Make it that far and your legs will be well aware that you've come a long way from your starting point.
If the full 3 Vallées lift pass sounds like overkill, then you might just find Courchevel's home terrain sufficiently varied and extensive to keep you happily entertained for a full week. In fact, there's well over 1600m of vertical drop in this sector alone, and if you decide to get that figure under your skis then you'll also discover lower villages like Saint Bon (1100m), Courchevel Le Praz (1300m) and La Tania (1400m).
For skiers seeking Freeride thrills in a managed environment, head for Les Creux Noirs and the Freeride LAB, Courchevel's powder snow laboratory. This demanding high-altitude sector leading to renowned off-piste areas and unique panoramic views is reachable on foot or ski touring skis (100m difference in height). Here, 2 red runs and a black run are left ungroomed but made safe throughout the winter.
And even more for thrill seekers... the Eclipse piste was made for the World Cup in 2022 and the 2023 World Ski Championship. Opened to the public in winter 21/22 the statistics alone are mind-blowing - 960m vertical drop and 3.2km in length, the departure is at la Loze in Courchevel 1850 and finishes at 1290m in Le Praz.
With ski touring becoming more popular, Courchevel has created two marked, groomed itineraries. One is 3.2 km long over a 500-metre vertical climb, and another is 5 km long over a 1,000 metre climb. Starting out from Courchevel Le Praz, one of the routes arrives at 1,850 metres and the other at the Col de la Loze mountain pass. Courchevel Moriond is now home to 'La Trace', a signposted but ungroomed itinerary. Starting at Le Belvédère, it goes up into the forest, by the side of Les Chapelets run, arriving at the top of Le Signal.
Resort Information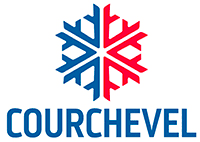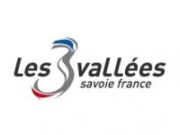 Courchevel Moriond
Pistes Total:
150 km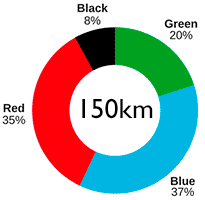 18 Green
40 Blue
32 Red
12 Black
3 Vallées
Pistes Total:
600 km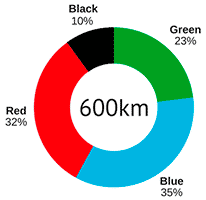 51 Green
132 Blue
106 Red
32 Black
Ski Domain Lifts:
180
38 Chairlifts
1 Funitel
33 Gondolas
2 Cable Cars
Green Credentials...
Since winter 2021, lifts at Courchevel are considered as transport for all between the villages and not just reserved for use by skiers. The stated objective is to reduce road traffic and thus the emissions of CO2 and to reduce travel times. Visitors can attend an event or dine out in one of the Courchevel villages. As for seasonal workers, they can get to their place of work without taking their vehicle.
---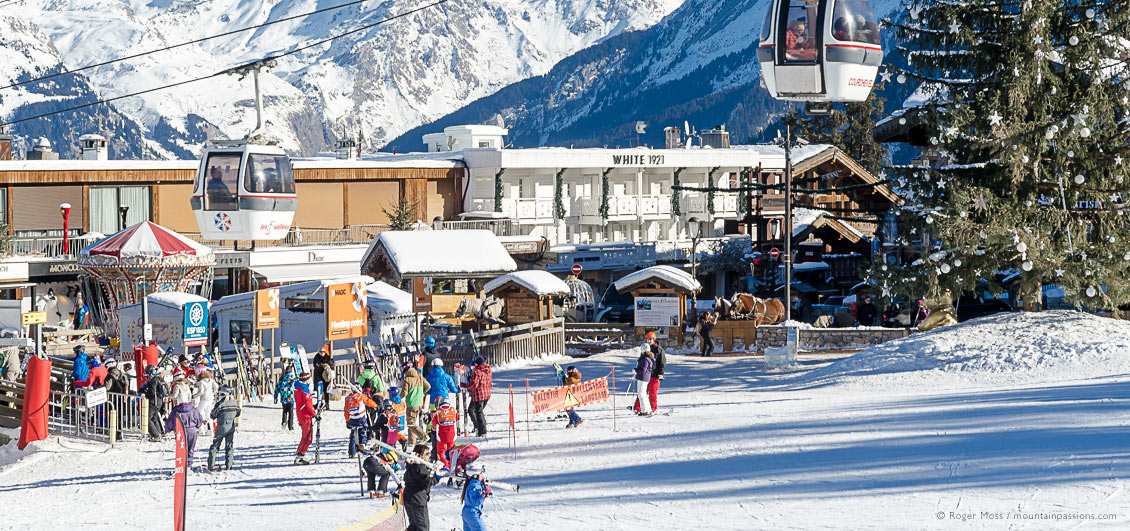 The Ski Village
Courchevel consists of a range of villages from 1300m to 1761m altitude.
Courchevel-Moriond sits at the edge of the ski area but is efficiently well-connected.
The name applies to four villages – five if you include La Tania – all of which have edged upmarket as the blue-chip '1850 effect' has filtered down the mountain. The lowest is Courchevel Le Praz (1300m), with a relaxed, traditional vibe, high-speed gondola lift access to just below Courchevel (formerly known as Courchevel 1850) and a longer high-speed six-seater chair up to 1902m above La Tania. One more chairlift ride and you're dropping in on Méribel (a comment which applies equally to neighbouring La Tania).
Next up is family-oriented Courchevel Village (1550m) in the Vallée du Bozel, with a choice of short chairlift rides direct to Courchevel, or a pisted run down to Le Praz.
Altitude-wise, the next village is Courchevel Moriond (1650), which sits at the very edge of the piste-map, but is connected to other areas quite efficiently by a high-speed gondola and a chairlift. The pedestrian exit from its large multi-level underground car park feeds conveniently direct onto the front-de-neige.
Highest of all is Courchevel, one of France's earliest purpose-built ski developments, thanks largely to a ski-in/ski-out location at 1761m. Today most skiers based here will be heading up, rather than down, to ski the area's extensive home terrain or heading to Méribel and beyond.
Staying There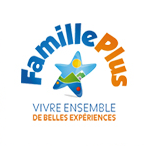 Courchevel Moriond is a Famille Plus resort
Famille Plus is a national label awarded to tourist destinations offering a special welcome and services tailored to families and children.
See Practical Information below for accommodation suggestions.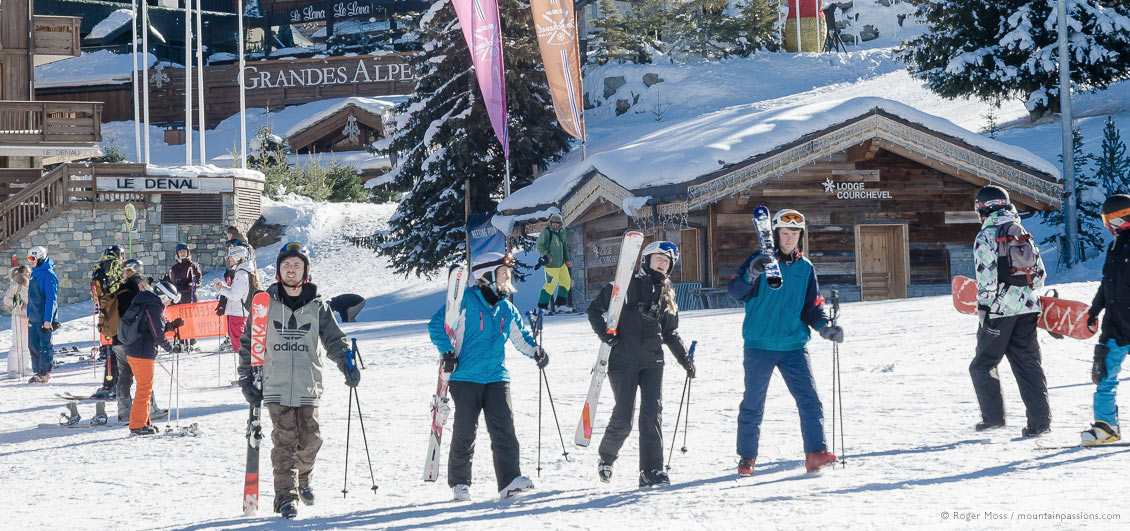 Why go skiing in Courchevel Moriond ?
The 3 Vallées' big selling-point of unparalleled mileage will appeal to those with the skill and stamina to exploit its full potential. For debutants, though, that's obviously academic, and there are much cheaper places in which to become a skier. Plenty of people do, of course, and each village has its own reassuring dedicated beginner terrain, so it's a viable option for families and mixed-ability groups.
Family-friendly and welcoming to all-ages, Courchevel bears the Famille Plus label. There's always plenty of entertainment and activities adapted to suit all ages, special rates, accessible services and shops. Plus, the whole resort makes coming skiing with small children much easier. There are 7 Piou-piou childrens' learning areas, kid-friendly hotels, comfortable ski-school reception area, special on-mountain kid's fun areas etc. Teenagers aren't forgotten either, with skier- and boarder-cross, freeride and jump sessions and a free Aquamotion pass given with every Team Rider ESF course in Courchevel Moriond. For all learners there are numerous free lifts and 'easy-ride' safe skiing areas throughout the resort.
Advanced skiers have celebrated tough challenges like the Grand Couloir and Couloir Tournier (both accessed from beside the Saulire cable-car top station) or discover numerous off-piste itineraries, which local guides are happy to reveal.
Perhaps equally important to those who return year after year is Courchevel's brag-value – most of your friends are going to be impressed. The reputation has substance, too – everything, from the piste preparation and capable lift system to Michelin-starred restaurants, vibrant après-ski and near-limitless bespoke services, has a premium stamp.
If, on the other hand, you're simply an intermediate on-piste leisure skier here to find out what all the fuss is about, you're unlikely to be disappointed, as long as you're not also hoping for an away-from-it-all experience. International celebrity status means that for most of the time you'll have company, wherever you head.
Skiing There
Beginners / Families
Intermediates
Advanced / Expert
Mountain Scenery
Snowboarding
The big Family Park is equipped with a boardercross run, rails, tables and jumps but there are numerous other fun zones with an Indian or Western theme.
1 Snowparks
1 Snowboarder Cross
Cross-Country Skiing
15 courses, including 3 loops, of 2, 5, 8, 15 and 18 km. Free access.
82.5km Cross-Country and Nordic Ski Trails
Handiski...
English speaking ski-school Magic Ski & Snowboard School offers tailored instruction whatever your disability. They are based in Courchevel (1850).
ESF Courchevel 1650 has trained and experienced monitors. They offer Handiski lessons for people with physical and mental disabilities outside peak times (min. 2½ hours). Sessions must be booked in advance. Rendez-vous at Courchevel (1850).
The luxury hotel La Sivolière in Courchevel (1850) is fully accessible to people with disabilities.
Yes please...
Near limitless skiing for all abilities, wherever you're based.
Varied terrain from gentle, forested slopes to the steepest white-knuckle pistes - and there's unlimited off-piste.
A great lift system enables you to ski from one side of the Three Valleys to the other in a few hours.
Discover some of the best on-mountain restaurants anywhere in the Alps. If your budget won't stretch that far, pack sandwiches and take advantage of picnic tables shown on the piste map, or picnic rooms such as at Verdons.
Lots of free wi-fi points around the mountain.
The Aquamotion Centre provides swimming and wellness options plus a range of alternative activities. A basic entrance is included in the Courchevel lift pass.
Courchevel is a Famille Plus resort.
Beginners and children are well catered for with plenty of safe ski-schools areas, fun parks and pistes, easy-ride pistes where beginners can improve in safety and free lifts throughout the resort.
Yes but...
All this great skiing comes at a price. Check out the ski pass options before you buy so you get the right pass for you.
If you buy a Courchevel Valley pass for 2 or more days you can extend it if you wish to cover the whole 3 Valleys.
Certain pistes get very crowded at the start and end of the day, even in low season.
Our Tips
Ski in Courchevel Moriond if you don't like the crowds – there are some good, wide intermediate runs above the village. Venturing further afield? Just 2 lift rides will let you drop in on Courchevel (which the outside world still knows as 'Courchevel 1850') for access to the rest of the 3 Valleys.
A Courchevel pass will save you money and still give you plenty of territory to explore. It goes as far as La Tania.
Practical Information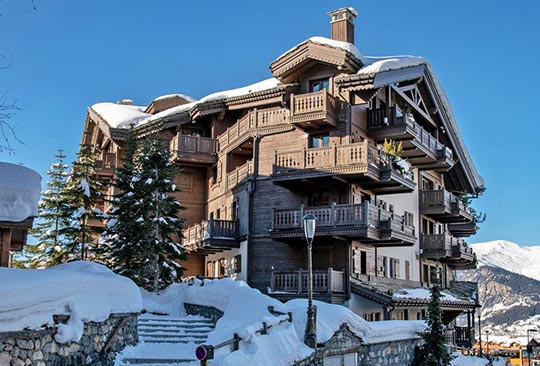 The 5-star Manali Lodge in Courchevel Moriond offers the utmost in comfort and luxurious facilities including; slope-side restaurant, spa and wellness centre, and 24 hour concierge.
Information and booking contact reservations@peakretreats.co.uk (www.peakretreats.co.uk; 023 9283 9310 (UK)).
---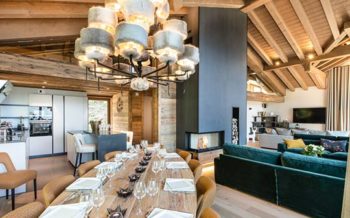 5-star Residence Canyon Lodge also in Courchevel Moriond is an exclusive development of luxury ski-in/ski-out self-catered apartments, all very well furnished with modern facilities, the latest technology, hot tubs, and parking.
Information and booking contact reservations@peakretreats.co.uk (www.peakretreats.co.uk; 023 9283 9310 (UK)).
---
Search Booking.com
Search hotels and more...