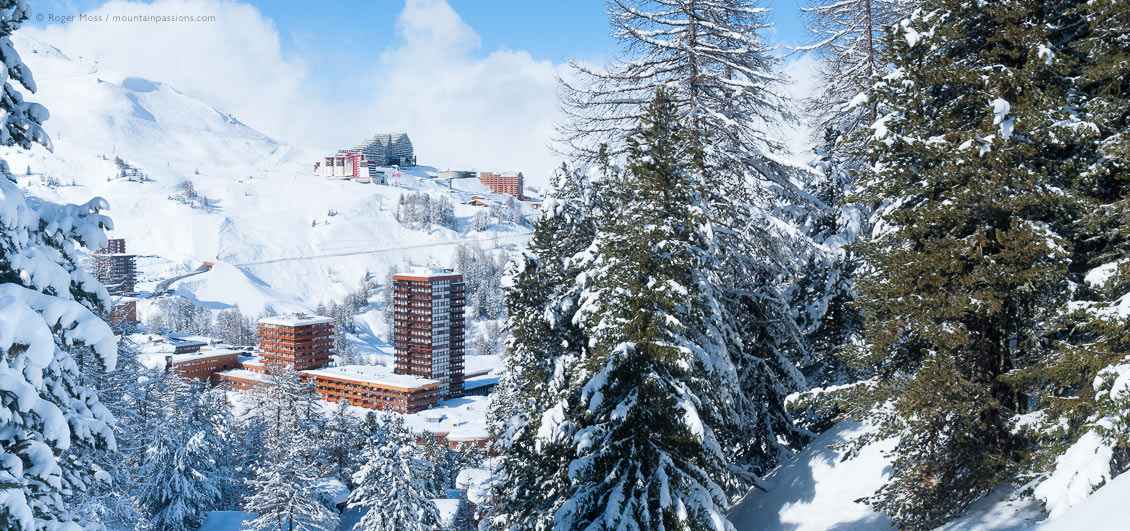 Insight: La Plagne
We'll be honest; the first time we came to La Plagne was many years ago, at which stage we simply didn't have the experience to explore more than a fraction of what this huge ski domain offers. Since then, however, after skiing another sixty-something areas in France alone, we've put a lot of mileage under our skis in all kinds of snow and weather conditions. This time, we tell ourselves, will be different.
So will our report, which acknowledges the sheer scale of things by focusing less on our exact routes than usual and more on where we ended up and our experiences and observations along the way, starting with the journey up the mountain.
The following morning the snowfalls show no sign of easing, so we decide to stay low and enjoy floating around on the fresh powder on some of the forested runs above Les Coches and Montchavin…
Getting to La Plagne
The mountain road, despite the altitudes involved, feels somehow like a less arduous climb than many areas, not least since there's a sense of openness for much of the way which allows you to see something of where you're heading. As we pass signs to the first of the ski villages we glimpse some modest-looking ski-lifts with car parking for local day visitors who prefer to take the easiest access point to the skiing and forego potential parking issues further up the mountain. So far it all looks pretty down-homey, with no hint of La Plagne's major-league ski area reputation, but as we continue on the names keep coming, the signs look more slick and accommodation becomes ever more visible until we're clearly in the thick of things. Now we really need to keep an eye on signage to find our way to our base in Plagne Soleil, but we're on it almost before we realise it and hunting for car parking. Things get suddenly better as the hotel reception staff hand us a remote 'plip' unit for the secure underground garage, into which we roll gratefully. Minutes later we've transferred our gear to our apartment and are attempting to getting our bearings as we take in the views from the balcony.
Making sense of it all (or trying to)…
The following morning we awake to the leaden skies of a looming depression; snow is on the way. So we head out straight away and ski down to Plagne Bellecote to join the waves of like-minded skiers taking the Collosses high-speed chairlift up to the 2250m ridge which will allow us to drop down past Plagne Villages in favour of Plagne Centre. When we get there it's already lively, to say the least, with skiers heading in all directions to their chosen departure points. We take the Becoin chairlift up to 2345m for a run down past Plagne Aime 2000, followed by a Blue-graded cruise through the trees down to the foot of the Adrets chairlift.
One final haul gets us to Le Fornelet (1970m), for a longer swoop through near-silent forest down to the village of Plagne Montalbert – a vertical drop of some 620m. Even down here the snow cover remains good and the village has a cheerful feel, with a large, sheltered novice area, making it ideally suited to young families. Nearby are some nice Blue-graded runs through the forest, Gentil proving to be particularly memorable for the natural beauty of the setting. Montalbert's lifelines with the rest of the ski area are the two-stage chair-lifts back to Le Fornelet, which keep us entertained with overviews of those riding a pair of draglifts and heading off onto more inviting tree-lined runs. We like it over here.
To the brink…
Once we reach Le Fornelet we take another long Blue-graded, tree-lined cruise on Cornegidouille down to La Roche (1418m), where we join the high-speed six-seater chairlift for a haul back to Plagne Aime 2000. This time we're covering some distance.
After dropping back into nearby Plagne Centre and negotiating the throng once again, we board the Funiplagne lift up to the windswept ridge of La Grande Rochette (2505m). Here the visibility is less than ideal for an onward run all the way down to Champagny-en-Vanoise, much less a chairlift ride up past the Roche de Mio 2700m to reach the Glacier de La Chaupe and the slopes of Bellecote (3417m). So for now we content ourselves with the more sheltered option of an enjoyable Blue-graded cruise down Petite Rochette and Les Leitchoums, which serve up glimpses of scenic entertainment through the gathering cloud, all the way down to Belle Plagne. By now conditions are clamping down fast, as the expected heavy snowfalls sweep in. They'll keep the La Plagne road clearance teams busy throughout the night.
The Vanoise Express
The following morning the snowfalls show no sign of easing, so we decide to stay low and enjoy floating around on the fresh powder on some of the forested runs above Les Coches and Montchavin. Getting there involves taking the muscular Arpette eight-seater chairlift from Plagne Bellecote up to L'Arpette (2385m), where things feel more than a little confusing in the limited visibility. We now need more than a vague sense of where we need to be heading. The piste map suggests that taking the Replat piste to our left will keep us out of trouble, so we do just that before snaking our way through the other skiers heading somewhat tentatively down the Mont Blanc piste.
There are Red-graded alternative routes down, but being new to this sector, we stick to what amounts to the main highway until we're stopped in our tracks by the looming silhouette of the Vanoise Express cable-car over to Peisey-Vallandry and Les Arcs. We hadn't planned to take it, but somehow when we've come this far and understandably few skiers seem inclined to head over, it seems a pity not to make the most of the opportunity. The journey across, suspended above the villages in the valley far below feels distinctly eerie in the present weather conditions – more like a balloon ride, in fact. On the other side we emerge to join a sea of skiers taking on reviving hot drinks and snacks at cafe tables, and end up purchasing the most expensive coffees we've ever consumed (from a disposable cardboard cup..). Not somewhere we could recommend, then.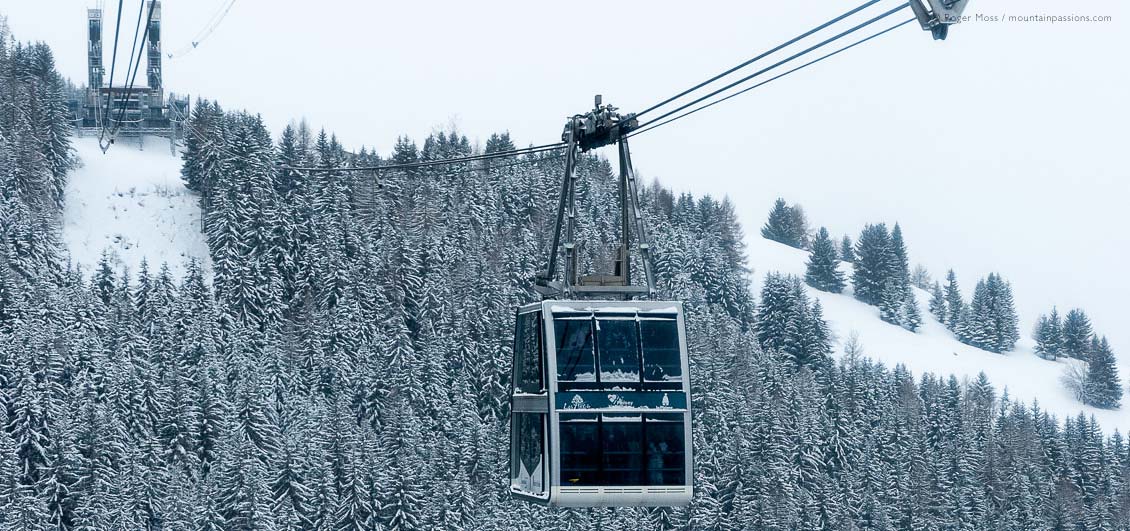 Curiosity satisfied for now, we head back across the valley to La Plagne and ski down to Montchavin for a quick look at the near-deserted front-de-neige before working our way back all the way up to L'Arpette and skiing back to the welcoming warmth of our hotel. It's the right decision, for the epic snowfalls continue unabated through the night.
Next morning, though, the skies have finally cleared to reveal the full extent of the overnight accumulations, which look even more magical beneath a clear blue sky – when it snows here it really snows. What's more, it's so cold that snow quality won't be compromised by the sunshine, so we waste no time heading to the Funiplagne lift and riding up to La Grande Rochette.
Into the great wide open
This time things look very different, with visibility fast becoming perfect, so we go for the 6km-long Mont de la Guerre all the way down to Champagny-en-Vanoise, a vertical drop of 1250m (4105ft). It's graded Red but begins innocently enough with a quite gentle cruise, becoming steeper somewhere around the mid-point. Today's perfect conditions mean there's no hint of ice or slush, and our skis run straight through any churned-up drifts, the only interruptions being brief pauses to take in the jaw-dropping scenery all around. Privileged moments like these are a major part of what skiing is all about for us.
Before long the piste drops into the tree-line, and begins to zigzag its way among snow-dusted trees looking like something out of a Christmas card. The lower section offers a choice of more of the same or straight down towards the valley floor – we carry on and enjoy the magic of the indirect route just a little longer before we join the final straight drop into Champagny, also looking picture-perfect.
Heading back via the gondola lift and a series of chairs gets us up to Les Verdons (2500m) for a return drop into Plagne Centre, and a final haul back to ski over to our base on Plagne Soleil. Sadly, our time in La Plagne has run out, and we still never made it up to ski on the Glacier de La Chaupe, but in some ways it's good to have a reason to come back. Not that we really need one; despite covering a lot of distance here, there's still a lot we haven't seen – a situation we look forward with great pleasure to remedying.