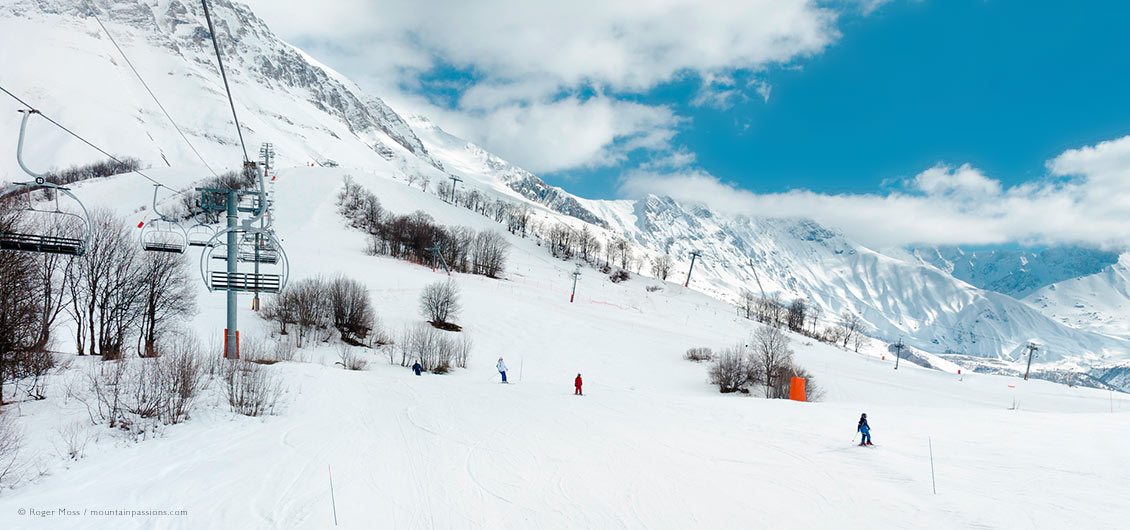 Insight: Albiez
Over the years we've visited all kinds of ski areas, both large and small. While the big names are undeniably impressive, we have to say that we've also developed quite an attachment to many smaller, more traditional areas. Albiez popped up on our radar when we finally managed to plan a visit to Les Sybelles, and decided to base ourselves in La Toussuire, from which Albiez is clearly visible just across the next valley.
It looks tantalisingly close, in fact, but in winter the drive between the two villages isn't exactly direct, involving a drop down to Saint Jean de Maurienne, followed by a wayward ascent on the other side. Around 45min later the climb finally eases, the landscape opens up and we find ourselves on a plateau at whose far end we roll into Albiez-le-Vieux.
The panoramic views to our right are sensational, and we gaze at them in awestruck silence until they're finally obscured by a snow-covered ridge just before our arrival at the top station.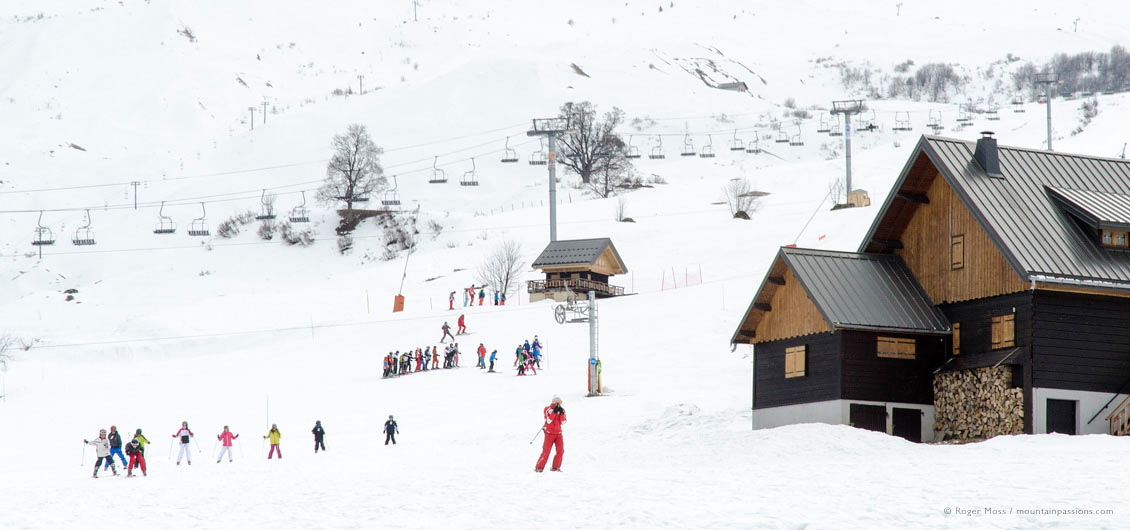 Albiez: authentic mountain village style, pure and simple
It's late March, so things are looking more springlike than wintry, but while there's little snow remaining in heart of the village the cover elsewhere still looks very skiable (proving that altitude alone isn't always a reliable indicator of snow-reliability). Not surprisingly, we have no problem at all finding a convenient parking space – everyone is obviously up there somewhere on the mountain, leaving barely a soul to be seen in the heart of the village. After picking up our lift-passes at the tourist office we walk to the nearby Grand Loup chair-lift and sit back for a first look at the ski area.
The leisurely ride gives us time to look across at the Loup draglift to our right, which serves a blue-graded return run plus a red traverse over to the base of La Blanche 4-seater chair, visible over on our left. The latter hauls skiers up to 2060m and is a surprisingly high-capacity lift for just a couple of runs, but was conceived with an interesting possibility in mind, namely to be extended to the ridge above the top station. Doing so would neatly link the terrain of Albiez to that of its neighbour in the next valley Les Karellis, whose own topmost lift is just visible on the ridge. So far it remains a project, but might still happen one day.
Today, though, its close companion the Crête de l'Ane drag-lift is closed, since the terrain it serves is south-facing and hence the first to lose its snow cover towards the end of the season. It's a shame, as this steep, easternmost sector has an enticing-looking sense of wild remoteness, and is home to an area designated as an 'espace rando' exclusively for the pleasure of off-piste skiers.
When we reach the end of our haul we ski off and head right on Crête Corbeau, a wide blue-graded run to the base of the Les Aplanes drag-lift. While riding the drag the panoramic views to our right are sensational, and we gaze at them in awestruck silence until they're finally obscured by a snow-covered ridge just before our arrival at the 2100m top station. From here we take Plan Corbé, which serves up a swirling red-graded descent which brings us to the base of the La Blanche 4-seater chair. On the haul back up we get a closer view of the officially-closed eastern sector and spot a couple of skiers who have obviously made their way across from where we're currently heading and are having fun working their way down on the sections which have best retained their snow cover.
Back up to 2100m for more, this time via a chairlift
When we reach the top we find ourselfves back at the point to which the drag-lift had towed us, so we re-ski the enjoyable scenic blue cruise beside it. This time, though, we ski past the base of the drag-lift and continue onto Prés Perroux, for a spot of high-speed carving down this safe and super-wide blue. It's the perfect run for this kind of fun, which continues all the way down to 1490m, where it finally flattens out. What's more, we have it virtually to ourselves, mainly as it's now well past midday. Having by now put a reasonable distance under our skis (with over 600m vertical drop on the run we've just skied) we're more than happy to break for lunch, and to unwind during the leisurely stroll which brings us to the welcoming Lo Sonails restaurant in a narrow street at the lwoer end of the village.
Skiing over to drop in on Albiez Le Mollard
When we head back out it's just a short stroll back to the La Vernette 3-seater chair-lift which departs from the foot of our previous run. Once aboard we glance to our right at the steep pitch of the upper section of the Le Chatel drag-lift and decide that this is one lift we're not going to be taking this time, even after our leg muscles have finally re-awakened from their lunchtime slumber. The chair is the longest in the ski domain, and drops us at 1820m. From here skiers have a choice of blue or red graded runs down to Albiez-le-Vieux, or alternatively taking our old friend the Les Aplanes drag-lift up to 2100m. Other possibilities include a modest cross-country foray into La Plaigne at 1720m, but we take Chanes, a wide red piste which soon turns to blue for its lower section.
It brings us back to Le Mollard, from which we ride the Les Echaux chairlift for a spirited run down the Loup red, and finally onto Impène, another enjoyable blue, whose width we exploit to carve our way back to Albiez-le-Vieux (Chef-Lieu on the piste map).
Sadly we've just completed our final run here, for we want to try the route to Saint Sorlin d'Arves, to see whether it's really a 20min drive. It is. So, parting thoughts? Lots really, the first of which is that we're really glad we came to Albiez, which we think is absolutely worth skiing. While it's true that the piste-map is small, the quality of the skiing, among all that stunning scenery, is proof that sometimes quality is more important than quantity. We love it here, and we'll be back.