Ski smart in the Oisans ski area
How to cut costs while still enjoying premium skiing
November 16, 2022
News
Discounts on ski lessons for children and adults, ski passes at mini prices, unusual and inspired accommodation… The prime tourist destination in the French department of Isère, which includes the world-famous resort of Alpe d'Huez, is committed to making skiing an accessible activity.
The 3 international ski resorts and the 22 village resorts of Oisans offer well-thought-out and original solutions to help holidaymakers make economies and allow as many people as possible to benefit from the 500km of slopes, spread over the 4 ski areas.
For children or adults, beginners or experienced, here's 6 tips to ski smart in the Oisans!
15% DISCOUNT ON SKI LESSONS
AURIS-EN-OISANS
In every family, there's someone who wants to either start skiing or to improve… Mum is starting to do the maths! ESF Auris-en-Oisans offers a 15% discount on the adult group lesson for any purchase of a child group lesson. The perfect opportunity for each member of the family to benefit from the joys of skiing, at their own pace!
Offer valid for any purchase of children's group lessons online. All you have to do is send the proof of reservation and the ESF will reimburse you by bank transfer.
www.aurisesf.com/infos-pratiques/offer-family/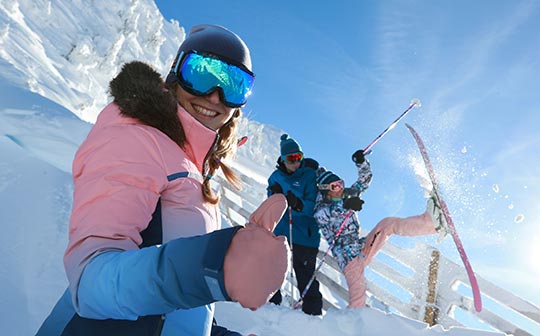 DIRECT'O SKI: PAY AS YOU SKI
OZ 3300/ VAUJANY
Zero hassle, zero queues at the ticket office, the Direct'O Ski telebadge allows you to pay only for the days skied, depending on the ski area used.
The offer is valid throughout Alpe d'Huez Grand Domaine Ski, i.e. 250 km of slopes. The principle is simple, if during a day you only ski in the Oz-Vaujany sector, the day is billed at the Oz-Vaujany rate. And if there is a day when you just want to lounge on the terrace, you won't pay the full price!
Membership price for the Direct'O Ski card: €15 for a family of 4 people. (2 € per additional person)
www.directoski.com/en/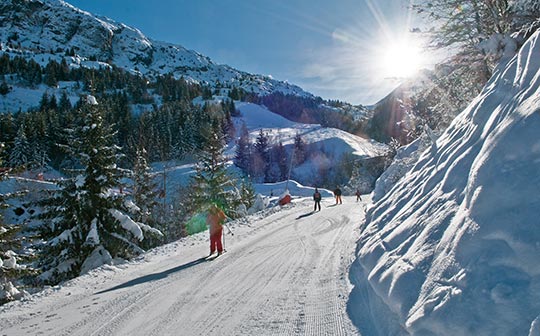 ---
---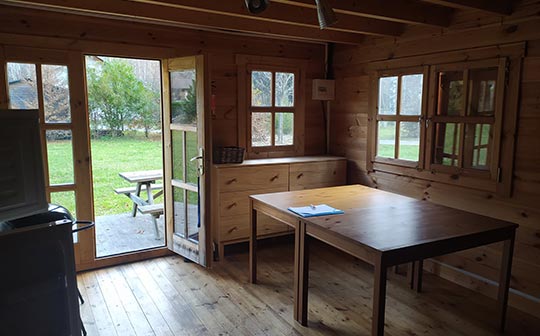 WINTER CAMPING FOR AN UNUSUAL AND BUDGET FRIENDLY WINTER HOIDAY
ALLEMOND
Equipped with mobile homes or small chalets, camping in winter is a great option to cut costs! In Allemond, the 2* Les Bouleaux campsite will open for its first winter. From December 17 to March 19, 2023, it will be possible to be stay in one of the wooden chalets, in the apartment or to come with your motorhome (yes, even in winter, in the snow).
Price: from €350 to €560 for a 5-person chalet, from €490 to €700 for a 6/8-person chalet, from €455 to €665 for a 4/6-person apartment.
www.camping-lesbouleaux.fr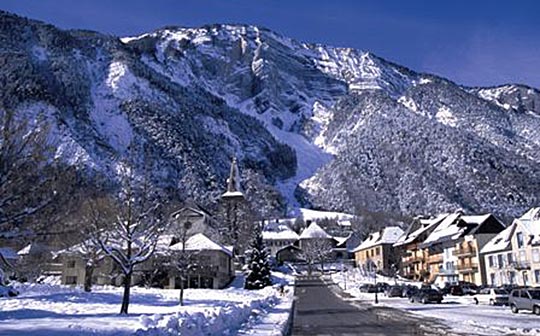 PRACTICAL AND ECONOMIC – COMFORTABLE MOBILE HOMES
BOURG-D'OISANS
On the Bourg-d'Oisans side, the Belledonne campsite also opens its doors in winter with 18 new comfortable mobile homes.
This campsite is located just 10 minutes from the new Eau d'Olle Express valley lift, it is also an opportunity to discover a new type of ski holiday!
Price 6 nights in a "Chalet Fare" mobile home from 17/12/22 to 23/12/222: €565
Rates available on the website https://www.rcn.nl/fr/camping/france/alpes/rcn-belledonne/parkinfo/sports-d-hiver
---
---
SKI PASSES AT VERY LOW PRICES!
VILLARD-RECULAS
One of the major expenses of a holiday in the mountains is ski passes.
In Villard-Reculas it is possible to ski for 20 € / day. You have access to 2 chairlifts, 4 drag lifts, slopes of all colours – beginners or experienced skiers. There's something for everyone! Parking and access are easy in this charming little mountain village.
skipass.villard-reculas.com/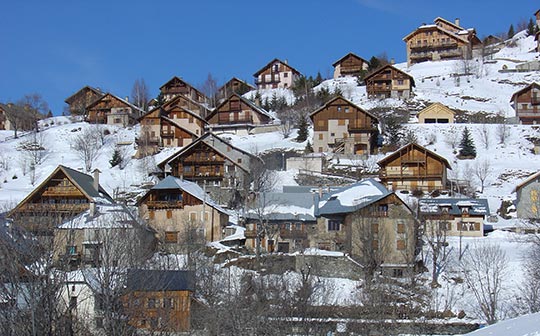 IT'S ALL ABOUT TIMING TO BENEFIT FROM THE BEST PRICES
OZ/VAUJANY
On the other side of the domain, in the Oz-Vaujany sector, there are also some great deals to be found. For any purchase of a 6-day ski pass, entry to the swimming pool and entry to the Vaujany ice rink are included – enough to end the day in style!
Another good money-saving tip on the Oz-Vaujany is to choose the 4-hour pass. The cost of one hour skiing comes to €8.75! Who said skiing was expensive?
And finally, for those who want to ski later in the day, from 3 p.m. the package goes to €24.50/adult. No qualms about sleeping in and enjoying the day differently, hit the slopes by mid-afternoon and enjoy a wonderful sunset on skis!
www.oz-vaujany.com/fr/rates-domaine-oz-vaujany