All About Artificial Snow-making
Keeping the slopes open
In an increasingly competitive marketplace, top ski resorts now need to offer a lot more than good snow conditions. Without them, though, there's no skiing, so investment in new and upgraded artificial snow-making infrastructure is steadily increasing. To find out how it works in a major ski resort we visited Flaine in the Grand Massif, one of the pioneers of artificial snow-making, for a privileged look at just what goes on behind the scenes.
…the latest generation of snow cannon require only ambient, rather than compressed air. …these developments could halve energy costs – or for the same running cost, double the terrain equipped with snow-making.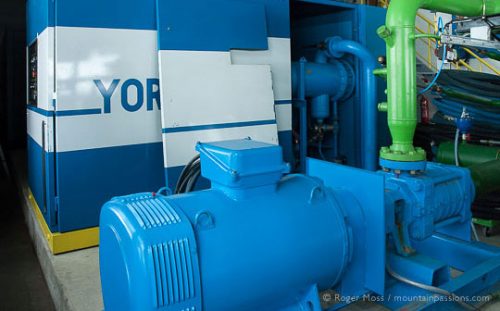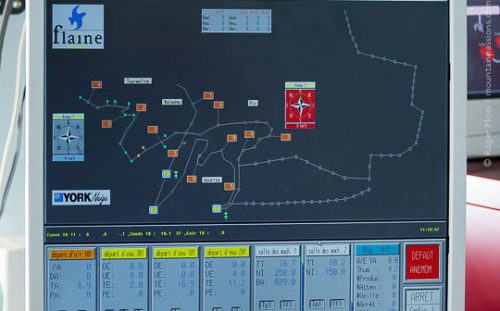 The snow factory: inside Flaine's usine à neige
Artificial snow-making, or 'neige de culture', can kick-start a season by laying a firm bed of snow before the real stuff arrives. But there's a snag. It doesn't take a genius to figure out that projected water droplets are never going to transform themselves into snow flakes (technically 'micro-crystals') unless air temperatures are already below freezing. So for much of the time only higher altitude resorts and those with an intemperate micro-climate (it happens) can benefit.
In 1973 Flaine pioneered artificial snow-making, and now has one of the most extensive and sophisticated systems in the French Alps. Here's how it works:
Large purpose-built nearby reservoirs supply the central usine à neige (literally 'snow factory') which then pumps both water and air at high pressure through a network of underground pipes to batteries of snow-canon sited around the mountain. The entire network is then computer-managed under the watchful eye of the factory operator.
He's not the only one. Environmentalists, never the greatest enthusiasts for large ski developments, are also monitoring the expansion and evolution of artificial snow-making, which has developed into a far more advanced science than most skiers realise. Snow is picky stuff — in order to be potential snowflake parents projected droplets will need to be between 0.2 and 0.8mm in diameter. Both fixed and portable snow-cannon units are perfectly capable of providing just that, but once the mixture leaves the nozzle it can take a second or two to crystallise. Or not; natural snow forms when individual droplets collect around dust and other particles present in the atmosphere (a process known as heterogeneous nucleation). Snow canon, on the other hand, need help if their precise droplets are not going to simply produce ice particles (homogeneous nucleation). Result: miniature hail-stones.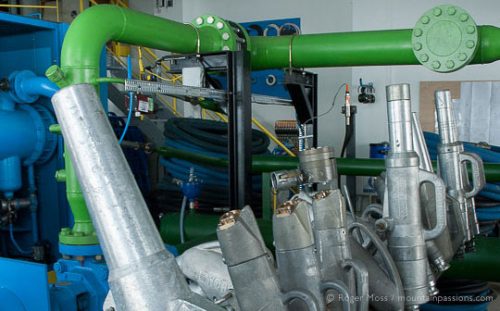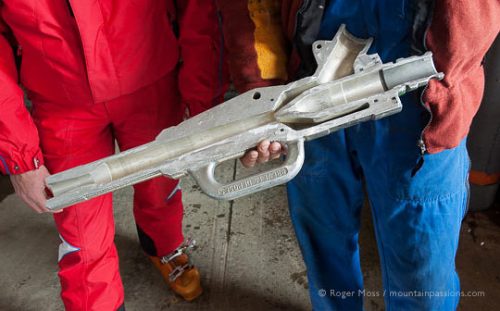 Artificial insemination for snow-making…
One answer is to add a bacterial protein known as Pseudomonas syringae to the water supply. The result, even with temperatures barely touching zero, is near-instantaneous crystallisation, creating the perfect artificial snow. According to York Snow Inc., whose Snowmax Snow Inducer was widely adopted by the North American ski industry, the bacteria are perfectly harmless, being already present in vast numbers in the natural environment. Just to be sure, though, they're mostly 'neutralised' during the manufacturing process. Europe, on the other hand, has been less eager to adopt the additive approach, unconvinced by claims of zero environmental impact.
In any case, there's now another, simpler option. Newly-developed catalytic systems offer similar dramatic improvements in snow quality, so the latest generation of snow cannon require only ambient, rather than compressed air. Between them, these developments could halve operational energy costs – or for the same running cost – double the terrain equipped with snow-making. The downside is hefty capital investment in new hardware (each cannon requires its own catalytic unit, priced at around 1,000 euro apiece), but if electricity prices continue to rise the present four-year break-even period is certain to shorten.
Either way, artificial snow-making is expensive, running costs generally far outstripping those more visible consumers of energy, the ski-lifts…