All About Ski-Lifts
From drag-lifts to the telemix
As every skier already knows, what comes down must first go up, so it's no surprise that ski-lifts play a key role in providing the perfect ski experience. In recent years high-speed lifts have not only added convenience – they've transformed the daily habits of a generation of skiers, who cram more runs into a day (or at least up until lunchtime) than ever before.
…ski-lifts play a key role in providing the perfect ski experience…
Rope-tow
In its most basic form a lift can consist of little more than a continuous loop of rope between two pulleys, providing what is popularly referred to, unsurprisingly, as a 'rope-tow'. Simplicity itself to use, if a little tedious because of their low speeds, the rope tows are generally found only in beginner areas, particularly for smaller children. A slightly more sophisticated alternative form of novice transport is the magic-carpet lift , on which skiers simply stand to be carried over modest distances, usually in dedicated ski-school teaching areas. With nothing to hold onto, it's no surprise that on one of these you tend to travel even slower than on a rope-tow – which, of course is great news on your very first morning on skis, but a pain ever after.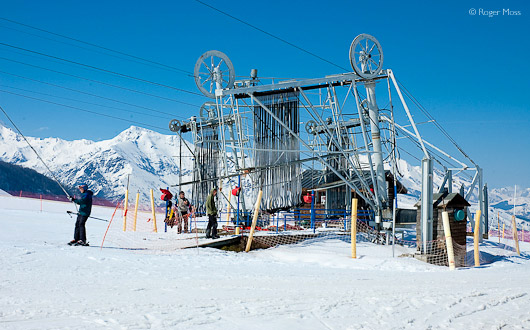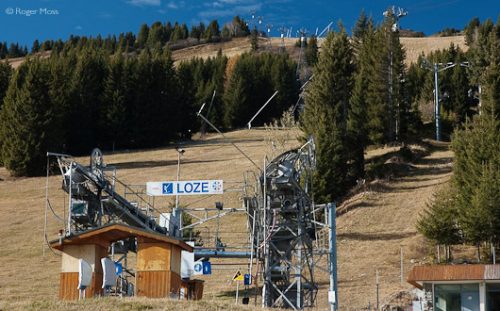 Our old friends, the drag-lifts…
Next comes the ubiquitous button, surface or drag-lift — also sometimes referred to generically as a 'Poma-lift', after the famous French ski-lift manufacturer. This type of lift has the continuous loop (in this case not a rope but a steel cable) up high out of harm's way on rollers mounted on a series of tubular steel piers or pylons, with a pulley wheel at either end of the lift-run. With the mechanism carried high, the system can be safely deployed around the mountain without unduly inconveniencing other skiers.
To ride up the slope from the 'loading area' the skier or boarder simply takes a parked pole, which is attached to the cable by a simple clutch mechanism, and places the lower rubber disc or 'button' between his/her legs. As the clutch engages the pole is pulled smoothly away (if the internal spring-damper is well-maintained…), along with the rider – in theory, at least. In practise the technique requires a good sense of balance and a degree of familiarity, as many skiers have discovered to their cost (and to their colleagues' amusement).
Given sufficient power, the capacity of the lift can be doubled if the button is replaced with a bar, allowing two skiers to ride side-by-side. The result, known as a Tee-Bar lift, is less frequently encountered in Europe these days, and operators tend to prohibit single skiers from using the lift, because of safety issues. Either way, though, progress up the mountain is slow: the typical speed of a drag-lift is around 100 metres per minute.
Drag-lifts still perform a useful function where needs or operational budgets are modest, and are extremely versatile, providing no-frills transport for novice areas along with more testing hauls to more remote and advanced ski terrain. Their limitations include skier-capacity, which is why you'll often see side-by-side installations, and relatively limited journey lengths – long, steep hauls can be tiring for less-fit skiers. Which explains more resorts are dismantling multiple drag-lifts and replacing them with a single high-speed chairlift – a popular move for many skiers, and one which minimises environmental impact on the mountain landscapes.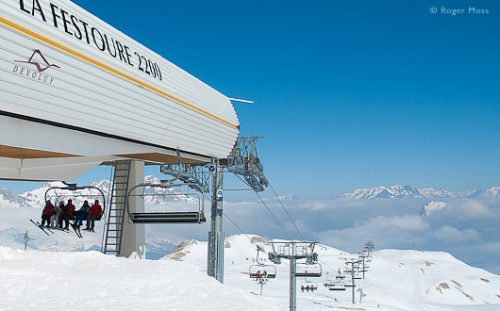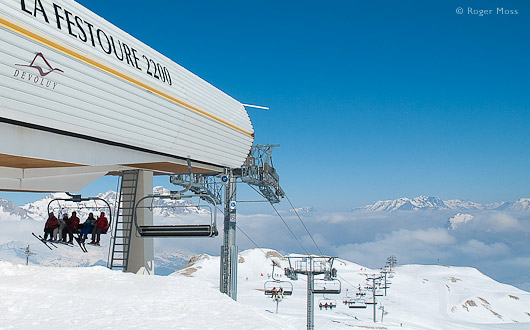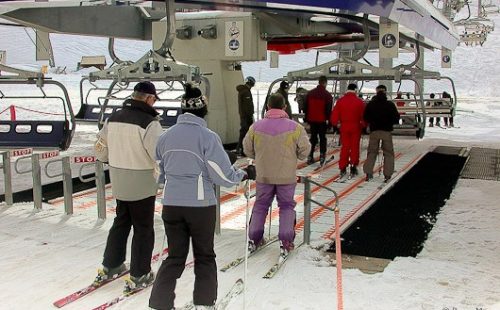 Different types of chair-lift…
In its simplest form a chair-lift or 'télésiège' has chairs fixed permanently at regular intervals to a continuous steel cable. Getting on and off a fixed chair-lift like this in safety requires caution, and limits the speed (and hence the overall skiers-per-hour capacity) of this lift design.
A state-of-the-art six-seater detachable chair-lift in Le Dévoluy, in the Hautes-Alpes.
The logical successor to the fixed chairlift is the high-speed detachable ski-lift (or 'débrayable' lift) which uses the same mechanism as high-speed gondola lifts to slow down the chairs for much calmer loading or unloading. Doing so requires an ingenious clutch system, which allows the chairs to be lifted clear of the fast-moving cable before it passes around the pulley or drum of the top or bottom stations (and also occasionally a mid-point station). The cabin support arm is then transported around the same arc as the cable by a series of small wheels, fitted with rubber tyres.
Once the skiers are safely on or off the chairs the same transport mechanism then passes the chairs onto an inclined rail for an accelerated descent ready to rejoin the cable for a speedy journey (2-5m/sec) up or down the mountain. In areas prone to icy winds (or where lift rides are long or slow) the chairs can be fitted with transparent covers which can be raised or lowered to give protection and comfort to skiers. Detachable lifts typically carry 4-8 skiers per chair, but aren't, in fact, the only ones to offer this kind of capacity.
A simpler, lower-cost alternative to this system is the magic-carpet lift, which is essentially a fixed chairlift, but whose loading area(s) has a full-width flexible conveyor-belt running at around half the speed of the chairs. Step onto the carpet (or 'tapis-roulant') and you'll be carried smoothly forward while the next chair advances behind you – the speed difference is thus modest enough to allow you to seat yourself calmly and safely on the what is very much a high-speed lift.
The télémix lift…
In recent years the chairlift has bridged the gap with its big brother the gondola lift, by combining both cabins and chairs on the same cable. The télémix allows non-skiers to use the same ski-lifts as their skiing and snowboarding companions, enjoy other activities, witness the same top-of-the-mountain views or dine in mountaintop restaurants.