Perfect Piste Grooming
The fine art of piste preparation
When the lifts finally fall silent at the end of the day and the last skiers have made their final descents, the entire ski domaine must be signed off by the teams of piste patrols ('pisteurs') whose duties include spreading out and skiing every single run to check that all's well while there's enough daylight to spot anything amiss. Once that's completed it's time for the piste-grooming to begin – a highly-skilled overnight task of putting back what another day's skiing has taken out. It's a tough life for a ski piste.
While you're sleeping soundly under the duvet you can bet that the groomers will be out there somewhere very lonely in the darkness…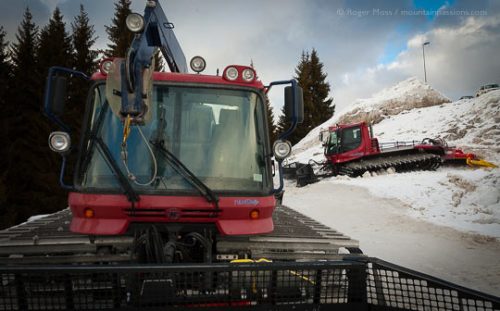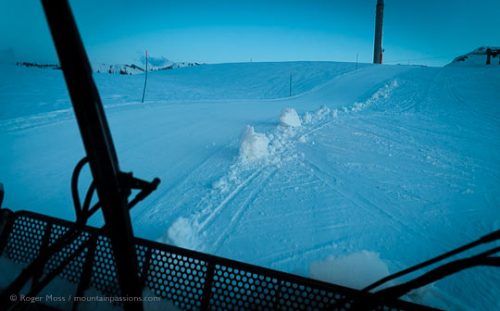 While you're sleeping…
Peer out from your apartment in the dead of night and you'll probably glimpse their headlight patterns in the far distance, among a swirl of snow-flurries. The piste preparation teams (or, more correctly, 'les dameurs') are mostly nocturnal, working two back-to-back night shifts to cover each dusk-to-dawn period. While you're sleeping soundly under the duvet you can bet that the teams will be out there somewhere dark and very lonely performing tasks such as restoring tired pistes and rutted drag-lift tracks to near-virgin flatness, nudging nearby reserves of drifted snow onto thin patches, and much more besides. In more exposed areas where prevailing winds can blow the fresh snow away as fast as it falls poor snow-cover can be unavoidable, so the piste-groomers know exactly where to find reserves of snow, whether drifted or produced by snow canon. These can then be nudged into position wherever they're needed to maintain an even base for skiers.
Only the lonely…
Not surprisingly, it can get (very) lonely up there. Even in daylight, if visibility suddenly drops skiers can lose their bearings in seconds, but the groomer drivers must know their mountains intimately at night, even in blizzard conditions. In big ski areas this kind of local knowledge can take a couple of seasons to acquire. Even then the unexpected can still happen, so to keep the drivers in constant contact with their control centre (and each other) they're armed with GPS, avalanche transceivers and of course mobile phones. And just to keep spirits up they also have sound systems and formidable cab heaters. Home-from-home, almost.
Not that life here is exactly a picnic; riding on wide, metal-bladed tracks means that progress, even on soft snow, tends to feel nerve-janglingly firm – not ideal when the controls are light and ultra-sensitive, thanks to power assistance for all the main functions. This includes a massive bulldozer-style front blade capable of shifting whole walls of wind-drifted snow or reserves created by snow-canon.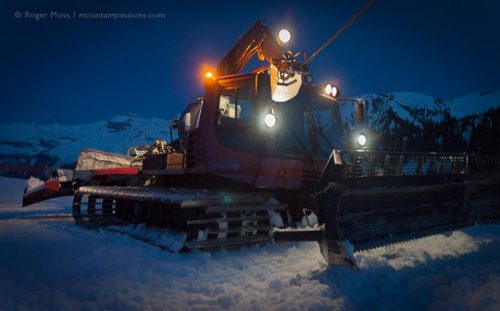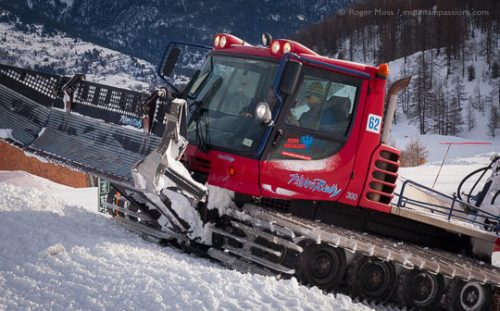 A light touch…
Particularly labour-intensive are pistes which sit on sufficiently large glaciers to enable resorts like Tignes and Les 2 Alpes to offer summer skiing. Even in winter the preparations are plainly evident, in the form of multiple walls of snow banked up beside the pistes, a little being skimmed off by the grooming teams after each snowfall and stockpiled.
Once an even snow base has been established the real process of grooming or 'conditioning' begins. Again this requires sensitive and precise handling by the operator, as nothing is automated. This means keeping a constant eye on the terrain ahead and reacting to the changing contours of the terrain by manually raising or lowering the front blade to keep it in minimal contact with the surface. The challenge is to merely flatten the snow just enough to allow the rotating blades at the rear of the vehicle to whip up compacted, or hard-packed snow, aerating it before final smoothing by a heavy, serrated rubber blade. The end result is the trade-mark lined surface patterns which tell skiers that les dameurs have done their work well.
It all comes at a price…
Piste grooming, like other operational costs, doesn't come cheap. Each vehicle costs around 250,000 euros, and the Grand Massif has thirteen of them. Some have a particularly neat trick up their sleeve. Add a beefy 3.5 tonne winch and around 1000m of steel cable (a worthwhile option at 50,000 euros) to your groomer, attach the cable to a secure anchor-point and you can happily wind your way up and down otherwise impossibly steep pistes in perfect control. Yes, that's how they do it – a winch-equipped groomer being known as 'une dameuse a treuil'.
As you'd imagine, this kind of work requires quite a bit of engineering muscle. A typical 12-litre 435bhp power unit consumes fuel at the rate of around 250 litres per vehicle per shift, and prices for the inevitable replacement parts needed to keep the snow on the mountain (a winch cable alone can cost upwards of 6000 euros) can be eye-watering. So don't even think about what might happen to the delicate machinery if the groomer driver should come across that ski or pole you lost earlier somewhere on the piste. Still wondering why your lift-pass looks pricey?