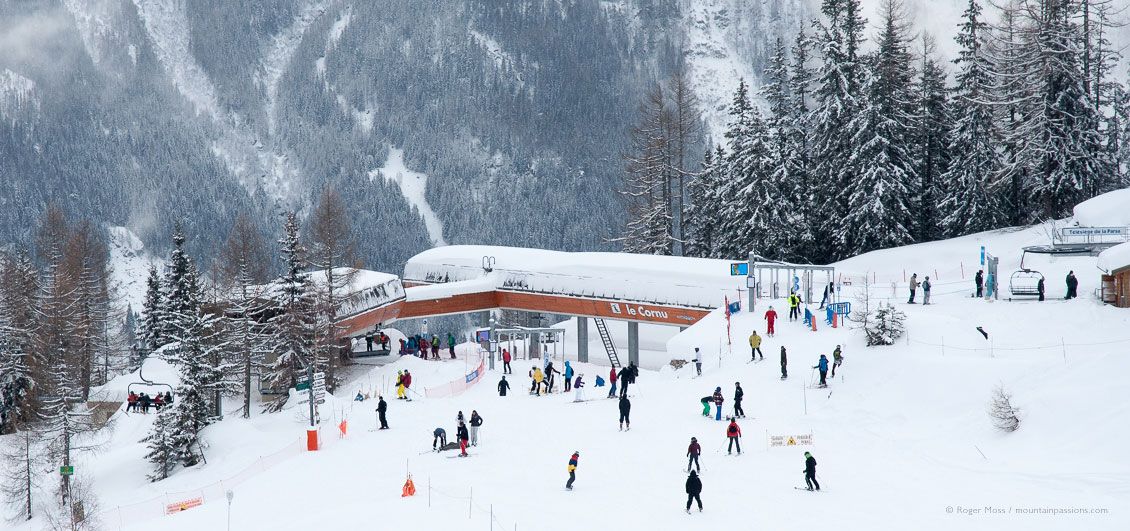 Insight: Chamonix
Le Brévent – Chamonix's home ski terrain
Today we're setting off to ski the Brévent area, the closest high-altitude skiing to our apartment and to Chamonix itself, being located just above the town and accessible via the powerful 8/10-seater Planpraz gondola lift. The last time we were here things were very different, with a memorably hairy ride up in old, cramped 'egg'-style cabins, but back in 2009 the whole installation was upgraded. It's still an impressively steep haul, though, but faster and much smoother, after which we step out onto the mostly south-facing terrain at Plan Praz (1999m).
From here advanced skiers can take a vertiginous cable-car ride up to Le Brévent (2525m) for sensational views of the Aiguille du Midi and the massif du Mont-Blanc, plus a single black-graded scenic descent made even more interesting by having two of its intermediate sections dividing briefly into alternative routes. They reunite before joining either a green piste back to Plan Praz or an onward blue over to the Cornu sector. Snow permitting, you can then ski a black (Nants) all the way back to the floor of the valley or the base of the Planpraz gondola.
For now we decide to pass on Le Brévent's black terrain and instead explore some of the intermediate runs before the imminent arrival of this morning's Sunday skiers. Thanks to the previous night's copious snowfalls we float off silently on fresh powder, and lay tracks on Vioz and Blanchots, two blues which drop us neatly at the base of the Cornu chairlift (1814m). The high-speed six-seater serves three steep Red pistes, with the option of a detour on an even steeper Black (Bouquetins).
From Brévent over to Flégère
After enjoying overviews of skiers tackling with varying degrees of success the more demanding descents found up here, we reach the 2333m top station and opt for the red-graded Charlanon. After a brief schuss we make a tight right-hand turn, which fires us down onto an unexpected and impressively-steep wall. In Chamonix it really does pay to expect the unexpected, a thought we ponder while powering our way down the sharp drop which eventually eases before passing the arrival points of a couple of chairlifts. A final tight left turn, still on Charlanon, puts us on a blue-graded run which takes us through startlingly beautiful scenery down to the Liaison cable-car linking the Brévent area with that of Flégère.
Once safely across the void we're skiing for just a few seconds before joining the Evettes chairlift for a smooth haul through the tree-line and up all the way to the base of the muscular Index six-seater chair (1892m).
For reasons not immediately obvious Index is resolutely closed to skiers when we arrive. It's a blow, since this key lift heads all the way up to 2405m for a choice of red- and black-graded descents (with a little help from the topmost Floria draglift), all with some pretty incredible views to the distinctive slender peaks on the opposite side of the steep-sided valley. Hopefully it'll be accessible next time we're here.
Not that it's all harcore stuff; if something a little gentler is more your style, just a short distance up ahead lie a couple of chairlifts serving mostly blue- and green-graded pistes (a welcome sight for post-debutants based down in Les Praz).
A storm blows into Flégère
It's just above this exposed spot that we discover that not only the Index chairlift but also the Flégère cable car bringing skiers up from the valley floor are closed, and we're about to find out why. At any other time we'd have passed by the slightly unappealing-looking Tendance Foehn snackbar/takeaway but high winds are now starting to whip up the snow and firing it at our faces like needles, so it doesn't take long to decide to dive in for quick chocolat-chauds and let the storm blow through before we think of heading back over to the less-exposed Brévent sector. This looks like it could be a wild one. It can happen here, sending skiers further down the valley to the more sheltered, tree-lined pistes of Les Houches. Right now that has definite appeal.
Happily, after stepping back out into the wind-chill and pointed our skis back towards the cable-car, we're amazed to find that the return run on the blue-graded Évettes turns out to be quite literally a breeze, since it's reassuringly sheltered, to the point where we wouldn't have believed how conditions could differ so dramatically in adjoining areas. It also illustrates why it pays to keep a watchful eye on forecast conditions (and lift closures) around the valley when deciding where to head for your day's skiing from Chamonix.
See our individual Resort Review pages for Argentière, Les Houches and Vallorcine & Balme ski areas in the Chamonix Valley.