Insight: Saint-Gervais / Les Houches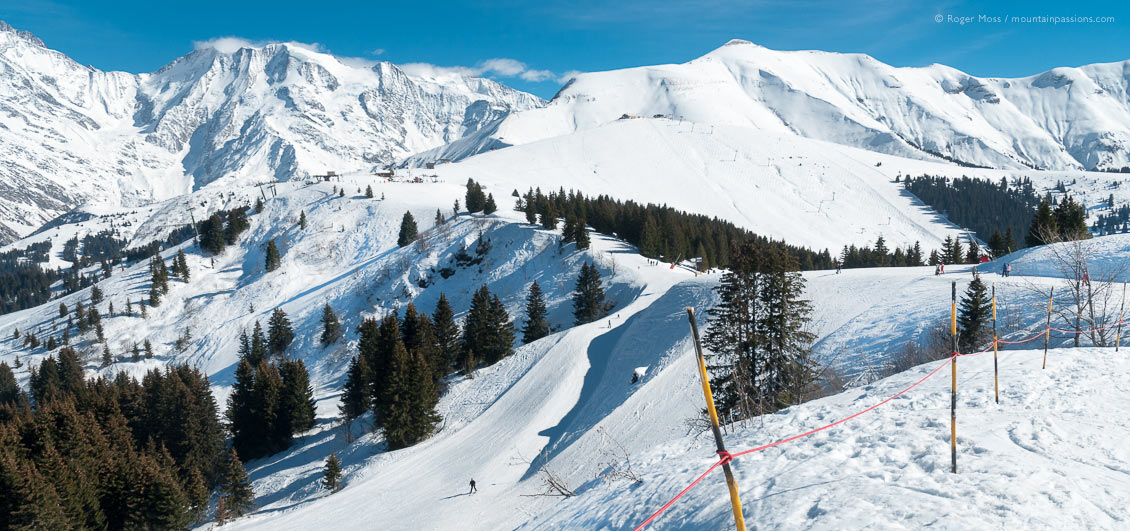 Insight: Saint-Gervais / Les Houches
Like many others before us, until we actually ski here our image of Saint-Gervais probably owes more to the presence of the celebrated Mont Blanc Tramway than the quality of ski terrain on offer. Another reason for it being something of a late discovery for us is the location – roughly midway between the major ski areas of the Chamonix Valley and those of the Val d'Arly. In fact the full extent of the terrain is far from obvious (even from neighbouring Les Houches) until you actually begin to explore the mountains, and we're more than happy to do just that.
Jaw-dropping views of nearby Mont-Blanc, whose 4810m summit produces a hypnotic, constantly-changing succession of cloud swirls in the otherwise clear blue sky.
Point of view
Day One finds us setting off from the Megève side, taking the Rochearbois cable-car link. It's a mere hop compared to the epic ride on the Mont d'Arbois gondola, which then takes us at what feels like a pretty sedate pace over to the 1840m summit of Mont d'Arbois. No fewer than seven lifts converge on or near this key navigation point, so it's a pretty buzzy place, skiers coming and going while those on foot peruse the café menus or check-out the sun-terraces of the nearby mountain restaurants. There's another attraction: jaw-dropping views of nearby Mont-Blanc, whose 4810m summit produces a hypnotic, constantly-changing succession of cloud swirls in the otherwise clear blue sky.
From Mont d'Arbois it's possible to ski down almost to Combloux, via a choice of red or blue-graded runs leading to the base of the Princess gondola lift. Our choice involves a quick drop down through the tree-line to the Monts-Rossets chair-lift, followed by a gentler run over to the Bettex-Arbois gondola, whose lower counterpart brings skiers up from Saint-Gervais. Once back up again we discover a second Mont d'Arbois summit, this time at 1833m and separated from Mont d'Arbois 1840 by a ridge which just isn't quite skiable without polling or walking the final section – not ideal on a sunny day. Instead we ride the nearby Mont Joux chairlift to try some of the 1958m Mont's mostly red-graded terrain. Get it wrong from here and you end up just above Les Communailles – no bad thing, as there are restaurants tucked away at either end of the drag-lift. Get it right, though, and you're rewarded with some brief but enjoyable red runs (plus a black) served by the Croix du Christ and Epaule chair-lifts.
Challenging heights
From here more confident skiers now head for the Mont Joly fixed chairlift, which provides a steep haul to pick up the red-graded Chevreuil piste, with an option to peel-off along the way, or Chamois, a more direct black heading back down to the base of the lift. The gradient means that the terrain up here can become mogulled, but it's a price worth paying in milder conditions as snow conditions remain firmer at this altitude than lower down. Sure enough, by the time we head back down the west-facing slopes of Mont d'Arbois things are becoming distinctly soft in the late-March sunlight.
Exploring near Saint-Gervais
The following day we awake to very different conditions. A depression is moving through the mountains, and the results are becoming obvious as we reach our starting-point at Saint-Nicolas de Véroce. Donning ski-gear in the rain is not one of life's pleasures, but at least that should mean it's snowing steadily just a little higher.So we head up anyway, spurred by the prospect of laying first tracks in fresh falls. The Chattrix fixed chairlift is a long one, although we don't get to admire the views during the ride, as we hit the snow line early. At the top it's snowing hard, but we set off hopefully, naively optimistic that things will clear soon.
It doesn't. We should be enjoying spectacular scenery but as we drop down to reach the Croix du Christ high-speed chairlift we're soon skiing in near-zero visibility. From here getting back down the mountain means going further up to pick up the steep Gouet drag-lift which will haul us back to the return run. Ignoring for once the 'Piste Fermé' signs (the whole mountain is now closing until the bad weather has safely passed through), we make our way down on a deep carpet of soft snow, and return to the car feeling damp but moderately heroic. A couple of hours later the skies clear, the mountain reopens and skiers are enjoying the sensational scenery and the new snow. For us, though, it comes too late, but we'll be back as soon as possible to ski this beautiful corner of the Evasion Mont-Blanc ski domain and finally see what we missed.