Insight: Valmorel
Our previous encounter with Valmorel had been confined to a fleeting visit in poor weather after having skied over from neighbouring Saint-François Longchamp. It's taken a couple of seasons to get back, but this time we'll be based here, to find out just what it feels like on this side of the mountain.
Our spacious apartment at CGH's popular ski-in/ski-out Résidence La Grange aux Fées is in a quiet location a few minutes' walk from the main village, but since our balcony looks onto a nicely-groomed piste returning to the foot of the Lanchettes chairlift, just 50 or so metres away it's quite a practical option.
The slow, fixed two-seater (due to be replaced by a high-speed lift) takes almost ten minutes to reach the top station, but since the weather is good it's an enjoyable ride, dropping us at 1829m for a choice of onward routes.
We take the slow ride from Valmorel
The red return piste to our right is currently closed but ahead of us is the link over to Saint-François Longchamp, courtesy of either a pair of draglifts (named Arenouillaz) or the Biollène fixed 4-seater chair. The drags are actually faster, but we take the chair, and around 1.5km and a little under 11 minutes later we ski off at 2019m altitude and look back towards the village now hidden from view far below.
At the foot of the lifts there's a choice of blue-graded runs back to the village or across to the lifts serving the red and black pistes below the Col du Mottet (2403m). That particular option also brings access to the Riondet draglift serving an unpisted black (le Freeride du Rondet) for exhillarating plunges into the La Grande Combe.
The liaison with Saint-François Longchamp
We ski off the Biollène chair, turning right onto La Valette, a steepish blue which drops 415m or so into the combe, where a sense of calm detachment adds a welcome natural dimension to skiing in Valmorel. At the bottom we pick up Madeleine, a powerful 6-seater high-speed chairlift which handles the liaison with Saint-François Longchamp. The haul takes us smoothly from the chill of the combe and through the tree-line, en-route for a 2180m ridge, beyond which we'll leave the Tarentaise (in Savoie) and ski into the Maurienne (which lies in Isère). The transformation is remarkable, the mostly south-facing terrain from here onwards being much sunnier, although less demanding. You'll find our usual in-depth insight and impressions in our Saint-François Longchamp Resort Review.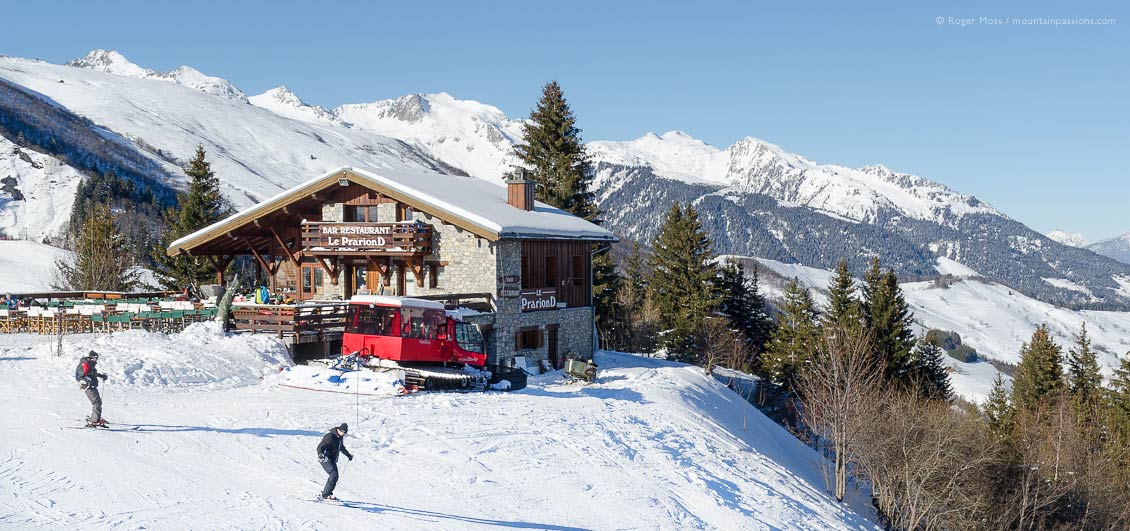 Valmorel's lift-served home terrain
We string together a long cruise down to a familiar lunch spot, then head back to Valmorel to check out some of the terrain we'd missed earlier through not having set out from the main village. Skiers based more centrally, however, have a simple choice of lift. The Altispace I and II high-speed chairlifts head for the Boardercross des Pirates or the liaison with Saint-François, while the Pierrafort gondola heads up to the Boardercross & Snowpark de Pierrafort. Both lifts also access mostly blue-graded return pistes, with the option of a detour from Pierrafort to another Free Ride zone and a couple of pisted blacks below the Col du Gollet (1981m). While there are few really long runs, intermediates will find plenty of cruising terrain, most of it north-facing.
Take the Mottet fixed 2-seat chair up to the Col du Mottet (2403m) and you get a panoramic viewpoint plus another Free Ride zone and a long red-graded descent back to the base of the lift.
From Valmorel down to Doucy
Day Two begins back on the Lanchettes chairlift, this time to ski some of the blues served by the Biollène chair. Combe de Beaudin is a nice wide cruise (good for carving) with the pair of long draglifts for company and the option of turning off to continue all the way back to the main village. Arenouillaz, on the other hand, feels more removed from things and throws in some pretty enticing views across the Grande Combe.
Having skied that we continue past two successive paired draglifts, between which is a gondola from the alternative access point of Celliers. By now Valmorel is starting to feel quite distant, and is about to become more so on the long, green-graded woodland cruise down to the village of Doucy. Yes, it's a green, but for us this a must-ski run, for the haunting natural beauty of the tree-lined, away-from-it-all setting. Time and time again skiing on the margins has brought us experiences like this.
From Doucy back to Valmorel
Down in Doucy things are quiet, to say the least, but it's a charming, sunny spot which we have virtually to ourselves. That's fine by us, as we're in no hurry to leave just yet. The compact village has a laid-back bar plus a minimarket selling local produce, so we order Beaufort cheese baguettes and wash them down with well-chilled beers on a sunny bench nearby – a perfect moment. Heading back on the Combelouvière high-speed 4-seater chairlift counts as one of the most enjoyable rides we've had this season, and takes us past a string of stylishly-renovated chalets, before throwing in elevated views of the memorable piste on which we'd cruised down to Doucy.
At the top of the lift we're faced with two draglifts (the second of which is 1361m long) although at 3m/sec the ride is quite rapid and the gradient gentle. At the top a quick run down the red-graded Lanchettes piste would drop us neatly behind the apartment résidence – if the run were open.
Alternative routes back to Lanchettes
There's still plenty of skiing time left, so we try some alternative routes, starting with a schuss down to rejoin the Biollène chair. At the top we ski off left and take la Froide, a blue-graded cruise down past the muscular Morel 6-seater chair, which some years ago replaced a humble draglift. We continue on Plan du Favre until we reach a fork – keep left and you're onto Oratoire, and an initially-steep blue-graded drop onto the front-de-neige beside the Pierrafort gondola. More intriguing, though, is the right fork onto Lanches and Côte Soleil for a less direct cruise which eventually meets Oratoire.
Either route ends up some way from our apartment, but the Altispace I chairlift drops us at 1659m right beside a return piste – the red-graded Planchamp. Near the bottom is a tight left turn which heads through some woodland before dropping onto the Lanchettes lift, taking us right behind our apartment – simple, as long as you don't miss that turn.