The French operator Club Med pretty much pioneered the truly all-inclusive holiday. Fast-forward sixty years the company, now largely owned by Chinese international conglomerate and investment company group FOSUN, has reinvented its all-inclusive concept.
With 70 resorts worldwide, Club Med has revitalised itself as a premium, multicultural and friendly all-inclusive holiday provider with activities, luxury accommodation and a multitude of services all thrown in. In recent years Club Med has become one of the biggest investors in the Alps, a fast-developing sector to which the company responded with recent rapid expansion into several northern Alpine resorts.
The French Alps now has 16 luxury all-inclusive – soon to be 17 with the latest development at Arc 1600, due in winter 2018.
Why Brazilians love Club Med
Lunchtime in the best Alpine ski resorts has always been a cosmopolitan affair. But how often do you hear Portuguese voices? We'll be hearing a lot more of them, according to Auvergne-Rhône-Alpes Tourisme. In all of Club Med's most recent luxury holiday villages (Valmorel, Val Thorens, Peisey Vallandry, Grand Massif Samoëns Morillon), Brazilians represent 21% of bookings for winter 2017/18, a total of 11,065 customers and will be the second nationality behind the French. The market has strengthened by more than 70% in the last year. In addition, AirFrance KLM will begin flights in May 2018 between the northeastern city of Forteleza and Paris or Amsterdam – a flight time of just a few hours, compared with those from Sao Paolo or Rio, currently operating into Lisbon by Portuguese airline TAP. A no-hassle, all-inclusive offer is attractive to long-haul tourists, especially skiers, who can pick up their ski passes with their room keys and snap straight into their skis as soon as they've unpacked their ski-goggles.
And that's the big attraction. As soon as you arrive you can relax in the knowledge that everything is taken care of. No need to rush out to the shop for the groceries or queue in the hire shop for boots and skis. Neither is there the expense of drinks and snacks or costly trips to the leisure centre. Faced with the uncertainty of currency values, paying for everything in advance is very reassuring.
While we were in Valmorel, we went to visit the Club Med there to find out more about this type of holiday.
Valmorel Club Med Resort
The moment we enter the impressive entrance with its large reception desk, lounge and boutiques, we''re greeted by one of a small army of staff. It's lunchtime and the foyer is buzzing with people making their way between ski lockers, accommodation and the restaurant areas. Our multi-lingual guide for the day (recently recruited trainee manager who left a job in a bank to work for Club Med) gave us a quick guided tour of the self-serve restaurant and what's on offer, before leaving us to it. Moments later we're struck motionless by indecision – the choice is simply overwhelming. All tastes and appetites are catered for and you can help yourself, as many times as you like, to whatever you want. Chefs are throwing steaks on the grill, fresh fish are cooked before your eyes, pizzas are grilled and pasta boiled, all to be accompanied by an amazing choice of vegetables and salads. We eventually make a decision and join the other diners.
Joining any club can be hard – we had the feeling that everyone else knew something we didn't – so it was time to find out what Brazilians love about Club Med.
Club Med accommodation and services
Walking somewhat awkwardly in borrowed slippers about 3 sizes too small, we set off with our trainee manager to look around. The ground floor alone has several restaurants, a vast bar and entertainment area plus a crêche, pool and fitness suite. Teenagers have their own space too, in a lavishly-equipped basement hangout. We're introduced to a ski technician from Quebec, and chat with him about the skiing in Tremblant and Stoneham, then move on to admire the easily-accessible ski lockers. We also visit the ESF (Ecole de Ski Francaise) booking desk where guests book their included ski lessons.
Club Med resorts are graded on a system of Tridents (like a star rating). Valmorel is a 4-Trident resort and offers Club and Deluxe accommodation located on the upper floors. Among quiet corridors, the comfortable and surprisingly spacious bedrooms make the most of the spectacular views. There's also an exclusive range of 5-Trident luxury suites on the 3rd floor of the hotel, with two bedrooms (double and twin), a private lounge, dressing room and 8m² terrace. Guests on this floor enjoy their own Club Lounge with refreshments, newspapers, etc. If you want this level of luxury but in more intimate surroundings, there are separate Chalet-Apartments (sleeping up to 12) with their own concierge service.
We return to the vast lounge, where guests can help themselves to a drink or be served at the all-day bar. We order tea and make ourselves comfortable to chat about the Club Med concept.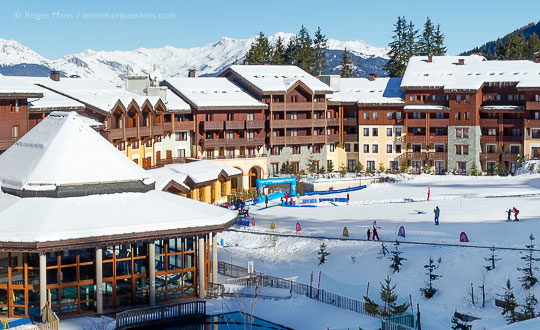 What's included in a Club Med all-inclusive holiday?
In short, everything:
Welcome and transfers, taxes and gratuities.
Various categories of accommodation (surcharge applicable): Club, Deluxe, Suites, depending on the resort.
Breakfast, lunch, tea, dinner and anytime snacks.
Choice of gourmet restaurants, with buffet or à la carte menus.
Unlimited open bar / snacking throughout the day.
Ski holidays: ski lift passes and group lessons included, in partnership with ESF in France.
Complimentary use of the Turkish bath and sauna in 4 and 5-Trident resorts.
Club Med Baby Welcome: baby equipment, suitable food, baby bottle room.
Free stays for children 0–4 years.
Childcare supervision for children from 4–10 years.
Juniors club for 11–17 year-olds.
If you're skiing, then your ski-hire and lessons are included, which can mean savings for a family with children, who will progress quickly with the resort's own ESF monitors. At Valmorel lessons start right outside the entrance, after which it's an easy schuss down to the nearest lift.
For non-skiers Club Med resorts have their own pool and wellbeing areas, and other outdoor activities are easily arranged. Meanwhile, there's a range of indoor activities and entertainment for everyone.
How to book a Club Med all-inclusive holiday
A useful tip: You can book a holiday direct and save 15% by booking 6 months in advance. Check out their offers page and save 10% on last-minute holidays and winter deals.
Book your all-inclusive Club Med holiday with Alps specialist Peak Retreats and they'll include a Eurotunnel Premium FlexiPlus crossing or Ski Train with transfers.
References
Auvergne-Rhône-Alpes Tourisme, Le ski en vogue au Brésil, 02 Octobre 2017
http://corporate.clubmed/