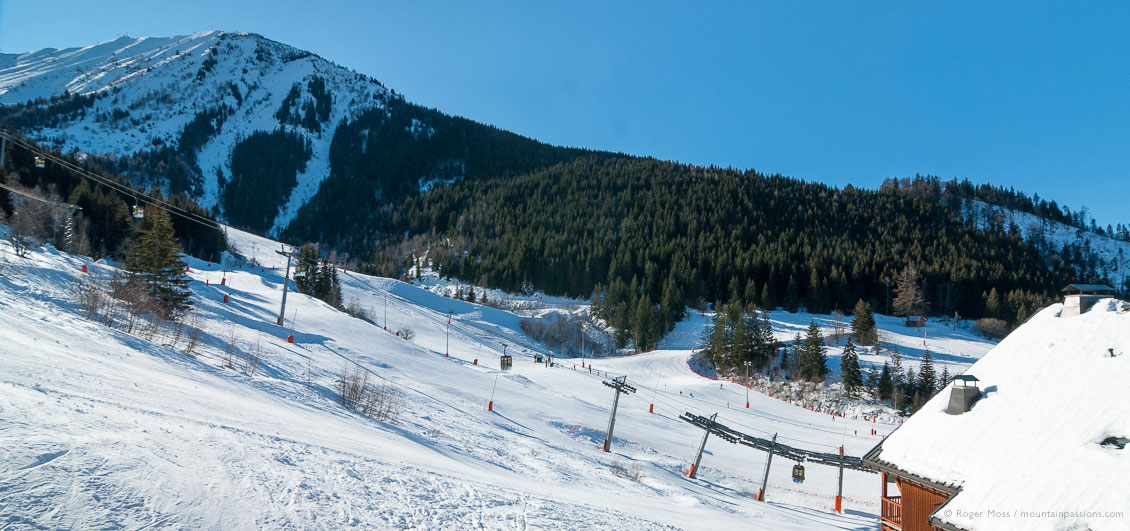 Insight: Oz-Vaujany
Until now the only image we have of Oz-en-Oisans is of a gondola lift high above the village, so as we turn off the road up from Bourg d'Oisans and wind our way further up the mountain we're more than usually curious to see just what actually awaits us in Oz. A few minutes later we have part of our answer as a huddle of large, chalet-style apartment blocks appears in the distance through the chill early-morning mist. As we draw closer there are few further clues until we park the car and start to transfer our bags, at which point we emerge from a large pedestrian lift to see before us an unexpected image.
Some way above the mid-station the climb eventually eases and as things open out there are some fine views across to the surrounding mountain ranges. Already Oz seems a long way away.
Skiing in the heart of Oz-en-Oisans
As in Avoriaz, the streets of Oz are covered with freshly-groomed snow, only here the style is not high-rise but almost chocolate-box – delightful to look at, even if it makes access to our apartment something of a hike. But it's a small price to pay for the convenience of being in a ski-in/ski-out location, a point which comes home to us when we snap into our bindings and ski down to the front-de-neige, to board the Poutran gondola lift.
In fact, the lift is one of two gondolas sited at opposite ends of the village. The other lift provides direct access to the same Alpette (2050m) area we've already explored via the cable-car from Vaujany, so we take Poutrans instead, and relax on a smooth haul up to around the 2100m mark, for a look at the access to terrain above Alpe d'Huez. It's quite a ride, with a mid-station which opens up the possibility of skiing down to accommodation at the opposite end of the village, or to pick up the other gondola. Some way above the mid-station the climb eventually eases and as things open out there are some fine views across to the surrounding mountain ranges. Already Oz seems a long way away.
Ski options from Oz-en-Oisans
From the top arrival point there are several possibilities, the most popular being to simply ski on gentle, blue- and green-graded runs straight down into Alpe d'Huez. A less tame option is to transfer to the Lièvre Blanc chairlift round to just above the Plat des Marmottes (2300m) and pick up a blue, red or black piste down, again into Alpe d'Huez. Since we're time-limited by our morning arrival in Oz and consequent late start, we merely take the nearest, most direct blue down for an exploratory look around around the village.
Somehow 'town' seems more appropriate, given the scale of things here. Given more time we'd now take the chairlift which heads back up to the Signal (2115m) sector which we effectively bypassed during the gondola ride up from Oz. A worthwhile detour, it's the arrival point for a high-speed chairlift up from the village of Villard Reculas 1480, and offers a selection of blue, red and black-graded runs all the way back down – the blue option being satisfyingly long.
Steep and deep
It'll have to wait for now, though. Instead we board one of the big, 25-person cabins of the muscular-looking Grandes Rousses DMC (Double-Mono-Cable) gondola-lift up to 2700m. For most skiers it's an essential stage in the climb (completed via a cable-car) to the sensational 3330m Pic Blanc, another pleasure which we'll have to forgo for now. We leave the lift at its intermediate station, a useful feature which allows tired skiers to transfer to the Poutran gondola for a snug ride back down to Oz, or in our case to ski some of the return runs. The terrain looked surprisingly steep from the gondola, and while a couple of sections of even the blue-graded Boulevard des Lutins certainly are, there's nothing here which need deter intermediate skiers. Our preferred route down, though, has to be the red-graded (and therefore less-skied) combination of Poutran and l'Olmet, whose snow quality remains excellent for so late in the day. It's also an eloquent demonstration of the fact that Oz's steep-and-deep location allows it to retain snow cover even when south-facing areas elsewhere might be starting to struggle.
Skiing the Big One
The following day we ride back up on a mission: to ski Sarenne, the world's longest black-graded piste, all the way from the Pic Blanc (3330m) down to the valley between l'Alpe d'Huez and Auris-en-Oisans, around 16km later. It's something we have to do before the present fine weather is replaced by a fast-approaching weather front which is destined to produce truly epic snowfalls and temporarily close the run. We can report that we skied Sarenne as planned, and won't forget it either, as you'll read in our Alpe d'Huez Resort Review. We've enjoyed our time in Oz-en-Oisans, which offers one of the more sheltered locations from which to access (very rapidly) all that world-class skiing just waiting to be discovered above its world-famous neighbour.