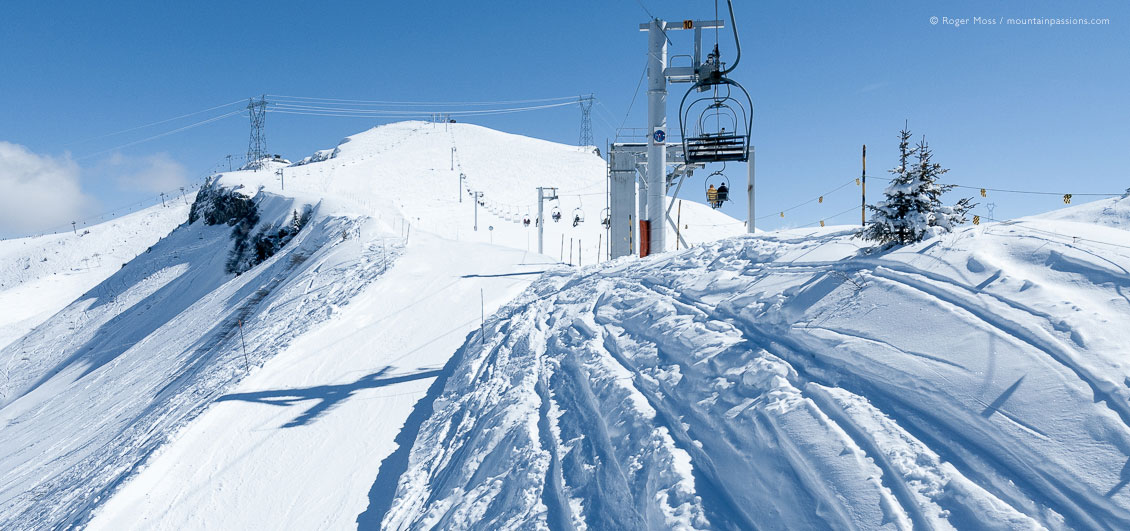 Insight: Les Carroz
There's a certain reassurance which comes with the knowledge that you're heading to one of the larger linked-domain ski areas, not least since the extent and variety of terrain on offer is usually backed up by plenty of options to help decide exactly where to base yourself. Although we've come to know the Grand Massif well, the terrain above Les Carroz d'Araches is rather less familiar to us, a situation which we don't need too much encouragement to remedy.
The sheltered terrain among the forested slopes of Les Carroz once again prove their worth, and we have a great time floating around the gladed pistes and barrelling down the run beyond the Gron chairlift.
Above Les Carroz: here comes the powder
After picking up our Grand Massif lift-passes we head cautiously to the car parking area to don boots and goggles for what promises to be an interesting day. From the vantage-point of the gondola lift it's clear that visibility is already less than ideal, so for now we elect to stay below the tree-line to take advantage of the sheltered terrain and clearer sightlines.
Gliding off into the unknown brings an sense of adventure which is heightened by the near-silence of our progress. Where are all the other skiers? They must be out there somewhere but we've yet to see or hear them – not that there's any lack of other things for us to concentrate upon, as we float around this sector's tree-lined pistes. Visibility finally opens up just a little after a lunch break, although the forecast is far from encouraging.
Times like these are nothing you wouldn't expect in any mountain area, and they when we encounter them they do at least give us an useful opportunity to see whether whether they create problems for skiers who are new to an area.
With that in mind we continue exploring the local terrain above both Les Carroz and nearby Morillon, which both have some reassuringly wide, tree-lined pistes. Before long, however, snow flakes appear and begin to thicken steadily. Visibility is less of a problem now we know our way around, and we just love the magical transition from slightly compacted snow to ungroomed, untracked powder. After the lifts have closed we ski in near-total silence on a deepening carpet of fresh snow all the way back down to just above where our car is parked. Perfect.
To Flaine and back, while the snow keeps falling in the Grand Massif
Next day finds us out early and keen to head over to Flaine. The improved conditions have brought out more skiers, but with no significant queues for the lifts we make rapid progress. By the time we reach final gun-barrel drop into Flaine Forum the number of skiers with the same idea has increased dramatically, but once we're down everyone somehow spreads themselves out once again.
With plenty of time before we need to think about a lunch break we take the Grand Platières gondola to the highest point (2480m) in the ski domain, and enjoy a couple of bracing runs back down on Faust, still one of our favourite red-graded runs, despite some remodelling in recent years to improve skier safety.
When we finally stop for lunch we emerge from the seductive warmth restaurant to the unwelcome realisation that conditions on the mountain are deteriorating once again, so before visibility clamps down completely we decide to make our way back to our side of the mountain. Aided by the 8-seater Grand Vans high-speed chairlift and a couple of flat-out blue cruising runs, we're amazed how just rapidly the return is accomplished – too rapidly, in fact, so we spend some time back among the wooded terrain we'd enjoyed the previous day.
Next morning we retrace our tracks over to Flaine in near-perfect conditions, this time taking the Aup de Véran gondola and exploring the possibilities below the Tête des Lindars (2561m). The high point for us actually turns out to be the lowest, altitude-wise, as the entertaining red-graded Célestine woodland piste swoops through the trees like a boarder-cross run before firing us back out again right beside the village. We'll do that one again, I think.
Our final days in Les Carroz see further good weather before the onset of more heavy and sustained snowfalls, adding a magical transformation to the tree-lined landscapes and giving everyone as much powder as they can handle (and for some rather more..). The sheltered terrain once again proves its worth, and we have a great time floating around the gladed pistes and barrelling down the skier-cross run beyond the Gron chairlift. The real challenge here is not to get around at speed without spinning off, but to do it all without losing concentration due to laughter – both your own, and among those following. Great fun.
We leave a still-snowy Les Carroz with heavy hearts, but with a sackfull of happy memories – and consoled by the certain knowledge that we'll be returning.