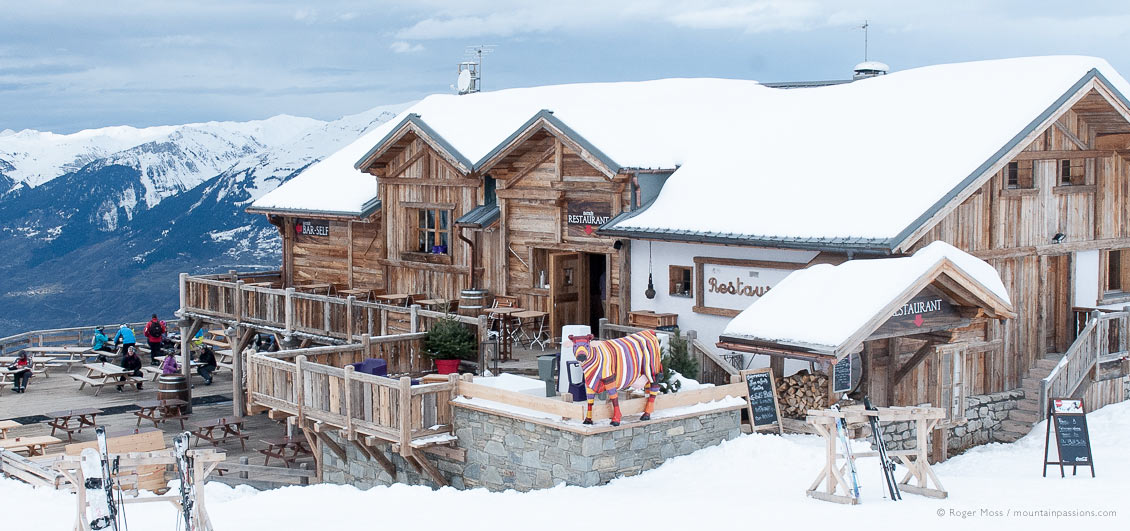 Insight: Les Arcs
Whichever way you look at it, Les Arcs can hardly be called a slave to convention. Conceived as one of a new generation of high-altitude French ski stations, the setting among the alpages above Bourg Saint-Maurice turned out to have been inspired, not least since it also allowed the creation of a funicular for swift tansfers direct and from Bourg's TGV terminus. British skiers can now travel overnight direct from London, courtesy of a weekly Ski Train service which runs throughout the winter.
…ask people why they ski here and you'll realise that everyone has their own favourite places, usually several. And they're passionate about them.
The evolution of Les Arcs
Arrive by road and you can see the various phases in the development of Les Arcs, starting with the distinctive sloping apartment facades of Arc 1600. Next come the larger, more assertive lines of Arc 1800, long favoured by tour operators for its skier capacity, services and ski-schools. The final development was Arc 2000, conceived to provide younger, more committed skiers with rapid access to the highest terrain well above the tree-line. Or so it seemed. After Savoyard developer MGM added some premium accommodation above Arc 1800, the massive Canadian Intrawest Corporation went one better and created a whole new village just below Arc 2000. Arc 1950 is an excellent, ski-in/ski-out base for exploring the mountain. But the ski domain is just so varied as to offer something, somewhere for just about every type of visitor. There's no doubt that this is one of the keys to Les Arcs' remarkable success. Another is continuous heavy investment in lift infrastructure, making getting around a breeze.
Skiing Les Arcs, from top to bottom
Which brings us to the skiing. Trying to be objective is to miss the point; ask people why they ski here and you'll realise that everyone has their own favourite places, usually several. And they're passionate about them. Take the cable car from Arc 2000 to Aiguille Rouge(3226m) and you can start the day in style, on the famous red run which fires you into a wealth of possibilities. If conditions are good you could cruise over to Arc 1800 and continue down through the sheltered forest glades to Peisey for coffee or a vin-chaud. En-route you'll cover some mileage, get your bearings and, like us, discover a few places to which you'll want to return.
Still feeling more adventurous? Well, take the nearby Vanoise Express cable-car across to La Plagne, and you could do the whole Paradiski experience. On the other hand, from Aiguille Rouge you could take a combination of black and red pistes all the way down to Villaroger (1200m). Or you could get away from it all by heading over to the Grand Col to begin a breathtaking off-piste guided tour high above the Tarentaise valley which will eventually take you to the same destination point. Now take the chair-lift haul back up to Arc 2000 while trying to take in what you've just done.
Not that those of more modest aspirations are overlooked; Les Arcs knows its main market and provides intermediate skiers with plenty of well-prepared blue-graded cruising, along with safe, reassuring débutant areas. Its wide choice of ski-schools is another factor which has made it one of the most popular of all French ski stations for family skiers.