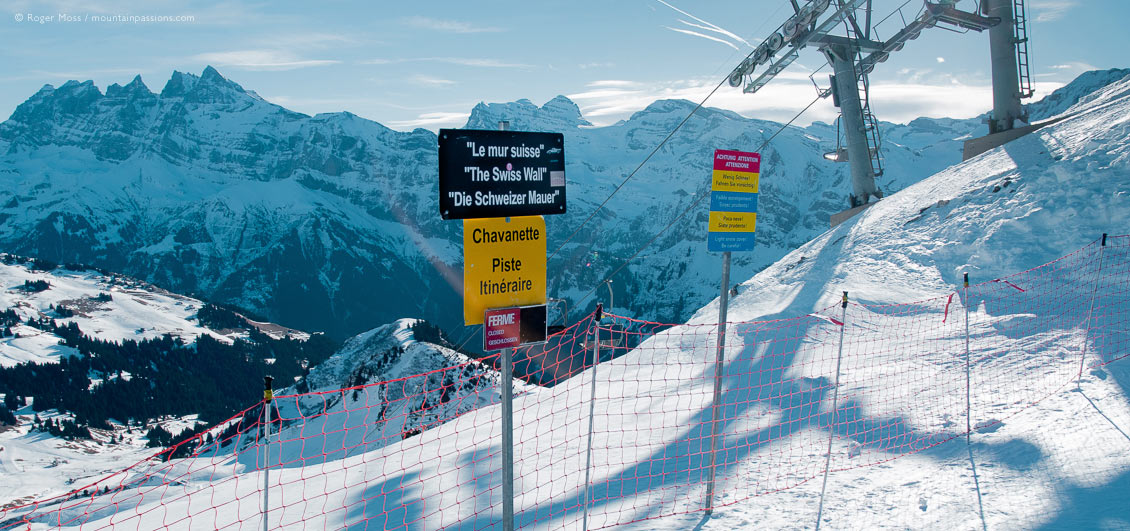 Insight: Morzine-Avoriaz
The long hairpin climb from low-lying Morzine inspires a certain tension, particularly if like us you're here during a low period in a season whose snowfall record has been variable. After threading our way up the side of the valley the route finally flattens, and we emerge onto a snowy plateau where cross-country skiers are burning off the calories determinedly. Our attention, though, is drawn beyond them to the dramatic outline of Avoriaz silhouetted against more distant snow-capped mountain peaks. It's like nothing else we've seen, yet looks instantly familiar, thanks to countless images in brochures and magazines.
Our attention is drawn beyond to the dramatic outline of Avoriaz silhouetted against more distant snow-capped mountain peaks. It's like nothing else we've seen, yet looks instantly familiar…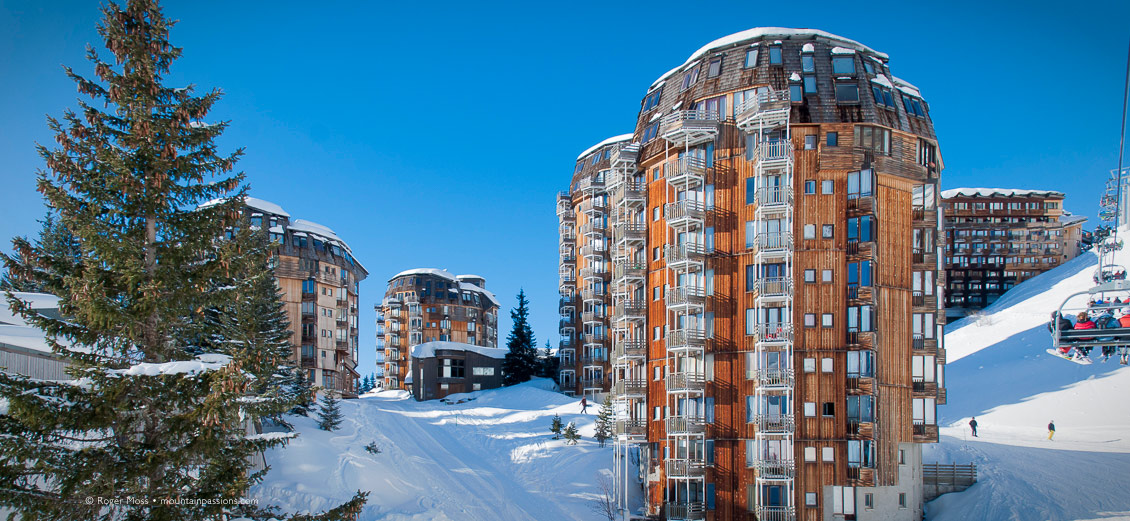 What a drag!
Minutes later, after passing lines of iced-up cars parked at the roadside (followed by many more in a more secure official car-park) we reach the end of the road. From here on it's car-free, so we're directed to an underground car-park from which we can transfer the contents of the car to our accommodation. A couple of flights of stairs later we emerge heavily-laden and search for the nearest hook-up point for the small moulded sledges provided for visitors' luggage. Popping a one-euro coin in the slot releases a sled and gets us moving for a return trip to the apartment. Alternatively, you can take a horse-drawn sleighride for your transfer. Obviously, it's all second-nature to returning visitors, but for first-timers like us it's not exactly intuitive.
Pay-back time
But it's a price well worth paying for the pleasure and convenience of what is effectively a fully ski-in/ski-out village. In somewhere like Arc 1950 this feels like a nice touch, but since Avoriaz is substantially larger, being able to ski rapidly to and from your apartment is a key part of day-to-day practicality. Next morning, for example, it takes just a couple of minutes to ski from our base over to the Lac des Intrêts chairlift, at the opposite end of the village.
From here it's possible to bypass the lift and take the blue-graded Crôt piste for a long cruise down through the trees to Les Prodains. This is a popular access point for skiers taking the shuttle-bus from Morzine, since it's linked to Avoriaz by the Prodains cable-car.
Just days after our visit the mountain will receive fresh snowfalls, but for now Crôt is closed to skiers.
So we set our sights on the terrain below Les Hautes Forts (2466m) and ride the Lac des Intrêts lift. At the top we warm up the legs by skiing all the way back down on the blue-graded Bleue d'Arare, followed by another, less-direct run down Bleue du Lac. Both of these runs offer enjoyable, steady cruising with some steeper sections (and elevated views of the village) to make things interesting. With today's early morning conditions being on the icy side of firm, they also test both our edge-grip and our reflexes, so we peel off onto the blue-graded Aller de Chavanette link-run to see how things are holding up on the nearby slopes below the Le Fornet (2250m).
Ice alert
The Fornet 6-seater lift gives plenty of insight into snow conditions around us and serves a choice of snowcross runs – the blue-graded Marmotte and its red-graded counterpart Pschott. Either option looks and sounds off-puttingly icy, particularly the ungroomed Marmotte, where determined skiers are working their way with varying degrees of success through the ungroomed mogul-fields. Suspecting that right now things could be a bit on the speedy side on these runs, we opt for a calmer and more predictable cruise on Bleue du Fornet. It's one of the higher runs above Avoriaz and is joined by a couple of reds on the way back down to the base of the lifts in the Combe de Chavanette.
Up for a challenge?
This time we take Choucas, a 4-seater chairlift to the Pointe de Vorlaz (1812m), launch-point for the two short reds we saw feeding back onto on Bleue du Fornet (which in turn joins the Retour Chavanette for a final blue cruise back to the village). More hardcore fans can access this point via a pair of long, steep draglifts – a fitting curtain-raiser for what awaits at the nearby Franco-Swiss border, which (very) experienced skiers can cross via the celebrated black-graded Chavanette or ' Swiss Wall' piste. The steeply-pitched, ungroomed run is almost always heavily moguled all the way down to Champéry but today, not surprisingly, it's closed due to extra-icy conditions.
Armed with the perfect excuse to head in the opposite direction, we decide to ski calmly back into Avoriaz on the much more user-friendly, red-graded Les Lanches piste. All goes according to plan until we miss the less-than-prominent turn-off sign to the Retour Chavanette return-run, compelling us to re-ride Fornet and re-ski Bleue du Fornet. This time we make the turn as planned and join the other skiers heading sedately back to the village, where we break for lunch in our accommodation.
Unmistakably Avoriaz
When we emerge we're on foot not on skis, and head back into the village centre to join a guided tour around some of the more important architecture. Much of it, including the now-familiar high-rise apartment blocks, was designed by three young architects: Jacques Labro, Jean-Jacques Orzoni and Jean-Marc Roques. Determined to integrate the structures' vast proportions into the landscape, the architects came up with multi-faceted facades (clad in natural, untreated red cedar shingles) beneath similarly-complex roof outlines. Look closely and you'll see that they incorporate a second layer suspended above the main roof structure, maximising thermal efficiency.
Our tour takes in one of the first buildings to be completed, the Hôtel des Dromonts (designed by Labro) which hinted at what was to come, and still turns heads today with its startling half-windmill/half-fir-tree outline.
It was soon joined by many other visionary structures, and doing them justice requires a lot more space than we have here.
Day Two: skiing into Châtel…
Next morning the prolonged fine spell continues, with clear blue skies, and low, low temperatures. After adding thermal base-layers we ski down to the Tour chairlift, which heads up behind the village and gives unsuspecting skiers elevated views of the skyline and its distant, snowy backdrop. At the top we take a relaxed blue-graded cruise down through the tree-line to Les Lindarets in the next valley. From here a couple of chairlifts will take skiers direct to the Pointe de Mossette (from which point, as we discovered, France ends and Switzerland begins).
We have other plans, though, and take the 6-seater Chaux Fleurie lift up to Rochassons (1900m), where a colourful totem-syle sign warns us that we've now reached the outer limits of the Avoriaz lift-pass. From now on we'll be skiing on the pistes of Châtel, which get off to an impressive start with a steep and satisfyingly long red-graded plunge down to Pré la Joux, a convenient access-point for skiers driving or taking the free shuttle-bus up from Châtel. There's car-parking and a calm, sheltered debutant area too, along with the Pierre Longue chairlift, which we ride up to another popular spot– the mountain hamlet of Plaine Dranse. Situated at around 1650m it was an isolated spot in winter, but is now well-connected to the outside world by around eight ski-lifts.
Nearly 1000m of vertical is impressive
We take the Les Combes high-speed 6-seater, which gives an overview of the traditional timber-and-stone chalets (now housing restaurants, pizzerias, etc.) clustered around the rather less-typical feature of a tiny chapel built onto a vast rock which serves as a belfry. The ride takes us to the 2127m Tête du Linga. Spread before us lie the Vallée d'Abondance and the Massif du Chablais, as we launch off onto a long and frequently exhilarating red-graded descent which eventually takes us through the tree-line and all the way to just above Châtel at 1183m. Just how long becomes apparent when we realise that we've just skied an incredible 944m of vertical.
By now we're at the foot of the Linga gondola lift, which hauls us back up to 1776m between dense pine forests. At the top a brief schuss takes us down to the powerful new Echo Alpin 6-seater high-speed chairlift (which replaced a 2-seater chair and a draglift) which drops us just below the Tête de Linga once again. From here the red-graded Les Combes piste takes us back down to Plaine Dranse, where we break for a welcome lunch beside the pistes at La Tane Ô Marmottes.
An easy return to Avoriaz
We leave the cosy interior sated and more than fuelled for the quick run home. Not that it's exactly demanding – the Plaine Dranse chairlift takes us back up to Rochassons, where we ski off straight back into the Avoriaz sector. All that remains now is a quick drop back into Les Lindarets, a ride on the 6-seater Prolays chairlift and a final blue-graded cruise down Crêtes and our journey is complete.
It's been a hugely enjoyable day, and the Châtel sector has really impressed us with its natural beauty and genuinely rewarding piste network. But we're well aware that our limited time here has allowed us to explore only a fraction of its full potential. We returned though, and now you can see our Châtel ski resort review – a charming and accessible sector that is a must for anyone considering skiing the Portes du Soleil.