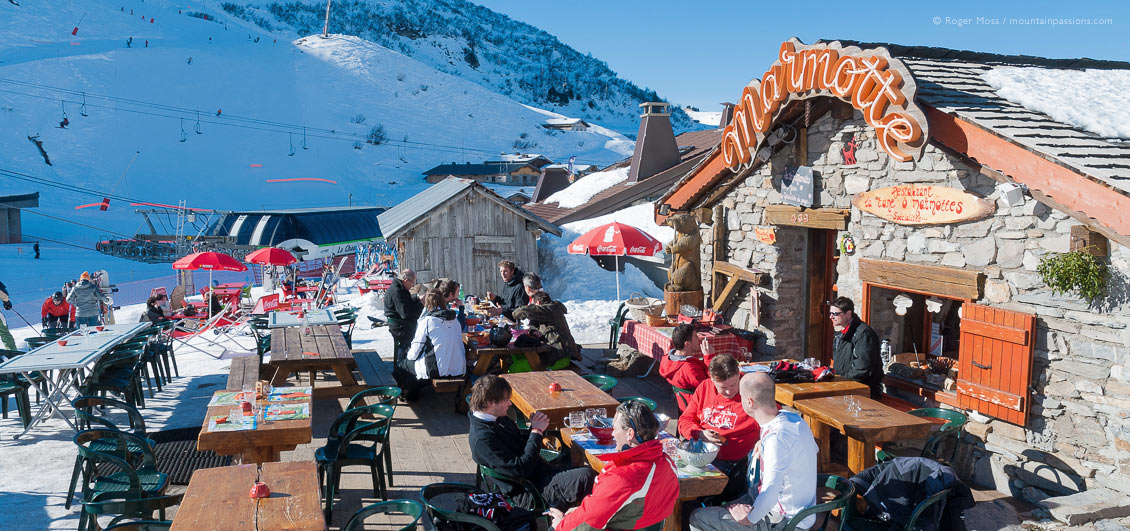 Insight: Châtel
From the moment you see the neat scatter of individual chalets huddled against the mountainside you know that Châtel is going to provide a welcome antidote to the over-assertive skylines of most purpose-built ski villages. That's certainly our reaction as we leave the route which would take us into the heart of the village to follow the road which snakes down towards the floor of the valley.
Happily, well before the winter shade-line, below which things become decidedly chillier, we reach our stylish 4-star apartment at Les Chalets d'Angèle. After checking-in, garaging the car securely in the residence's underground parking and transferring luggage, we spend a few minutes taking in our new surroundings from our balcony before the afternoon sunlight departs altogether.
Just beyond the next ridge lies Les Lindarets, from which you can take a lift direct to Avoriaz, or do as we do and ride past it on the haul up to the Pointe de Mossette. It's a memorable ride, not least for the magical snowscapes beyond Les Brochaux over which we float in childlike wonder.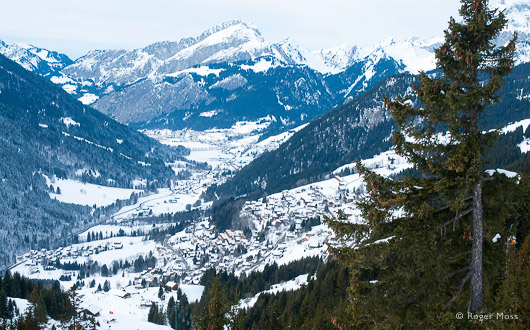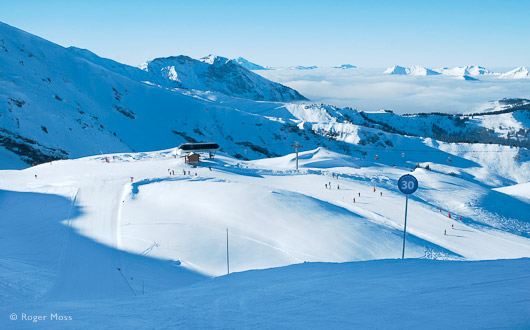 We awake to brilliant sunlight and gaze out at the kind of chocolate-box scenery which contributes to Châtel's appeal and which gets us firmly in the mood to head out and explore the ski area, surprisingly little of which is visible from the village itself. If you've read our Resort Reviews for Avoriaz, Les Gets and Morzine then you'll already have a feel for the Portes du Soleil, so we won't bore you by repeating them here. Instead we'll look at one particular day's skiing which for us demonstrates the kind of qualities which might just make Châtel the right base from which to explore this huge ski area, in the face of such stiff competition.
The 'most-Swiss' of the ski villages…
As the road map will confirm, little more than 1km beyond the village lies the Franco-Swiss border, an appealing thought to which we can add another, namely that you have near-instant access to terrain across the border by taking a couple of chairlifts in the Super-Châtel Barbossine sector and skiing into either Torgon or Morgins. They're lift-linked, too, so if you wish you can start your day this way, working your way round to Champoussin, Les Crosets and Champéry.
Châtel connections
We begin the more mainstream way, however, by taking the Linga high-speed gondola lift, which supplies definitive overviews of the village and its serene valley setting before dropping us at 1776m. From here there's a choice of return pistes (graded Black, Red and Blue) but we transfer to the Echo Alpin six-seater chair, another high-speed lift which hauls us smoothly to 2073m and drops us just below the Tête de Linga (2156m).
There's a steepish Red return piste, but for most skiers the focus is an onward cruise — choose from Red or Blue — round to Plaine Drance. This relatively sheltered bowl is also served by lifts from Pré la Joux, another popular access-point just a couple of minutes from the village by shuttle-bus. Plaine Drance is a popular spot, with the allure of some worthwhile Blue- and Red-graded pistes. Better still, just beyond the next ridge lies Les Lindarets, from which you can take a lift direct to Avoriaz, or do as we do and ride past it on the haul up to the Pointe de Mossette. It's a memorable ride, not least for the magical snowscapes beyond Les Brochaux over which we float in childlike wonder.
Got your passport..?
By now we've crossed the border into Switzerland, although apart from a small sign beside the loading area of the chairlift in Les Brochaux there are few signs of the cross-border hop which lies ahead. At the top, though, there's a tangible sense of transition. We're now at a healthy 2277m, the scale of our surroundings finally dawning on us as we look back in awe to where we've come from. In fact, what we can see represents only the latter part of our route, since the view falling away beneath us doesn't end at the village (which is completely hidden from view), but merely the mid-mountain area around Les Lindarets and Ardent.
If we were to simply turn around right now and head back to our starting point then it's clear that we'd have some epic skiing ahead of us, but the lure of what lies ahead is irresistible, so we follow the signs to Les Crosets via the connector piste which crests the nearby ridge.
In such a high and an exposed spot there can be few days when there's not a breath of wind, so perhaps today's breezy but sunny conditions are as good as it gets here. Before us, at the arrival point of a draglift to our right, a few skiers are peeling off right to take the Red-graded piste which feeds onto a long Blue cruise back down to Les Lindarets, while we schuss on for a little longer before turning left. Below us in a wide bowl are the Alpine chalets of Les Crosets, from which several lifts serve what looks like a good selection of pistes. The terrain over here is graded either Red or Blue, and the setting is truly dazzling, with a sense of having stumbled upon a whole new set of possibilities, all of which look and feel very different from what we've experienced during the route which has brought us to this magical spot.
After an initially bracing run towards the heart of it all we take a right-hand fork and use the resulting calmer pace to look around and take in the beauty of the scenery. At the bottom we decide to do more of the same by taking a coffee break on the sun terrace of the Restaurant Buvette Chez Yoyo et Jibi, the kind of classic Alpine chalet you dream of finding in just such a setting.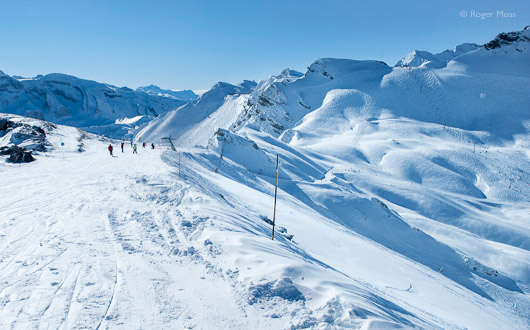 Completing the circuit
Currently out of view are onward runs to Champéry, Champoussin, and Morgins. The skiing here has acquired something of a reputation for being demanding, but we can't help thinking that the culprit is the access from Avoriaz via the tough La Chavanette black piste — better known to UK skiers as the Swiss Wall. However, the Pointe de Mossette offers intermediates an altogether more benign alternative way over, and the fun doesn't stop once you're here. Had we not had a lunch appointment back beyond Plaine Dranse we'd have skied down into Champéry and spent some time exploring the runs around Champoussin.
And then? Well, to round it all off in style, we'd have skied all the way back to Châtel — something which is entirely possible by way of the long Blue-graded cruising runs which drop from Les Crosets down to Morgins. From there a couple of lift rides bring you to the final cruises into Châtel. What this amounts to is a highly rewarding and varied circuit within the Portes du Soleil but without having to commit to the epic scale of a perimeter tour. Now we think that's pretty special – and we haven't even looked at the further terrain which lies between Châtel and Torgon). That's why, like countless skiers, we'll be back just as soon as we have the chance, to find out exactly what we missed.