All About Ice-Climbing
A different kind of vertical
Hanging by the tip of an ice axe and crampon front points, 20 metres up a temporary ice formation which can change its form and consistency hourly, is not for the faint-hearted. But there's definitely something addictive about ice-climbing – the burn in your muscles, the sensation of a good ice-axe placement, the achievement of reaching the top… and the sheer magic of being in an otherwise totally inaccessible place among breathtaking scenery.
There aren't too many sports that can offer quite the same combination of technical, physical and psychological challenges as ice-climbing.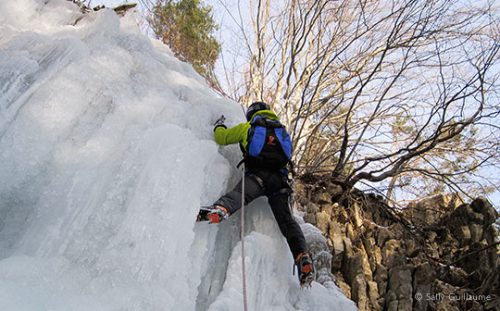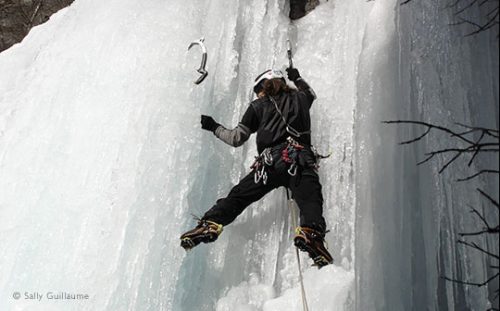 So, what is ice-climbing?
Ice-climbing is the act of climbing frozen waterfalls or other ice formations. To be classified as ice-climbing usually indicates that the formation is reasonably vertical (walking over glaciers or low angled snow or ice slopes comes under the category of mountaineering). On an ice climb you rope-up for safety, and climb using specialised crampons and ice-axes.
Who can ice-climb?
You don't need to be super fit to ice-climb, nor do you need previous rock-climbing experience, but it is quite a physical sport, so a reasonable level of fitness is an advantage.
There's no real age limit but it is very difficult to find crampons for feet sizes under 36 (European sizes) so bear this in mind if you are planning a family ice-climbing trip.
It's quite a technical sport, and you need to learn how to crampon and place your ice-axes correctly. It's also essential that you learn the rope-work (belaying, placing ice-screws, abseiling etc) and understand the different types of ice, and how stable they are for safety.
If you have never been ice-climbing before, or are still a 'debutant', you do need to go with a guide or go on a beginner's course. Here you will learn the essential safety and climbing techniques so that you can make the most of this amazing world, safely and securely.