Saint-Lary
Hautes-Pyrénées, France
Situated in the Aure valley of the central French Pyrenees.
A popular four-season destination for both French and Spanish visitors.
Although a long drive from the Channel ports, access is relatively simple from Pau, Lourdes and Toulouse airports.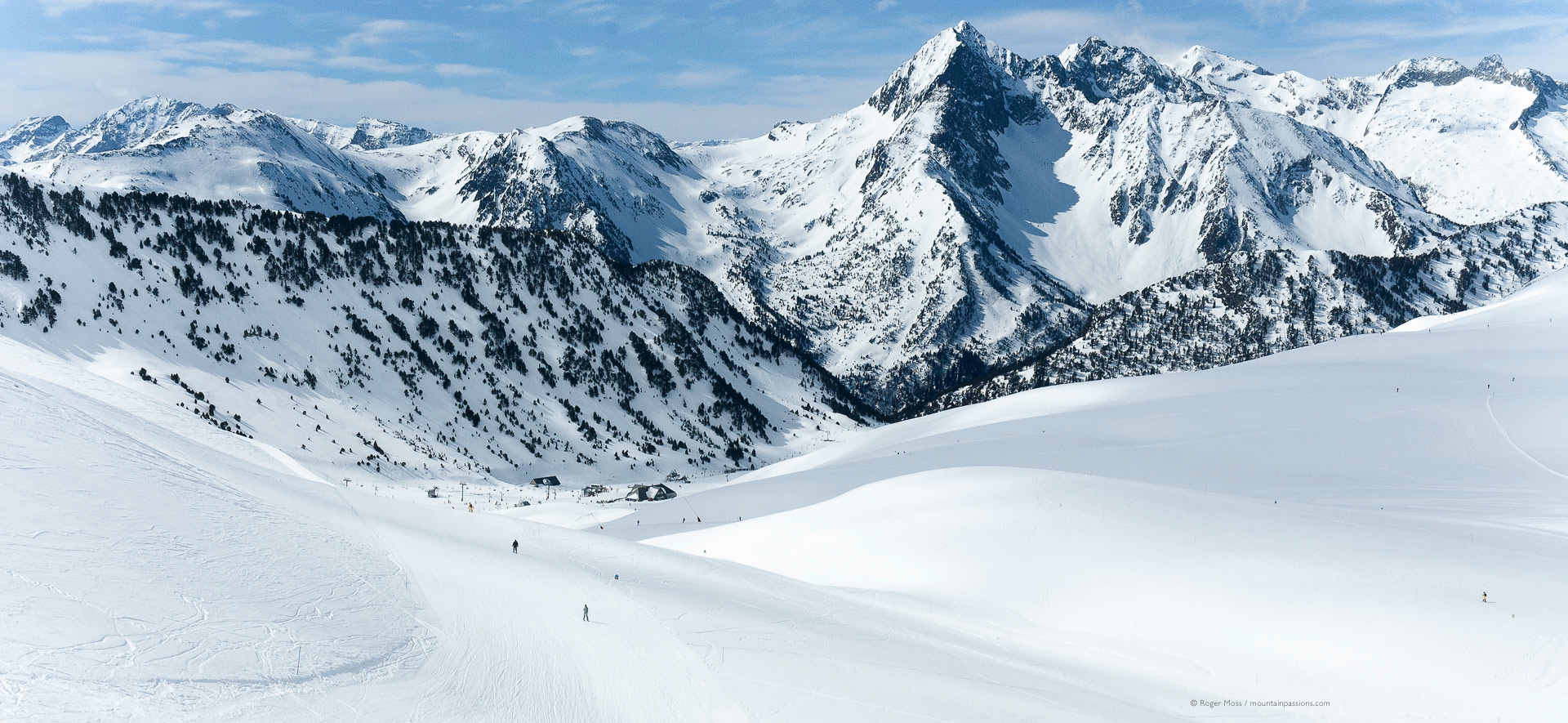 The Ski Area
Saint-Lary's balanced selection of groomed downhill pistes will appeal to a correspondingly wide variety of skiers, making it a sound choice for mixed-ability groups, as long as no-one is looking for anything too demanding.
There's also a steadily expanding snow-park for snowboarders and freestylers.
Lift access to the mountain was once only via the Cadeilhan cable-car, which still provides direct access to Pla d'Adet, while skiers bound for La Cabanne 1600 can now take the nearby Vignec high-speed gondola lift.
Winter 2022/23 sees no less than 23 million euros invested in the central intermediate ski area of L'Espiaube. The installation of a new gondola and chairlift have enabled the station to remove 5 old lifts and to create new pistes.
Resort Information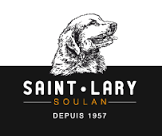 Saint-Lary
Pistes Total:
100 km

7 Green
27 Blue
15 Red
11 Black
Ski Resort Lifts :
30
2 Magic Carpets
15 Draglifts
11 Chairlifts
2 Gondolas
1 Cable Cars
---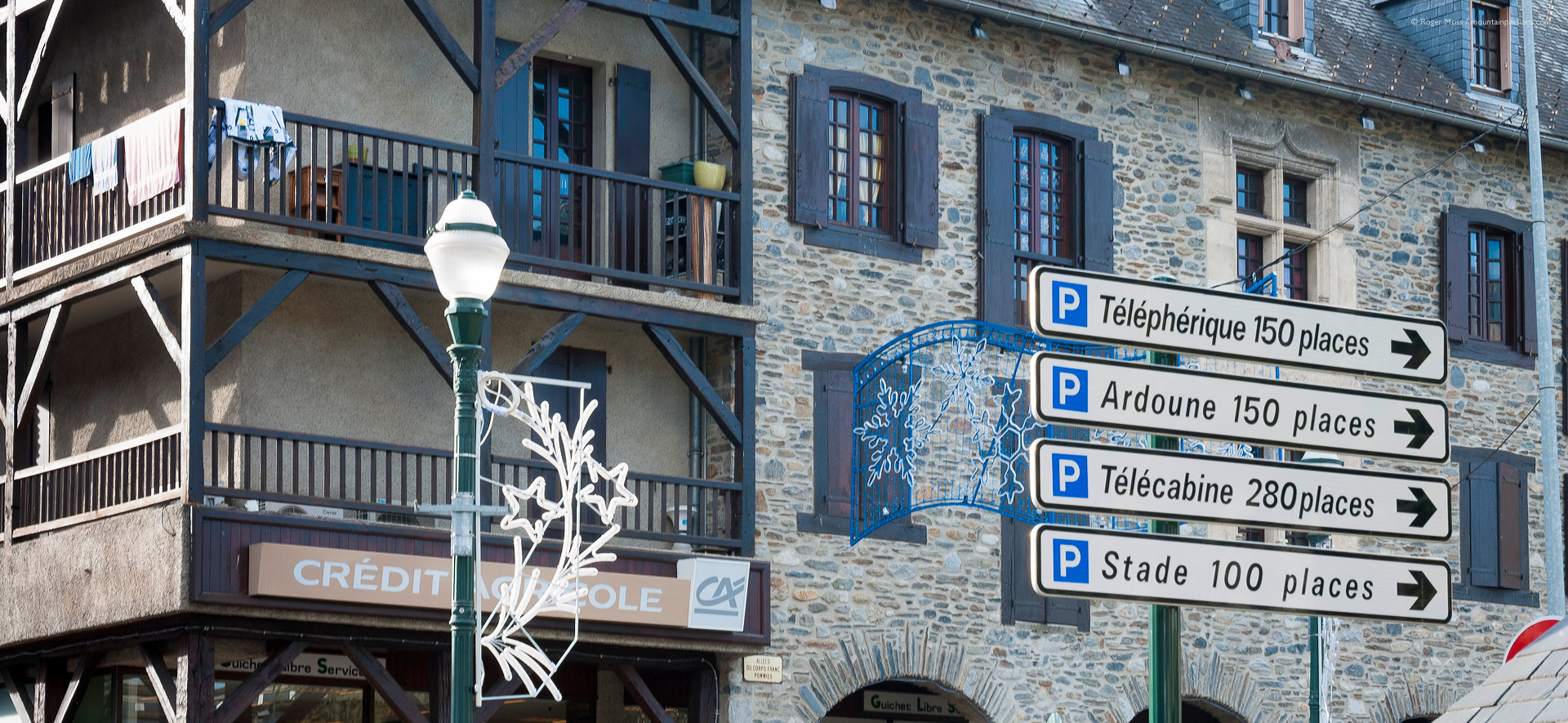 The Ski Village
Quite limited on-mountain accommodation means that most visitors opt to stay in the more traditional setting of the old village down in the valley.
With long-established year-round visitor popularity, Saint-Lary is not overly focused on affordable, volume ski-apartment accommodation. Instead, traditional-style hotels cater for families on a budget with solid value demi-pension deals.
Those with a bigger budget, on the other hand, have a good choice of premium accommodation, with dining to match.
Staying There

Saint-Lary is a Famille Plus resort
Famille Plus is a national label awarded to tourist destinations offering a special welcome and services tailored to families and children.
See Practical Information below for accommodation suggestions.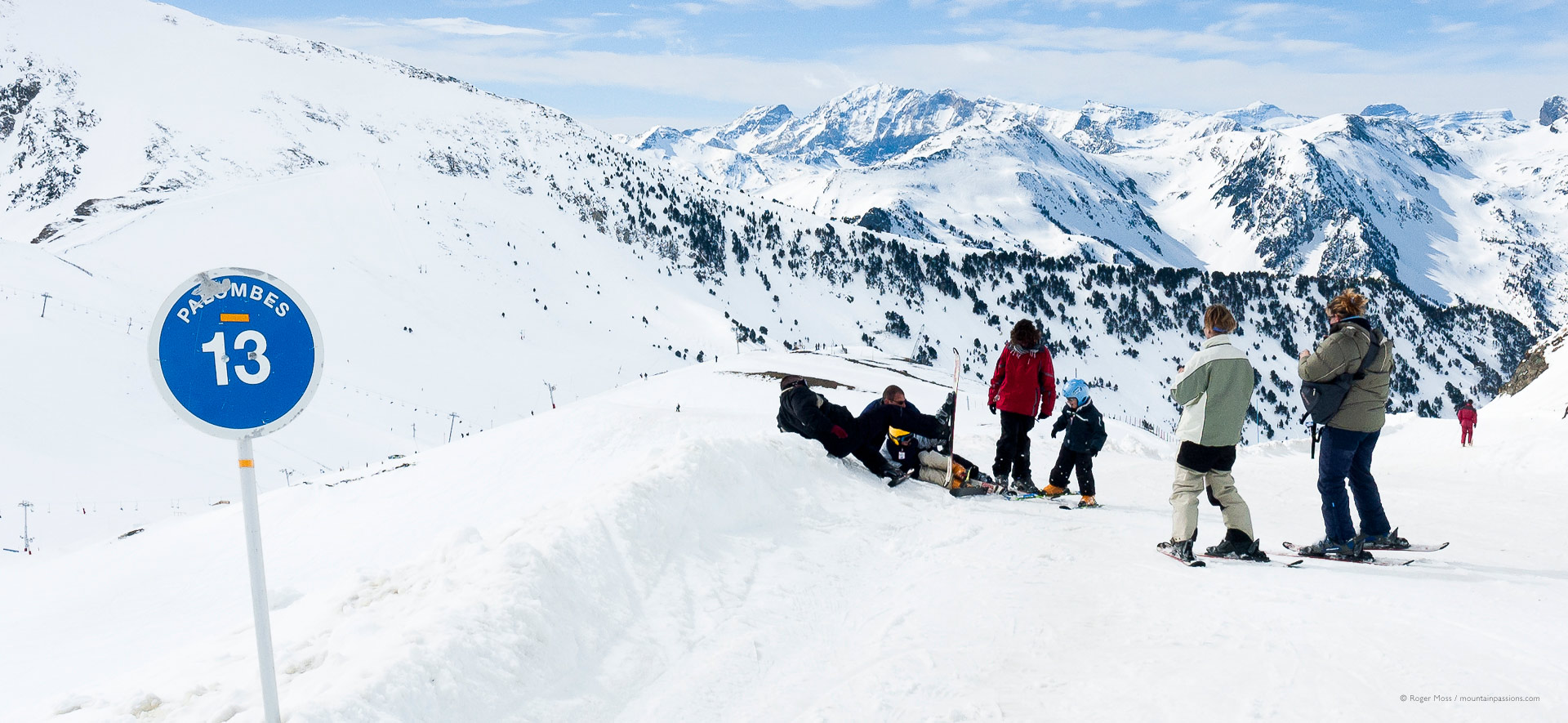 Why go skiing in Saint-Lary ?
Francophile skiers who value an authentic French experience in a place with a genuinely welcoming attitude to visitors.
You'll rub shoulders with generations of contented French families from western France, who have fierce loyalties to 'their' ski area. It all makes for a relaxed time, both on and off the mountain.
As for the skiing, as well as safe beginner and early-intermediate areas, there's rather more for cruising fans to explore than you might imagine – and the setting will change your mind if you think that you'll be sacrificing really great mountain scenery by not heading to the Alps.
Skiing There
Beginners / Families
Intermediates
Advanced / Expert
Mountain Scenery
Snowboarding
Snowpark with 17 modules and different zones. Separate supervised kid's park.
2 Snowparks
1 Snowboarder Cross
Handiski...
Ample parking in village centre with 100m level walk to the Vignec gondola for Saint-Lary 1700 (Pla d'Adet). Or drive 13km to the upper parking area where there is a lift opening directly onto the snow (apparently, this often breaks down).
Only partial access to the ski domain for sit-skiers.
Normal ski pass tarif for disabled skiers but an essential companion goes free.
Equipment available (2 adult dual-skis) for hire at LocAventure, St Lary tel: +33 (0)5 62 39 42 01
Qualified instructors at ESF and ESI.
Saint-Lary provides a full accessibility guide from their website.
Yes please...
Solid value skiing and dining.
Snowpark in French Top 10 for skiers and boarders of all levels.
Charming, traditional village.
Amazing mountain scenery.
Recent huge investment in modernising the resort with new lifts replacing several old ones plus the regeneration of Plan d'Adet area make the resort more attractive and safer for skiers.
Kid and Patou Parks are fun, safe, accessible zones specially designed for children.
"Cool Zones" where you can relax with picnic tables and WiFi hotspots.
Yes but...
It's a long drive from the UK.
Snowfalls don't always deliver.
Terrain is relatively compact.
You might want to stretch yourself on something more demanding.
Our Tips
Expand your options by splitting your time between Saint-Lary and nearby Piau-Engaly, whose altitude enables it to guarantee snow-cover.
Practical Information
There are plenty of accommodation options in the spa and ski resort of Saint-Lary, a busy town with a good selection of bars and restaurants and a reasonable choice of hotels, chambres d'hôtes and self-catering apartments. Look out for half-board deals, where you can expect a good standard of evening meals (not a realistic option for vegetarians...). There is also accommodation at the foot of the slopes at 1700m from where you can descend to the village at night via the cable car which runs until late.
Hotel Les Arches
15 Ave. des Thermes
Saint-Lary Soulan
+33(0)5 62 49 10 10
Situated near the church and a few minutes' walk from the town centre and from the gondola lift. The rooms are functional and have large and beautifully comfortable beds. Rooms at the front have a view towards the mountain.
Breakfasts are a serve-yourself buffet in a bright, modern dining area. We found that there was a good choice of cereals, fruit salads, cheese, ham and pastries plus a selection of delicious home-made cakes. Let down only by machine orange juice and hot drinks.
Guests enjoy off street parking or you can pay for underground parking. WiFi access (payable) or free internet access via a computer in reception.
---
Hotel Mercure Sensoria
Jardin des Thermes
Saint-Lary Soulan
Tel: +33 (0)5 62 99 50 00
Linked to the Sensoria spa, this hotel has already undergone quite a transformation and is offering 4-Star accommodation with spacious rooms, a large and comfortable lounge bar and its own restaurant. Just a few steps from the gondola lift, this would be a great place to stay to take advantage of ski and spa packages in the winter or activity and spa breaks in the summer.
---
Search Booking.com
Search hotels and more...