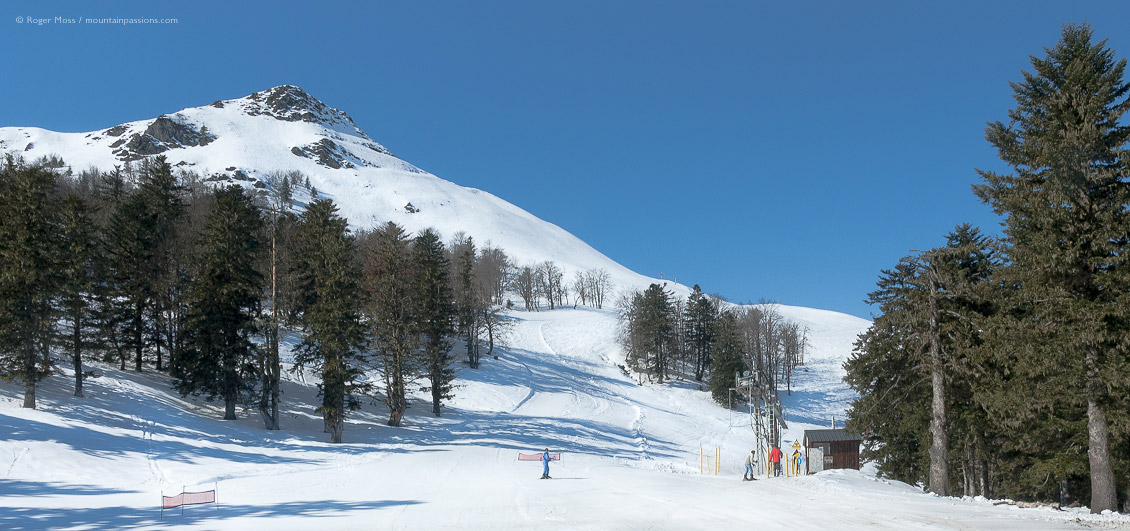 Insight: Hautacam
The name sounds curiously familiar. It certainly will to cycling fans, for it was right here on the ascent of Hautacam that Lance Armstrong scored one of his most celebrated stage victories in the Tour de France. It's unlikely, though, that he would have had quite the same impression of the setting we're able to enjoy during our relaxed climb from Argelès-Gazost. As we roll past sleepy farmsteads it occurs to us that this is hardly the typical approach to a ski area but once we hit the snow-line everything changes, apart from a cloudless blue sky. It's a very fine day for doing just about anything.
The light up here is dazzling, but so far the snow is holding up well and looks well groomed, particularly considering the fact that it's all natural, since Hautacam as no artificial snowmaking.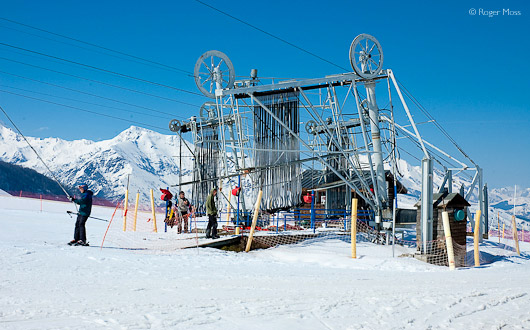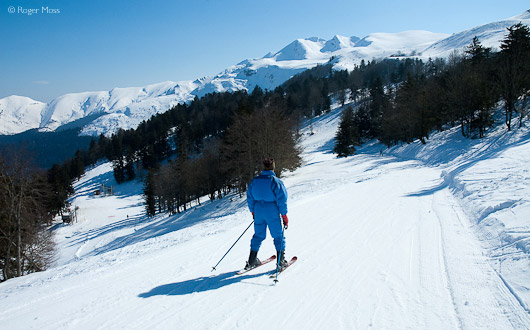 Welcome to Hautacam…
Can you be just too relaxed to ski? It's a question I never thought I'd be asking myself, but as we park the car and take in our surroundings I'm almost tempted to just sit tight, enjoy the sun and make the most of the laid-back vibe. Plenty of people are already doing just that on the sun terrace of the only restaurant, while they cast a relaxed eye on their more active companions on the pistes.
However, the snow looks just too good to resist, so we unpack our skis, change into our lightest ski gear and head over to a nearby drag-lift, grab a pole and launch onto a leisurely ride up the mountain.
The light up here is dazzling, but so far the snow is holding up well and looks well groomed, particularly considering the fact that it's all natural, since Hautacam as no artificial snowmaking. When we reach the top of the lift we take a moment to get a feel for our surroundings then head off on a gentle Blue-graded cruise down to the next lift, this time for a haul up to sample La Moulata, a steeper and more wayward Red. Maybe it's the knowledge that everything is within reach, with no chance of ever taking the wrong lift and getting lost, which makes things feel so relaxed here. Or it could be the fact that most of our fellow skiers are locals who know it inside out. Whatever it is, we're soon feeling pretty at home here.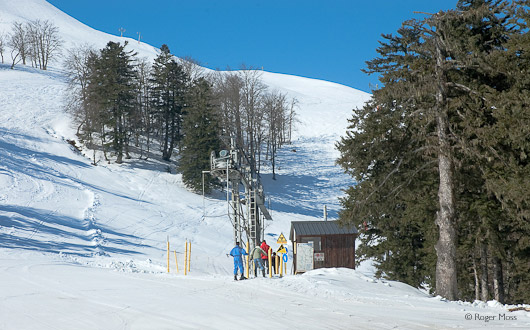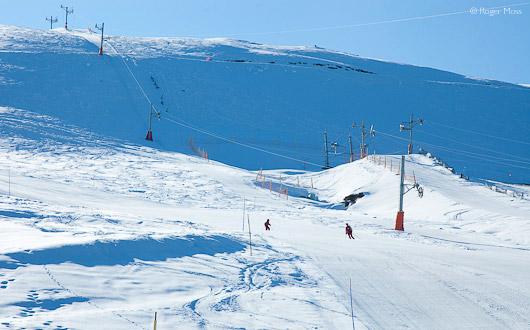 On top of the mountain…
The relaxed mood doesn't lessen the impact of the setting, and as we crest the mountain for a while on the long, Green-graded Belvedère we're almost mesmerised by the grandeur of the mountain views around us. From here the minimal outline of the tiny front-de-neige looks even more so amid the vastness of the valley falling away far beyond it. Our run is much more than a gentle amble, though, for the piste soon makes a smooth 180-degree turn and then begins to take us all the way over into the Naouit sector.
Not that it's a very long way, exactly, but somehow it feels like a journey of sorts – not least since the scenery undergoes quite a change over here, as we leave behind the valley overviews to which we've grown accustomed. Different snow-covered mountains appear in the distance, separated from us by the kind of wild open spaces it would be tempting to expand into (or at least explore on powder skis).
Going up…
This sector of the mountain is also interesting for its steeper terrain, which as a consequence is mostly Red-graded There's a Blue option too, which in its own way is just as entertaining, as we discover when we ski them all. The setting has a wild, unspoilt beauty, and moving through it on drag-lifts keeps you much more in touch with nature than any chairlift ride.
The return haul back over to where we began in the Cardouet sector is an altogether steeper affair, via the Trois Seigneurs draglift, whose 'Téléski Difficile' sign informs us that the gradient exceeds 50%. In practice this only applies to a relatively short section (of around 60%) between the trees and the ridge, after which things ease considerably.
When we reach the top we decide to take the direct route back to the front-de-neige area, on Isaby, a wide, wide Blue just made for carving. Or taking your own time. Like everything here it's up to you as long as you have fun along the way, ideally with friends or family. We've seen skiers of all levels during our brief tour of the mountain, and can well understand why so many local people feel so attached to 'their' ski station.