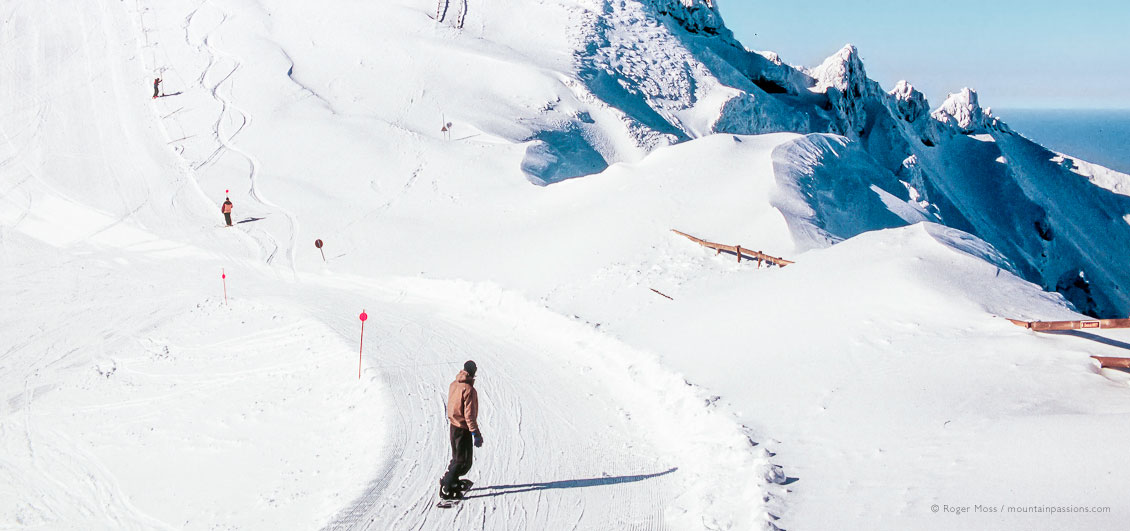 Insight: Le Mont Dore
While the Auvergne lacks the sheer gravitas of the French Alps, it does possess one unique attraction: the chance to ski down the flanks of an extinct volcano in the startling landscapes of the Parc Régional des Volcans. Stop and think about some things and you find yourself wanting to do them, and this was one of those things. We couldn't wait.
The drive down proved similarly refreshing, with higher sections of the A89 autoroute southwest of Clermont-Ferrand dusted to Quebec-like whiteness long before the Le Mont Dore exit. The historic spa town, one of the oldest winter sports centres in France, sits at the foot of the 1886m Puy du Sancy, a sitting target for any passing snow-clouds. Sure enough, by the time we reached our accommodation the nervous flurries had built into steady snowfall, creating a familiar silence as night closed in around us. Tomorrow was already beginning to look promising.
Better still, we seemed to have this small corner of paradise pretty much to ourselves and spent all morning floating around the peaks and valleys in near-silence.
Perfect snow in Le Mont Dore
Sure enough, flinging back the shutters next morning revealed the snow-covered Massif towering over the upper end of the valley. After a fortifying breakfast we wasted no time in heading up to the Val d'Enfer cable-car for the long haul to just below the 1825m Pas de l'Ane. The final, near-vertical ascent revealed how far temperatures had plunged overnight, the huge rocks below the top station all but hidden beneath steely-blue ice as yet untouched by the early morning sunlight.
After alighting we snapped eagerly into our bindings and surveyed the vast winter landscape spread out at our feet. There's no mistaking the volcanic origins of these mountains, which rise so assertively from the much flatter surrounding landscapes, or the uniqueness of the skiing experience.
Thanks in no small part to to a calm, wind-free night, the freshly-fallen snow looked and felt just perfect — as good as we've ever skied in France, in fact, proving once again that altitude alone is far from being the whole story. Better still, we seemed to have this small corner of paradise pretty much to ourselves and spent all morning floating around the peaks and valleys in near-silence.
Footnote: an intriguing dual personality…
Le Mont Dore is not only an ideal place in which to build confidence, but is also hauntingly beautiful beneath a pristine blanket of snow. Mile-hungry skiers, though, will soon want to seek out fresh surroundings in neighbouring Super-Besse. Getting there means taking a drag-lift link, which can close during adverse weather conditions. The alternative is a 40 minute drive, although through the kind of scenery which makes this less of a chore than it might appear. All the same, it's a cab ride we don't intend to take.
The resort, which sits high above the remarkable medieval village of Besse, is purpose-built and has, unsurprisingly, a very different feel from that of its neighbour. But if the architectural style isn't exactly inspiring, the terrain most certainly is. Most of it radiates from the 1850m Puy de la Perdrix, and accommodates most tastes and abilities with a selection of runs which drop down through forest glades above the village and the frozen Lac des Hermines.
Super-Besse is deservedly popular with families, including those with mixed interests. We joined a guided snow-shoe walk and during the course of a couple of hours gained a whole new insight into our natural surroundings, in the agreeable company of appreciative fellow trekkers. Snow-shoeing enables you to get to places even skiers never see, and this is a good place as any in which to make a start.