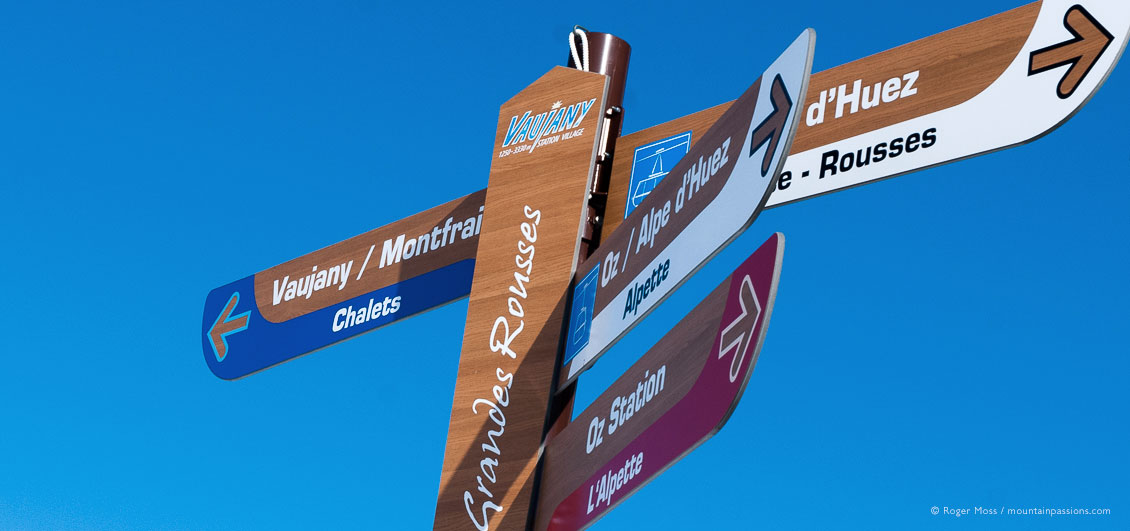 Insight: Vaujany
The final approach to Vaujany takes us on a route we've driven before, in mid-January winter snowfalls have long-since closed the sensational cut-through to the Maurienne via the high passes of the Col du Glandon (1924m) and the Col du Croix du Fer (2067m).
But we have no problems at all heading up past Villard Reculas, Oz-en-Oisans, the huge dammed Lac du Verney and finally up the valley to Vaujany. When we get there it's immediately clear that if all we've been expecting was a modest base for skiers on a tight budget to gain access to the same terrain as those over in big, blousy Alpe d'Huez, we've missed an important point. On a sunny Sunday morning things are far from sleepy, and there's a distinctly prosperous air of well-being. Then something else catches our eye: right beside the expected cable-car we spot a gondola lift. Are we the only ones who seem to have seriously underestimated Vaujany?
At the top is a popular meeting-point whose onward possibilities include a red-graded run over to the Poutran gondola for a haul up to 2100m, to access an array of easy runs into Alpe d'Huez and beyond.
Sunny Sunday skiing, Vaujany style..
After locating our accommodation, we spend a few minutes surveying our surroundings while awaiting the keyholder. The views across the snow-covered rooftops and down the Eau d'Olle valley far below are almost as hypnotic as watching the movements of the cable-car hauling skiers up to the departure point of l'Alpette (2050m). After installing ourselves in our unexpectedly huge apartment we take a quick glance at the skiers working their way down a lone piste across the valley and decide it's time to get out there and ski.
Getting down to the ski lifts proves much quicker than we'd anticipated, thanks to a series of weatherproofed escalators which carry skiers between village levels. We emerge opposite the Vaujany-Alpette cable-car and our choice for today, the Vaujany-Villette gondola lift. After floating near-horizontally towards a mid-station near the hamlet of La Villette the lift gets much more serious and climbs steeply to Montfrais (1650m).
At the top there's a blue-graded return run plus a choice of two chairlifts. We take Vallonnet 4-seater and a couple of minutes later find ourselves on Edelweiss, a relaxing blue cruise through a wild, protected landscape back down to the gondola arrival point. Along the way we pass the turn-off onto Roche Melon, an alternative route (classified as 'un parcours de neige', rather than a true piste) opened only in times of exceptional snow-depth. Next time, maybe.
For now, though, we take the Montfrais 4-seater chairlift, which serves one red piste plus a selection of mainly blue-graded descents, one of which (Les Etaux) takes us on a memorably scenic cruise to connect with another 4-seat chairlift, Clos Giraud. For now this kind of leisurely progress is fine by us, as there are few skiers over here and we're still getting our bearings and seeing how it all fits together.
One final haul – for now…
Clos Giraud is a key lift, and takes us up to l'Alpette (2050m) while the cable-car from Vaujany and the gondola from Oz-en-Oisans home in on the same spot. At the top is a popular meeting-point whose onward possibilities include a red-graded run over to the Poutran gondola for a haul up to 2100m, to access an array of easy runs into Alpe d'Huez and beyond.
On the other hand, if the weather's fine you can stroll across to the Alpette cable-car for the haul up to le Belvedère (2800m). From here it's red runs only, one of which – le Belvèdère – heads straight to the Pic Blanc cable-car, for a sensational haul up to the Pic Blanc (3330m). We'll soon be doing just that, not merely for the panoramic views (they say that on a clear day you can see one-fifth of France) but to ski the legendary black-graded Sarenne, allegedly the world's longest piste.
For now, however, we decide to work our way back to our starting point. A quick swoop on Chalets, followed by a lazy cruise on Les Travers and Etournaux blue pistes bring us back to Montfrais 1650, but we're not taking the gondola back down; well, at least not all of it. For now we ski past the top station onto Vaujaniate, which takes us on a gentle traverse before turning left for a magical cruise through forests along the valley floor. All too soon we reach the gondola mid-station and climb aboard. There might not currently be a easy return run (it's planned) to the village, but this is a agreeable way to round off a superb afternoon's skiing.
Tomorrow we'll head rather further, onto the terrain of both Oz-en-Oisans and Alpe d'Huez. But we can tell you that Vaujany is not only a perfectly viable base from which to access one of Europe's major ski areas, but also a well-conceived (and conspicuously well-managed) ski resort in its own right. And when the major development and landscaping projects reach completion you're finally going to be hearing a lot more about Vaujany.