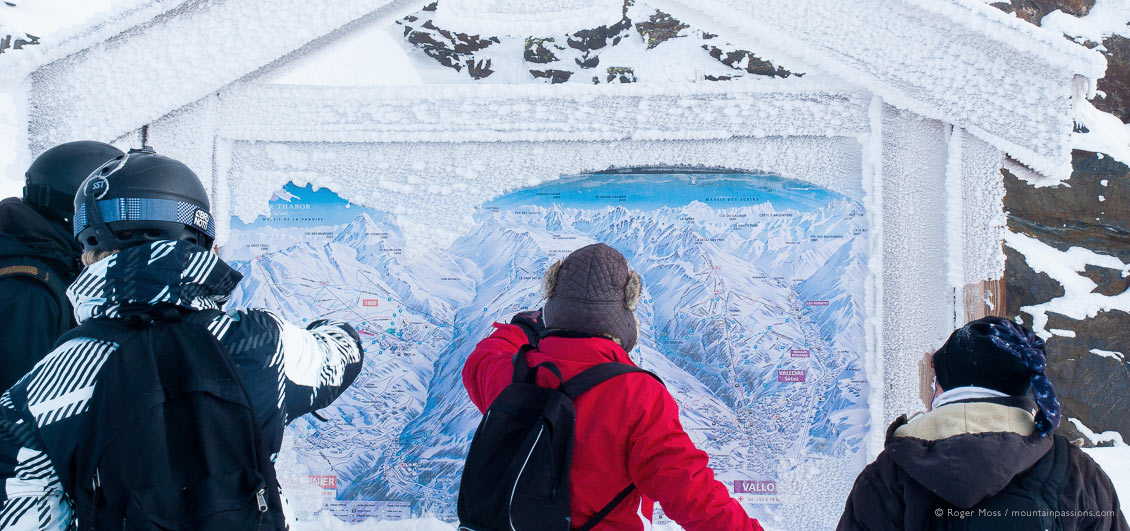 Insight: Valloire
Driving to Valloire involves powering up the long, winding route over the Col du Télégraphe, one of the most gruelling classic climbs of the Tour de France, while those bound for Valmeinier turn off a little sooner. Ordinarily we'd take it in our stride, but after fresh overnight snowfalls we could be pushing our luck arriving before things have thawed and softened a little, particularly during a busy Saturday changeover period. Not surprisingly, the local police are past masters at keeping things moving, and are checking each vehicle approaching the upper section of the route. Access in snowy conditions like these requires 'special equipment', meaning chains or snow tyres – sine we have a 4×4 with the latter we'are waved through without further delay.
Once over the Col the first sight of Valloire's snow-laden rooftops cheerfully backlit by the pale morning sun suggests that we've come to the right place at the right time. There's a distinct buzz in the heart of the old village, where a new influx of visitors is finding its way around while regulars meet up with old friends.
Armera is a long, blue-graded scenic cruise which after fresh snowfalls really is the stuff of dreams. It fires us down through the forest to the sensational Armera chairlift spanning a deep gorge at the lower end of the valley. It really is quite a ride, with a free vertigo test thrown in for added entertainment.
There's more snow overnight, setting a pattern for our stay, and we lay the first of our tracks here the next day amid the kind of fairytale scenery we'd not only choose for our Christmas cards but for our ideal skiing. The Setaz gondola hauls us up smoothly to the intermediate terrain below La Setaz-des-Prés (2538m), a popular spot, particularly on Sunday mornings when the local skiers swell the numbers on the pistes. Fortunately things are considerably quieter in the next valley. In the days to come we discover that taking the Crêt de la Brive gondola instead will put more distance between us and the terrain immediately above village. For now, though, we press on via the Montissot chair-lift, which gives us time to take in the wild-looking scenery through which we move hypnotically.
At the top (2220m) we cruise lazily over to the nearby Brive 2 lift, on which we finally reach Le Crey du Quart (2534m). From here on we're in the Valmeinier sector, the purpose-built village finally becoming visible in its sensational location at the head of the next valley spread beneath us. We decide to take a closer look at the valley and take Grapil, one of the blue-graded trails which snake down the valley side. This doesn't go as smoothly as planned — it's not overly steep but on a narrow, icy section half-way down we encounter lots of small stones, which are impossible to avoid. Result: some unwelcome scratches on our skis. A few minutes later things look up, though, when we chance upon a chalet-style restaurant right beside the piste and offering warming food plus sweeping views across to Valmeinier 1800. Perfect timing.
More fresh snowfalls in Valloire…
After a reviving break we work our way back to Valloire and spend some time getting better acquainted with the piste-map. This rewards us the following day with the kind of glorious sustained skiing which we're not going to forget, and which will bring us back here sometime. For now, however, we board the Crêt de la Brive gondola and Brive 2 chairlift direct to the Crey du Quart ridge and take Armera, a long, blue-graded scenic cruise, which after fresh snowfalls really is the stuff of dreams. It fires us down through the forest to the sensational Armera chairlift spanning a deep gorge at the lower end of the valley. It really is quite a ride, with a free vertigo test thrown in for added entertainment. Once across we spend some time on the mainly red and blue-graded runs of the Gros Crey area, before heading back over to Valloire to meet Christophe, an ESF ski instructor who will take us on a tour around both Valloire and Valmeinier sectors.
There's nothing quite like skiing with someone who has known the terrain since childhood to speed the process of getting to know a new ski area. With no need to guide ourselves, we simply follow in his elegantly-carved tracks before taking a breather on the serene drag-lift haul up to Le Grand Plateau. This slightly sedate rite of passage opens up a few interesting possibilities, including Combe Orsière, a long and exhilarating swoop which clings to the side of the Neuvache Valley, above a gently flowing river. It's a different world over here.
And so it continues – an action-packed afternoon's skiing which gets us back to Valloire just as the lifts are preparing to close. Christophe, a true pro, has shown us things we'd otherwise have probably missed, and somewhere along the way we had begun to share his obvious love for this place.
Back for more
The area has never been one to stand still, and since our visit has continued its heavy investment in lift infrastructure and other improvements. We don't need too much encouragement to return here, so when we find ourselves nearby in the Haute Maurienne we jump at the opportunity of revisiting Valloire and updating our impressions. The villages feel much as we remember them, Valmeinier actually looking more attractive since the removal of the unsightly and deeply-unloved multi-storey car park which was for several years an intrusive blot on the landscape.
Meanwhile, over in Valloire things are also looking up in Les Verneys, where the previous frequent lift queues for the slow three-seat fixed chairlift have been removed at a stroke by a high-speed six-seater. Getting back has also become a lot easier, too, with the replacement of two difficult drag-lifts and a two-seat chair on the other side of the ridge by another new high-speed lift, the Cornaford six-seater.
As we discover, it's an impressive ride, giving a fast 1.6km haul up to 2310m, for a choice of red- and blue-graded runs down either face of the mountain, plus a couple of long blacks back to the base of the lift. The longer of the two – Dahu – looks interesting, but is closed during our brief time here.
Instead we take a more leisurely cruise on the Sétaz Blue to enjoy dramatic views and to see the results of some of the many other subtle remodelling work which has been applied to the piste layout. Here and there the results are obvious, elsewhere less so, but it all adds up to a safer skiing environment, with greatly improved visibility at crossover points. There's also some stylish, clear new signage, something we welcome as things weren't always instinctive when we were here last.
As you'll recall, we'd already developed a soft spot for the skiing in Valloire, feeling that like other ski areas in the Maurienne it really does deserve to be much more widely appreciated. Now it's even better.