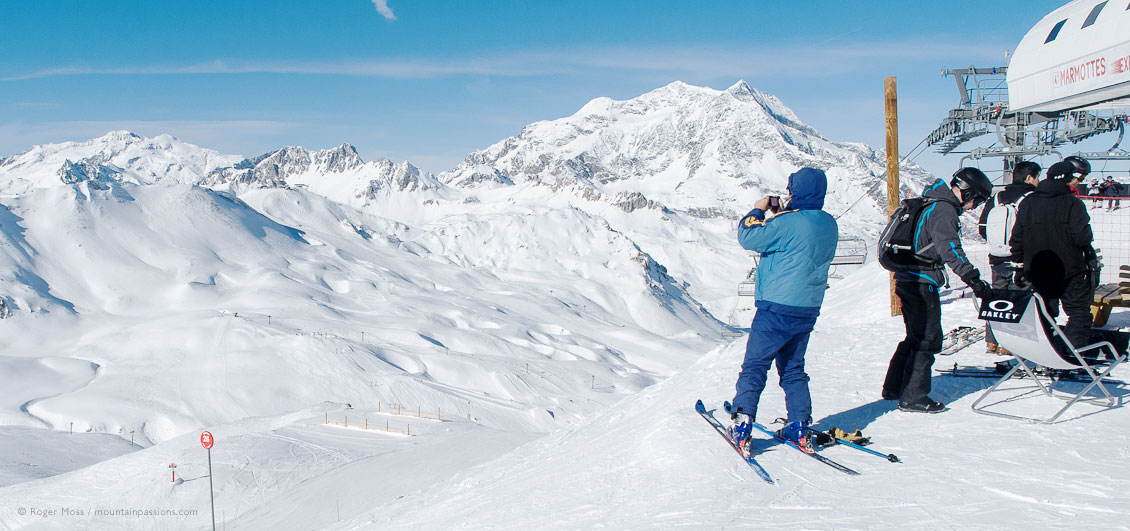 Insight: Val d'Isère
Driving to Val d'Isère, particularly in the chill darkness, feels like a real to-the-end-of-the-road experience. When the snow-line creeps down from the Col de l'Isèran and closes the road at the end of the valley just beyond the Fornet cable-car, that's exactly what it is. Over the years we've driven the route up from Bourg Saint Maurice many times, but the frisson of excitement during the climb remains as strong as ever.
It's hard to do justice to the enormity of the Espace Killy without getting impossibly wordy, so instead we'll offer our first impressions below, to which we've added our most recent experiences of dropping into 'Val' from Tignes in our Tignes Resort Review.
Cugnai, an older fixed chairlift serving a single red groomed piste (along with some worthwhile off-piste terrain), fires us off abruptly onto a tight 180° hairpin turn followed by a steep plunge back to the Col de la Madeleine blue.
Spoilt for choice in Val d'Isère
Having enjoyed driving the Route des Grandes Alpes in autumn, we're now looking forward to finding out how one of the more memorable sections looks and feels beneath our skis.This slightly surreal experience will have to wait, however, until after we've devoted some time to getting our bearings, particularly as we're based at the opposite end of the valley. Fortunately La Daille is far from isolated, having three high-capacity ski-lifts of its own, including the metro-like Funival funicular, which dives deep into the mountain and emerges way up at the Rocher de Bellevard (2827m).
Ahead lies a vast panorama, and a dazzling choice of ski runs. This being Day One, we pass on legendary descents like the Face Olympique de Bellevarde and 'OK' Coupe du Monde and instead warm up on a gentle cruise over to the Borsat Express lift, then to theCol de Fresse chairlift. From here we could drop more or less straight down into Tignes Val Claret, but elect to stick closer to home and see a little of what the local terrain has to offer. The snow quality, although becoming a little tired, is nevertheless pretty good, so we work our way eastwards.
Passing below le Rocher de Bellevard (2827m) we reach Santons, a blue-graded piste which plunges down into Le Châtelard, close to the heart of Val d'Isère 1850.
When we drop in the restaurant sun terraces are already starting to fill up, but we're more concerned with pressing on, taking the Solaise Express chairlift up to 2560m. We're getting into our stride now, making relatively smooth progress through the lift system and the connecting runs. Minutes later we've ridden the Madeleine chairlift, swooped down the blue-graded Col de la Madeleine and joined the Glacier chair.
The security and effectiveness of these modern lifts becomes apparent when Cugnai, an older fixed chairlift serving a single red groomed piste (along with some worthwhile off-piste terrain), fires us off abruptly onto a tight 180° hairpin turn followed by a steep plunge back down onto the Col de la Madeleineblue once again. Next time we'll be prepared for that.
Up and over to the glacier
Not that newer high-speed lifts don't occasionally serve up a few surprises of their own from time to time, as we discover when the Leisières Express takes us over a high ridge, before making a steep and rapid-feeling descent into the neighbouringVallon de l'Isèran. It's a fun ride, not least for the surprised expressions on the faces of those heading over the ridge from the other directions on this two-way lift.
By now we've almost reached our target, the Pissaillas Glacier (above). Even before we step off the lift we know we've found somewhere special — not in terms of size (in absolute terms it's pretty modest) or terrain (the pistes are likewise undemanding). It's quite simply a magical spot, with vast, top-of-the-world views over to the distant Grand Motte Glacier, silhouetted almost 3500m above Tignes — about the same altitude as we are now, in fact.
To prove the point, closer to hand is a privileged overview of the 2770m Col de l'Isèran (left), one of the highest road passes in Europe, and for much of the year comprehensively snowed-in. The glacier is also a point of departure for various off-piste routes but we break for lunch, ski the groomed pistes for the simple fun of just being here, then begin to make our way back to our starting-point. Not bad for a first day's skiing.
During our stay in Val d'Isère we cover a lot more ground, yet still feel like we've only scratched the surface. And yes, we do get to ski down a section of the Route des Grandes Alpes, whose roadside piste-markers looked so incongruous back in the autumn. This really is quite a place, and you can read about how we approached it to discover more about it from neighbouring Tignes in our resort review.