Insight: Val Cenis Vanoise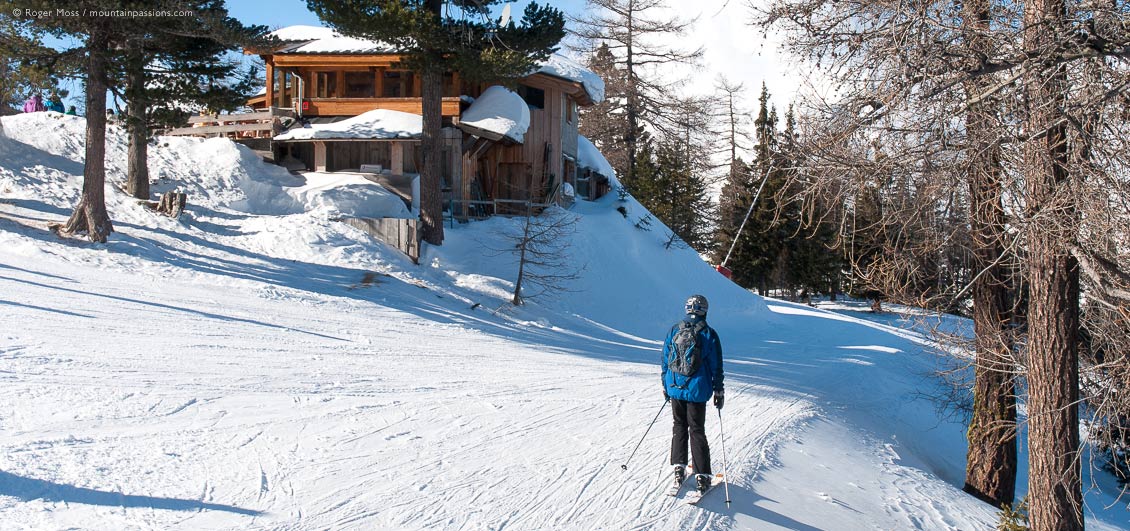 Insight: Val Cenis Vanoise
A few snowflakes dance in the headlight beams as we leave the eerily-deserted autoroute, cruise through the frontier town of Modane, and turn onto our old friend the Route des Grande Alpes. We climb steadily through increasingly snow-laden landscapes past the brooding mountain fortress of l'Esseillon, feeling a growing sense of isolation and remoteness. Things change, though, as we reach the cheerful villages of Bramans, Sardières, Sollières and Termignon, after which a gentle run through Lanslebourg, and Lanslevillard brings us to our accommodation in Le Haut and a solid base from which to discover Val Cenis Vanoise.
A respectable 1574m (and some 364m of vertical) later we release our lift poles amid the kind of scenery we've come to love, and which are much more likely to be served by discrete drag-lifts than by more intrusive high-capacity, high-speed chairs.
Going Up
Next morning we emerge from our apartment in Les Balcons de Val Cenis to discover that our location is ski-in/ski-out, so we can ski direct to the nearby Val Cenis Haut gondola lift, passing the local ESF ski school meeting point. Happily, there are no queues and the lift drops us smoothly at the base of the Arcelle six-seater chairlift for a second-stage haul to almost 2400m. From here it's just a quick blue-graded swoop down to the Solert six-seater chairlift, from whose 2540m top station there's a choice of red descents or – our choice – a gentler blue cruise towards the Mont Cenis sector. We stop, though, to take the Met four-seat chair up to 2800m (the highest point in the whole ski domain) which serves the Jacot Met black piste plus both red and blue runs. We take the red (Met), which feeds us onto the long, blue-graded cruise over to the Mont, en-route to which we leave the Québequoise blue piste and take a recently-tracked cut-through which drops us beside the historic Col du Mont Cenis.
Snail's pace
The old road (constructed by order of Napoleon in 1805) by which the Col is accessible for much of the year lies buried under snow during the winter months, transforming it into Europe's longest Green run, the aptly-named l'Escargot. From here the possibilities include a (very) leisurely Green-graded cruise on l'Escargot, or a steeper drop on Ramasse, a red piste which feeds onto the blue-graded Madeleine to bring us smoothly down to Lanslebourg beside the Ramasse six-seater high-speed chairlift. After taking the lift we work our way back towards the Vieux Moulin gondola, and over towards the excellent Chalet La Ranôva for a welcome lunch break.
Off-piste – back to nature in Val Cenis Vanoise
When we emerge our guide (who happens to be Director of the Val Cenis ESF team) shares a little of his local knowledge by showing us an unpisted trail frequented only by the occasional Nordic skier, a route which leads us through silent forests and past a frozen waterfall. Having gained some useful insight into the kind of possibilities which abound here if you know where to look, we spend the rest of the afternoon calmly exploring the sector above Lanslevillard, before skiing right back to our apartment in Le Haut.
Up and over
The following morning we're on our own, and decide to head straight over to Termignon to see how the link works and what the sector has added to the Val Cenis Vanoise ski domaine. We take a similar route to that of the previous day, but this time drop down just beyond the Ramasse chairlift to take its companion, the Turra six-seater which carries skiers in both directions to provide an express return option for those not based in Termignon itself. The smooth haul up through the extensive forests brings overviews of Traverse, a long blue-graded descent, and drops us at the foot of our next lift, the Sources four-seater. This fixed chairlift provides the second stage of the link and tops off at 2300m, for an onward run down the blue-graded Flambeau piste.
As nature intended
Some way down the wide scenic run we pause at the friendly Arole mountain restaurant for vins-chauds, which fortify us for the final haul via the Grand Coin drag-lift up to 2465m. A respectable 1574m (and some 364m of vertical) later we release our lift poles amid the kind of scenery we've come to love, and which are much more likely to be served by discrete drag-lifts, than by more intrusive high-capacity, high-speed chairs.
Up here there's a real feeling of remoteness, and the valley suddenly feels a very long way below us. There are noticeably fewer skiers, too, which will go some way to reassure those who for some years opposed the creation of the link from Val Cenis on the grounds of increased disturbance to wildlife in what is a designated nature reserve. As far as skiers are concerned, we have to say that it's well worth the modest effort in coming across, even from our base in Val Cenis' furthest outpost up the valley at Le Haut.
Friendly Termignon
From Le Haut you can take the Grand Combe Red piste, which feeds back onto Flambeau, or choose from blue or the red-graded options, which either drop back to the base of the drag-lift (or its steeper companion, Lac) or over to the Bleue du Lac for a sweeping cruise at the very limit of the ski domain. Take this, as we did, and you can continue all the way down to Termignon, where you'll discover a cheerful front-de-neige area with recently-added apartment accommodation and sunny bar/restaurant terraces. There's also the powerful TSD Girard four-seat high-speed chairlift, which we take before transferring to its higher counterpart the Roches-Blanches chair, for a slower second-stage haul up to 2042m. The drop-off point is well-planned, giving a choice of a return zig-zag plunge back down to Termignon or a transfer to one of the two drag-lifts serving the topmost terrain.
The long way down
The third option, particularly for skiers thinking of returning to Lanslebourg or beyond, is the blue-graded Flambeau, an attractive direct wooded run round to the meeting-point of two lifts: Sources (which will take you back up to the sector's upper terrain) and the Turra two-way chairlift back down to Lanslebourg. Not that you need take this express ride if you're still in the mood to ski some distance, as Flambeau feeds seamlessly onto Traverse, for a long, long run down through the forests into Lanslebourg. From here you can work your way back to your accommodation via the lift system or take one of the free shuttle-buses which carry skiers along the valley floor.
Parting thoughts
We enjoyed our long-overdue return visit to Val Cenis, which in its expanded Vanoise guise now offers not only a very respectable 125km of groomed downhill terrain for all levels (and served by a capable lift system), but also a steadily-expanding choice of accommodation to suit most tastes and budgets. The fact that it's also still relatively unknown to mainstream skiers makes it one of a select group of quality ski resorts to which we'd very happily return whenever the possibility arises.