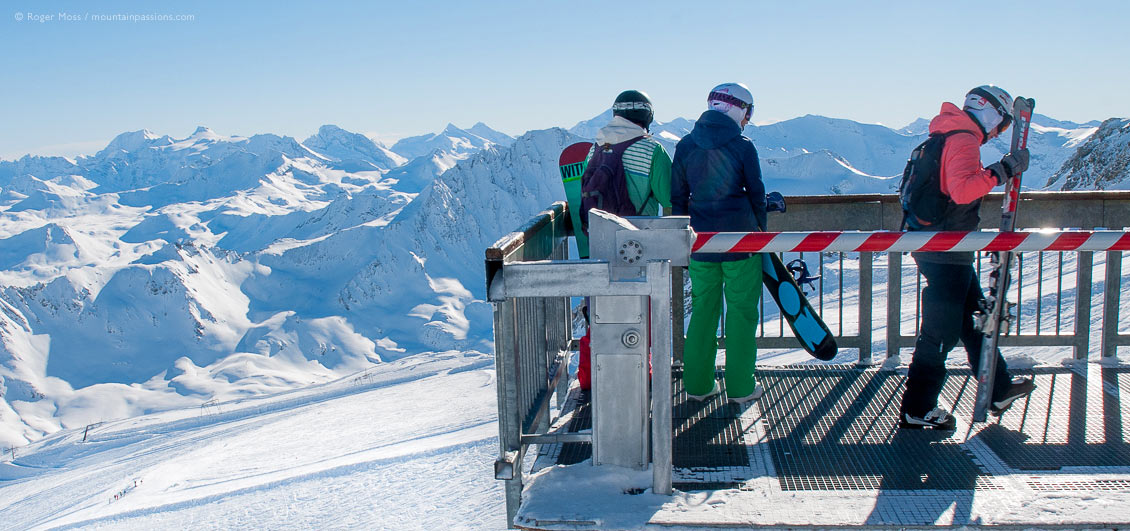 Insight: Tignes
During previous visits we've seen just how much snow this place can receive when a major depression blows through, so we already have a healthy respect for Tignes and the Espace Killy. The route up from Bourg Saint Maurice feels like an old friend, but now there's an added attraction in the form of the recent Kalinda Village developed at Tignes 1800. We visited before the final phase is completed, but already it's clear that this is quite a spot, not least since it offers virtually doorstep skiing.
Skiing during lunchtime goes against the French psyche, so we should have an hour or two's window for avoiding the crush heading up in the funicular the Grande Motte cable-car.
Tignes: the bigger picture
For our first morning's skiing we test-drive the location concept by skiing from the Kalinda residence down to the Boisses gondola lift, added in recent years to haul skiers up to the heart of main ski area, and straight onto the long, blue-graded Myrtilles piste which provides a scenic cruise down to Les Brevières 1550. With the luxury of the previous night's fresh snowfalls, we snake our way down the side of the deep valley, on what in summer is actually a steep mountain hairpin route. Around the mid-point we pause to catch our breath and take in the fairytale views of the cheerful snow-dusted village on the valley floor below. It's an entertaining first run of the day, although we can see how it might become a little more demanding later in the day when heavily-tracked by returning skiers.
The village of Les Brevières turns out to be quite a charmer, with a sheltered setting and longstanding traditional appeal to skiers looking for an affordable base from which to explore the Espace Killy. However, there are unmistakable signs that it too has begun to move upmarket. For now we don't hang around, and grab a seat on the Pitots chairlift for a slightly leisurely haul, complete with impressive views of the nearby Barrage de Tignes dam, back to the Boisses gondola.
After a second-stage ride which drops us to precisely where we would have arrived had we taken theSache gondola direct from Les Brevières, we could now simply join the Airelle piste for a Blue-graded onward run down to Tignes Le Lac. Instead we transfer to the Aiguille Rouge chairlift, whose companion the Marais 3-seater chair offers skiers a useful haul right up to 2725m just below the unmistakable Aiguille Percée (2748m), but we take Petit Col – another blue piste which swirls and swoops its way down to Tignes Le Lac. At the bottom we ski right into the throng of skiers heading in all directions to join the respective lifts which will carry them to their chosen mountain sectors, or making for the shuttle buses to carry them around the lake to Val Claret.
What do you do on a perfect day in Tignes?
By now it's shaping up to be a near-perfect day for shooting the kind of images we work hard to photograph during our visits to ski areas. Experience has taught us long ago that in the mountains there's no telling how long visibility is going to hold, so we have to think on our skis and make the most it while it's still fine. The plan is to make the most of the fresh snow and clear conditions by heading up to the Grande Motte glacier. Not that we really needed an excuse.
Making the trip up from mid-morning onwards finds the initial surge of skiers heading for the glacier dwindling fast, and since the prospect of skiing during fast-approaching midday goes against the French psyche, we should have an hour or two's window for avoiding the crush heading up in the funicular – and more importantly, the Grande Motte cable-car. Sure enough, it turns out to be a pretty painless experience, thanks to restricting ourselves to a brief coffee-and-snack break en route, rather than the kind of sublime lunchtime experience served up byJean-Michel Bouvier's team at Le Panoramic (one of our favourite mountain restaurants).
The big one: the Grande Motte Glacier
Stepping from the world-famous cable car at 3456m – the highest point in the Espace Killy – finds us in no mood to go anywhere before we've watched the 115-passenger car's hypnotic descent into the infinite vastness spread before us.
Curiosity satisfied, we snap into our skis and glide slightly awkwardly along the wide traverse, passing an unpisted black descent (with a 'Descent' sign, lest there be any doubt) before we reach the glacier. The run itself is neatly-groomed but looks slightly odd when seen in the far distance from the villages around the lake. Up here we can finally see why, as the grooming teams work hard after each snowfall to nudge some of each top layer into long, neatly-arranged walls of snow which they stockpile to ensure that the adjacent ski terrain can be opened during the summer-skiing months.
The Glacier piste is officially graded red and although being quite steep there's plenty of width (and if we're honest, we've seen much more demanding blues). The views, of course, are breathtaking and you can get a slightly different perspective on things (in summer-skiing periods only) by taking the exit around the half-way point round to the 3500 I&II draglifts serving a little more red terrain.
Making the grade
Our initial drop eases around the point, at which we peel off onto the Liesse Black piste, a worthwhile detour which immediately rewards us with a bracing drop towards the Col de la Liesse at 2771m. Others clearly love it too, as this single run has its very own 4-seater chairlift, which drops us neatly back beside the base of the cable-car for a truly memorable ride, which skims a succession of impressively-craggy limestone rock faces. The ride also gives us plenty of time to look over to our left and watch the other skiers who are tackling the roller-coaster of a run which we've just enjoyed. Scale-wise, it's hardly what you'd call epic, but the setting certainly is and the run packs in a lot of fun, so we sense that when the opportunity presents itself we'll be back to do it at least once again.
When we do so we'll be tempted to follow it by taking the same onward route we're about to tackle today. From here there are both red and blue pistes, the first of which is Génépy, a leisurely blue cruiser which follows a wayward route to pass below the arrival of the Fresse chairlift. This lift provides speedy access to a large plateau area which offers novices their first taste of high-mountain skiing, on a network of safe green-graded pistes served by three chairlifts. Our route, meanwhile, undergoes a change of identity and morphs into Prariond before surging relentlessly down to Val Claret. When we get there our own lift of choice, the Tuffs chairlift, hauls us to 2704m beside the top station of the Tovière gondola, which replaced the famous Aeroski chair on one of the key hauls out of the village. From the top station the choices include both groomed and ungroomed steep descents into Lac or back over to Val Claret.
To Val d'Isère, or not to 'Val'..?
The main attraction, though, is the speedy onward run over to the Rocher de Bellevarde (2827m) area above Val d'Isère. Later in our visit we'll head over to enjoy the one of the many descents into 'Val', but for now we content ourselves with merely having reached the Rocher de Bellevarde before working our way back on a route which involves briefly joining the lower section of the aptly-named Verte green-graded piste to pick up the Tommeuses chairlift. It actually turns out to be an interesting return run, as the blue-graded Paquerettes heads back to Val Claret, rather than Tignes Le Lac, providing us with a much more direct return to our apartment in Tignes 1800. It's something worth knowing. So we peel off onto Trolles – a black which gives our protesting legs a final workout and which doesn't give up even on the blue-graded final drop into the village. We'll remember that one.
Fortunately, a quick haul on the Chaudannes chairlift drops us onto the first of a series of blue cruises to take us back to the Tignes 1800 Les Boisses area, and we're able to ski virtually to our door at CGH's excellent Kalinda Village.
It's been a hugely rewarding day, which has forced us to rethink our previous image of Tignes as being suited primarily to advanced skiers. The challenges are still there, of course, but this dynamic, forward-thinking resort is constantly evolving and raising its game, not least by broadening its appeal to families and less-experienced leisure skiers. Factor in recently-added accommodation and services at Tignes 1800 and we have to say that we're hugely impressed.