Insight: Praz-de-Lys Sommand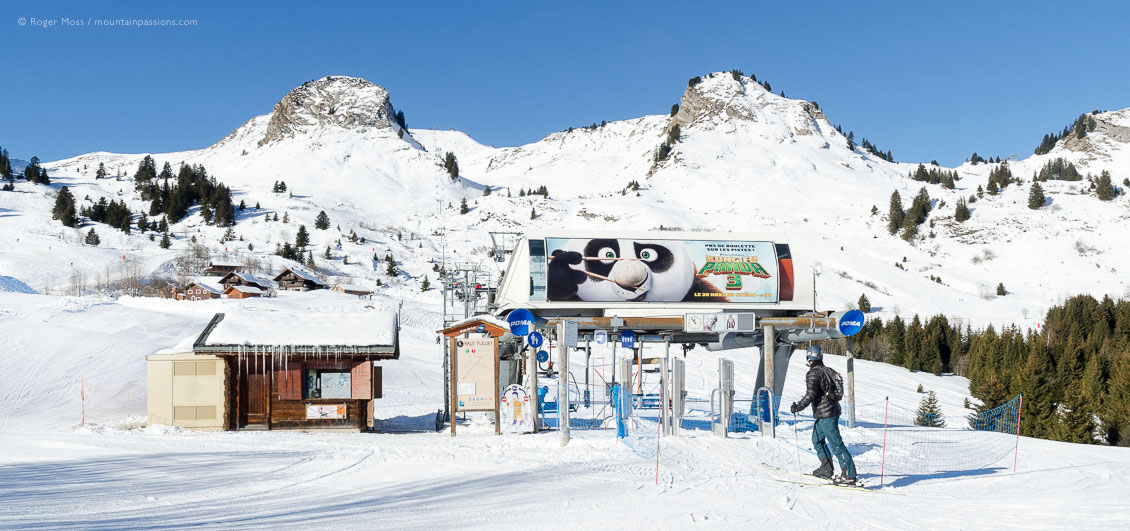 Insight: Praz-de-Lys Sommand
For a while the drive to Praz de Lys Sommand feels familiar. We're on the Route des Grandes Alpes, which also passes several other ski resorts, including Morzine and, nearest of all, Les Gets. Many years ago there was a plan to lift-link Praz de Lys to Les Gets, but the challenges proved too great and the project was abandoned.
The winding ascent confirms that this is serious mountain territory. Eventually, though, the climb eases on a broad plateau, where cross-country skiers are powering their way around neatly-pisted circuits. Just beyond them we reach the ski village, whose chalet-style skyline is dwarfed by the mountain peaks rising more assertively behind it.
After finding our apartment at Les Soldanelles we watch the sun go down, peer at the piste map and begin to plan our skiing for the days to come.
Getting to know Praz de Lys
The next morning we collect our lift-passes and take a quick look at the village, purpose-built during the 1970s and still compact, most subsequent development having added individual chalets set slightly apart from the original heart.
The broad main street has a tourist office plus a modest range of shops and services, but the main focus is behind them just below the front de neige, with ski shops, bars, restaurants, boulangerie and a mini-market.
Curiosity satisfied, it's time to ski. To make up for lost time we put the skis back in the car and head through the village to Les Moliettes for a choice of chairlifts. We hop on the Haut Fleurie 4-seater.
"Start high, and be sure to ski Le Lac.."
At 1.7km it's a long, slow ride, but the weather's fine so we sit back and take in the increasingly dramatic scenery. When we finally ski off at 1961m it's a different, remote-feeling world with sensational panoramic views. Ahead and far below lie the pistes of Sommand, but we point our skis onto the Lac piste falling away to our left.
Pushing off for a near-straight run, we let our speed build until things flatten across a surprisingly slender arête with steep drops on either side. Beyond it things widen again for a scenic cruise down to a tight left-hand turn onto a stimulating drop steep enough to test our edge control on the initial turns.
Le Lac is a fun run (so we head back up to re-ski it)
Once we've cleared the steep-but-not-too-deep section the run eases and briefly enters the kind of dramatic setting which feels like a scaled-down section of the famous 14km-long Cascades piste at Flaine in the nearby Grand Massif.
We love runs like this. The lower section even throws in some fun ski-cross-style humps and turns, so as soon as we're down at the lift again we ski straight back on for a second haul, just so we can ski it a second time, this time with the confidence of knowing what lies ahead.
Down through the trees and up to a liaison
This time, though, we turn off above our starting point and onto Les Tetras, a broad, blue-graded piste which heads down among dense conifer forest, where it's joined by its red-graded counterpart Les Chamois for the final drop to the Praz l'Evêque chairlift.
The ride up is a steep one, and drops us beside Les Mouflans, 2,4km red run back down, with an optional blue excursion along the way. Today we ski past it, however, to reach the Col de la Ramaz, and the link to Sommand.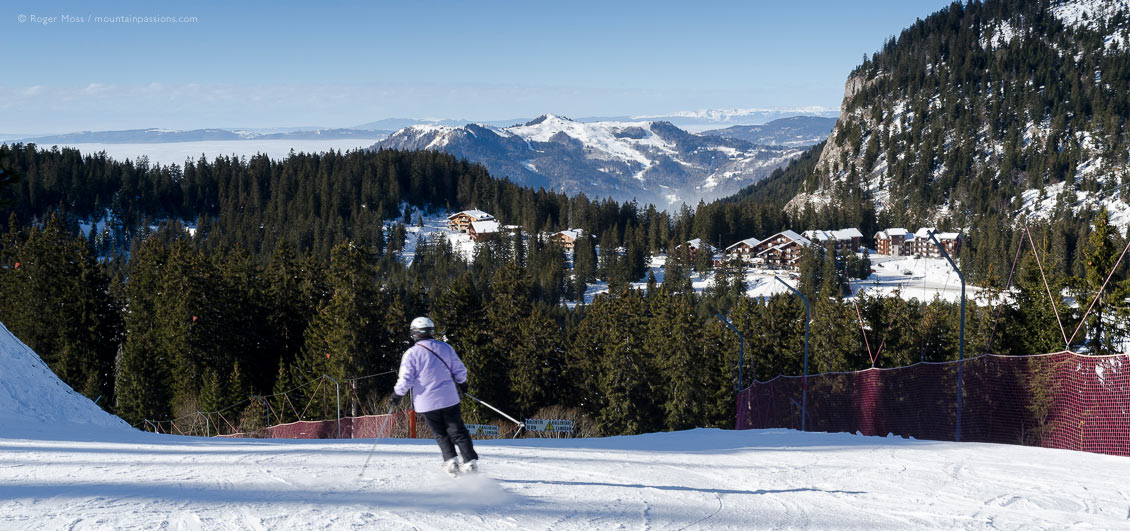 Time to see how the liaison works
Until now we've only gazed down from Haute Fleury at dimly-discernible skiers feeling their way through early morning mists to and from Sommand, so we've no idea what to expect. The link is marked clearly enough, although few skiers seem to be taking it, possibly since we're now entering the sacred French two-hour lunch period.
The run itself is a joy for any skier who like us loves heading away from the upbeat ski resort vibe and into the silence of a more natural mountain setting. That's why we're smiling as we cruise contentedly on a gentle, tree-lined piste which brings us to a sweeping left-hand turn bounded by sturdy security netting.
We drop in on Sommand
We're less interested in what kind of drop lies beyond it, though, than by the chalets and purpose-built ski apartments visible across the valley. Cruising onwards just a short distance brings us to a tight right-hand turn onto the approach piste which feeds onto the modest front-de-neige of Sommand La Mary.
First impressions are of a small, family-friendly resort set around a broad, sunny plain sheltered by trees and with a handfull of lifts. Nearby dining options look limited, though, but a magic-carpet lift drops us just below the nearest restaurant, where we head inside out of the midday sun and rest our leg muscles over a relaxing lunch.
Sommand's family appeal
Sommand may be compact, but with snowpark, boardercross, slalom and luge facilities plus safe novice areas, we can see why it's popular with local family skiers. For longer stays most of the accommodation is located at the Mieussy end of the valley, which has drag-lifts blue- and red-graded runs on the flanks of Pertuiset (1650m).
Competent skiers from Praz-de-Lys, on the other hand, have the option of taking the black-graded Combe Perret piste from the Haute Fleury chairlift for more direct access to this side of Sommand.
From Sommand back to Praz-de-Lys
A couple of fixed four-seater chairlifts offer a choice of routes back to Praz de Lys. The Pierres Rouges chair drops skiers at 1788m (with the option of skiing down to Praz l'Evêque), while a longer haul on the Col de Sommand lift heads all the way up to 1789m – a whole metre higher.
It's an entertaining ride, though, with views of the skiers taking the liaison piste below, and at the top there's a choice of speedy red or blue return runs down to Les Moliettes, where we started.
Potential for cross-country skiers and walkers
While we're not cross-country skiers, the views from our apartment show just how many people snap into nordic skis, don their Lycra and power their way into calmer surroundings away from the slopes. Praz de Lys Sommand's 60km of groomed nordic pistes is one of the largest in Haute Savoie, and walkers can follow dedicated, signed itineraries, even without snow-shoes.
Our last afternoon in Praz de Lys brings overcast skies, so we head out on foot to see more of our unspoilt surroundings before the weather front arrives. It feels immediately like an inspired move, and our chosen track takes us into places we'd otherwise never have seen.
Praz-de-Lys Sommand: parting thoughts
Having arrived at the tail-end of a series of visits to larger ski resorts, we had no idea what we'd find at Praz de Lys. On our second day we met some skiers from the UK who had come over from their regular base in the Portes du Soleil just to ski here – something they do each season, apparently. The reasoning? "It's quiet, great value, very French and the skiing's good…" We can understand their enthusiasm for this place, not least since we like pleasant surprises, and Pra de Lys certainly turned out to be just that.
The runs over to Sommand and early morning drops down Le Lac alone would be more than enough to draw us back again.