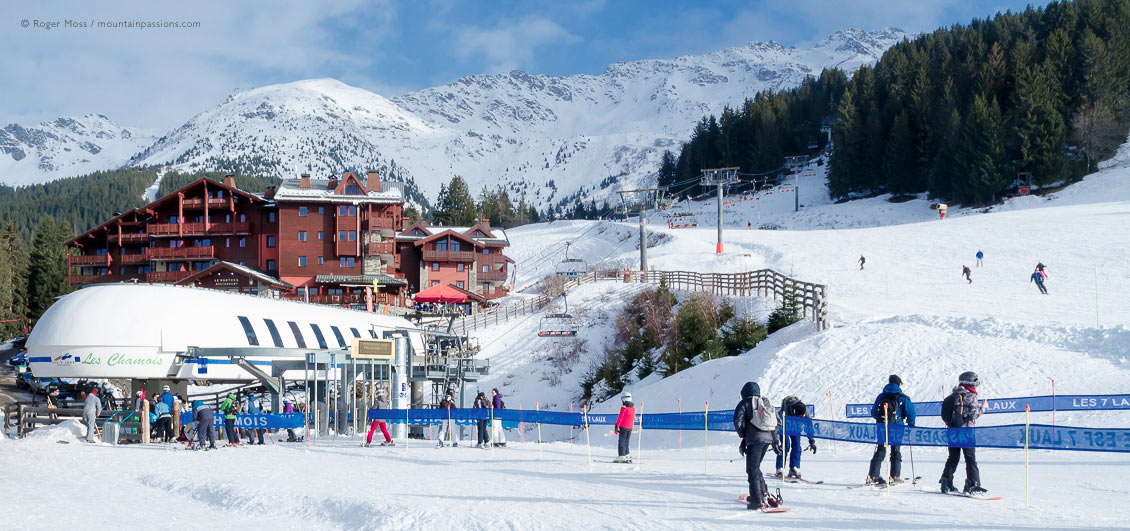 Insight: Les 7 Laux
We can't quite fathom why it took us this long to get around to skiing in Les 7 Laux. Maybe it was simply the thought that anywhere this close to a big city (Grenoble) sounded more like a convenient choice than a big-hitter. How wrong can you be?
Totally, it turns out. For starters, the ski terrain is much more extensive than expected, and spread across two faces of a substantial mountain, each side with a purpose-built ski village. We approach from Grenoble and head up to Prapoutel, the larger of the two, its counterpart Le Pleynet being more readily accessible from Chambéry, via the ski and thermal spa town of Allevard. Get that wrong and you're up for an extra hour's drive between Les 7 Laux's two centres.
We're here for a couple of days' skiing in January, and while the season's best snowfalls are still a week or two away we're relieved to find Prapoutel above the snow-line, with all lifts operating and all runs open. There's more good news: our self-catering appartment at the Résidence Les Granges des 7 Laux has a slopeside location just above the Chamois high-speed chairlift, plus secure underground car parking, so after transferring our gear we enjoy the views from the balcony by way of unwinding from the journey.
the ski terrain is more extensive than we'd expected, and spread across two faces of a substantial mountain…
Time to ski Les 7 Laux
The next morning we ski down to the lift and join the Sunday skiers already heading up. When we ski off at 2100m we take a short cruise on Cabris (blue) to the Eterlou fixed chair. Once over the ridge it's downhill all the way into Le Pleynet (1450m) on terrain which faces NE, making it the recommended option for morning skiing in Les 7 Laux.
Despite appearances on the piste map, there's some great cruising potential on this side. Intermediates will love long blues like Coulemelle and Rosée des Près, whose final sheltered run into the village gives a welcome taste of the local conifer forests.
More confident skiers, though, can turn off halfway down onto Roche Noire (red) for a more direct descent, or to access the snowpark and boardercross, both of which (and a debutant zone) are served by the Pincerie fixed chair from Le Pleynet.
For our first run over we ski the blues, to have a look around and get a feel for this side of the mountain, before joining the red for the final drop to the front de neige. Once down we note the compact layout of the village, and eye the WizLuge tracked luge sitting beside the Pincerie chair.
Scenic cruising from Le Pleynet to Pipay
From here we schuss over to ride the Aigle chairlift. The high-speed 4-seater hauls us smoothly through spruce forest before things open up for the remaining haul up to 1928m. At the top we ski off with a few options to consider. Ignoring for now a choice of two short drag-lifts, we re-join Rosée de Prè (blue), the idea this time being to access the Oursière high-speed 6-seater for a ride up to 2236m. At the top there's a red + black link to join the unpisted Vallons du Pra sector, but for now we take Coulemelle and enjoy more of Les 7 Laux's excellent blue-graded carving and cruising terrain. This time, however, we won't be heading all the way down.
Instead we take a left turn onto a bracing steep-but-mostly-wide run on Mataru (red). It's a blast, and takes us all the way down into Pipay (1550m), home to a gentle debutant area and the departure point for a muscular 'télémix' lift. The Grand Cerf combines 6-seater chairs with 8-seater cabins (an inspired move which allows the lift to carry walkers up to a network of scenic Alpine footpaths in summer). We take a chair, and at the 2123m top station we ski straight off onto Girolle (blue) followed by Cabris, a red whose occasional steeper sections are again forgivingly wide.
Almost 1000m of vertical for freeriders
That in turn drops us at the Gypaète high-speed 4-seat lift serving the 2400m, gateway to the Vallons du Pra freeride zone. We find the lift closed due to high winds at the summit, but lunch in a mountain restaurant sounds good, so we check the piste map and continue on a wooded section of Chanterelle, a wide green run providing skiers with a safe return to Prapoutel.
We join them briefly as far as the Lac fixed chairlift, which we ride up to 1880m, for a red-graded descent on the Clapierre piste to pick up the final blue (Souchette) down to the Chalet des Cortillets mountain restaurant. The weather is now deteriorating, so the large sun terrace tables have few takers but inside it's snug and welcoming. Besides, we've had a great morning's skiing.
Lots of terrain for advanced skiers
When we emerge there's a choice of red (Bolet) or blue (Souchette) pistes for the run back down to Prapoutel. Neither is very long, but the green has the edge, taking a more wayward route through forest, so we go for the scenic option. Later, back in the apartment we ponder our all-too brief time in Les 7 Laux. It certainly didn't disappoint, serving up a surprising amount of varied terrain, with particular appeal to more experienced skiers.
Terrain-wise, there's a surprisingly high proportion of reds and blacks here, but less-confident skiers and mixed-ability groups are well-served by some nice wide blues and a long green (Chanterelle) fun run between Le Pleynet and Prapoutel. In short, Les 7 Laux is a strong contender (and a highly accessible one) for intermediate and even advanced leisure skiers, and if you feel like a change from downhill skiing there's also a choice of cross-country sectors nearby.