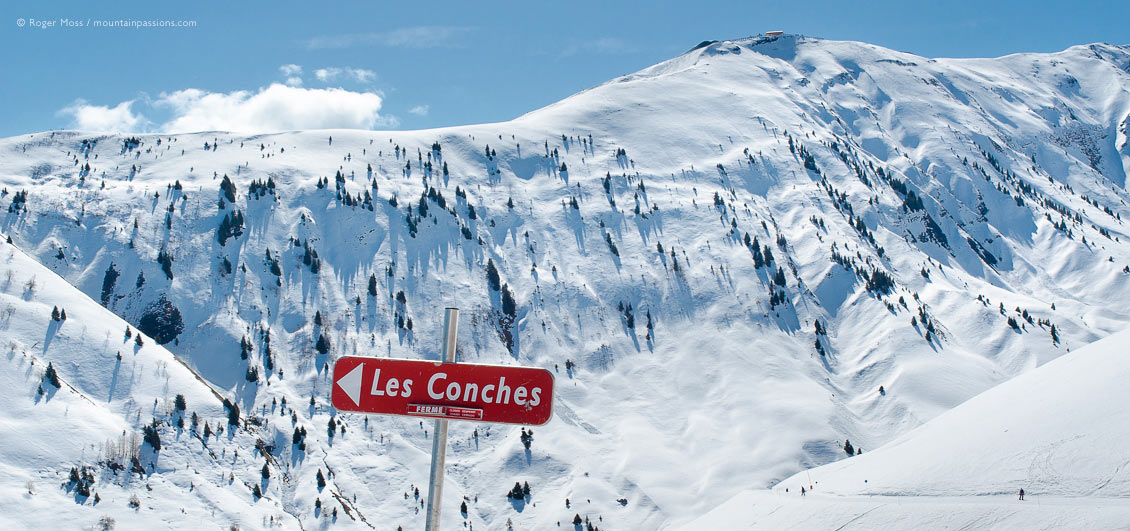 Insight: La Toussuire
When I asked my fellow ski journalist Arnie Wilson, who has skied just about everywhere on the planet, to name the most beautiful area he'd ever skied in France, he responded without hesitation: "Les Sybelles". Good enough for me. A few seasons have since passed, but the seed was sown, and now we finally have the opportunity to come and discover it for ourselves.
This place has a lot to live up to, particularly since there's mist and light rain as we make the drive up from Saint Jean de Maurienne, waiting impatiently to hit the snow-line. But it's late March, and green doesn't give way to white until just before the turn-off to Le Corbier, while we negotiate the final hairpin which will bring us into La Toussuire. Here the rain has given way to snow, and we're suddenly back in our comfort zone, with the prospect of some skiing ahead of us in the days to come, although by the time we're installed in our piste-side apartment there's little to be seen through the snowy dusk from our balcony.
After launching off on the red-graded Ouillon 1 connector piste we pick up Col de Bellard, a much longer red which hugs the side of one of the most spectacular valleys in which we've ever skied…
La Toussuire: first impressions
The following morning we float out on a fresh dusting of snow beneath a cloud-filled sky and head down to the lifts. The high-speed 6-seater Tête de Bellard hauls us smoothly to 2225m while we get a feel for conditions and snow-cover, which are impressive, given that we're here so late in the season. At the top we head over to Les 2 Croix, a pair of reasonably short drag-lifts which get us to 2431m, where in clearer conditions we'd be taking in vast panoramic views of our surroundings. We'll just have to imagine it for now, while awaiting the forecast fine weather to arrive. In the meantime we spend the rest of the day exploring some of the pistes below the Tête de Bellard, which currently has the best snow conditions above La Toussuire
Having got that out of our system, we head back to our apartment, lock our skis away and head back out minus ski gear to spend some time discovering the layout of the village itself and what it offers in the way of shops and services. Although not exactly epic, we've enjoyed what turned out to be a relaxing day, and can already see why so many French families keep returning each season.
The following day finds the scenery transformed by a cloudless sky, so we head straight back to L'Ouillon in search of the panoramic views we'd previously been denied. This time we finally get some idea of the vast scale of the linked ski area, and there's a whole lot more out there currently hidden away out of sight, the first on our checklist being the Saint Colomban des Villards sector, currently tucked away out of sight to our right. After launching off on the red-graded Ouillon 1 connector piste we pick up Col de Bellard, a much longer red which hugs the side of one of the most spectacular valleys in which we've ever skied. Thanks, Arnie.
Further down the red feeds seamlessly onto the blue-graded Liaison Techette, which enters the tree-line, morphs into Bouyans (still blue), passing a welcoming and beautifully-sited mountain bar/restaurant before the final drop into La Pierre, the lowest point in the ski terrain above Saint Colomban. We've just completed 1331m of vertical drop in a single, unbroken run through the kind of scenery most skiers would kill to explore.
A combination of the lowest altitude in the ski domain and fast-approaching springtime have produced slushy conditions around the village, but the access run remains skiable and this sector could suddenly become much more so if a snow-laden depression were to sweep in before (or after) the end of the season.
We've seen it happen from time to time, a thought which we hold onto while contemplating the currently lush green forests during the first return haul on the Ormet 4-seater chairlift. At the 1466m top station we take the blue-graded Plan Fin piste down to 1313m to meet Charmette, another fixed 4-seater. The lift makes a steep getaway, then eases high above the long scenic blue cruise we'd skied earlier before dropping us at 1809m. An all-too-brief run down Grand Creux (blue) brings us to the Mont Cuinat draglift, for the memorably long, slow haul we'd glimpsed while peering into the valley from Tête de Bellard, prior to our descent into the valley.
By the time we reach the (2078m) drop-off point we're more than happy to glide down the blue-graded Liaison Bellard and relax in the sun on the final haul on the Col de Bellard 4-seater chairlift. The Col itself accesses a wealth of off-piste terrain, while at the top of the lift lies L'Ouillon (2431m) and the prospect of blue, red and even black onward pistes through more jaw-dropping scenery down to the Chalets d'Olle.
We opt for the blue-graded Longe Combe, the kind of dreamlike cruise we're powerless to complete without at least one quick pause for photos. At the bottom we reach both the high-speed 6-seater Eau d'Olle chairlift (which takes skiers making for Le Corbier or La Toussuire back to L'Ouillon) and its companion the Petit Perron 4-seater, which continues onward to the 2271m Petit Perron summit. We take it, make a bracing drop on the blue-graded Blanchons and the Rocher red all the way down into Saint Sorlin d'Arves – an unbroken vertical drop of a little over 670m.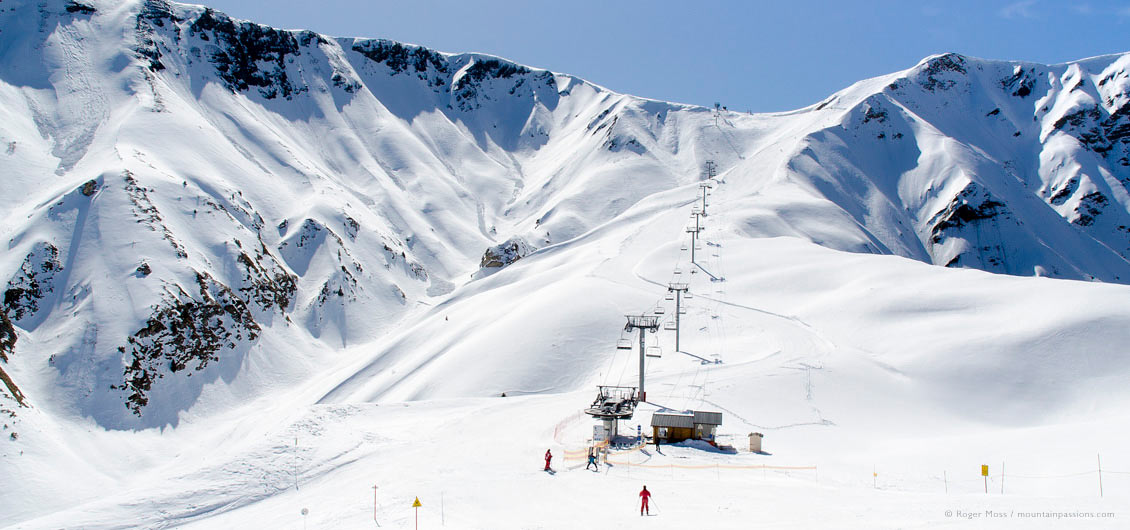 When we'd set off the plan for today had been to take a relaxed amble over to this point and back again with photo-stops along the way, saving other distractions until another day. However, the present fine weather (which experience has taught us never to assume will hold) had tempted us to abandon that idea and make what looked like being a quick detour round to Saint Colomban. It was absolutely worth it, but the four-lift return route had proved more time-consuming than expected, which is why we're taking what can no longer be called a lunch break at around 14.50. Our protesting leg muscles tell us just how far we've come, and how heavy snow conditions have been on the final, lower sections.
With the return journey still to tackle, we can't hang around too long, so soon find ourselves heading back out and riding the Les Choseaux high-speed 6-seater chairlift up to Les Perrons. At 2620m it's yet another panoramic viewpoint but we have to press on, launching off on Vallons – a long, blue-graded cruise back to Chalets d'Olle, to ride the high-speed 6-seater Eau d'Olle chairlift back to L'Ouillon.
A determined run down the blue-graded Pierre du Turc brings us to Le Chamois, a short and relatively undemanding drag-lift climbing to just below the viewpoint of Pierre du Turc (2305m), from which there's a choice of onward runs back to La Toussuire, with a vertical drop of around 550m. If you're feeling fit then you have some steep but wide reds to enjoy, one of which (Bellard) has a steeper and often mogulled black feeding onto it. If, however, you want to take things calmly, or your legs are shot after big mileage then the decision is simple: take the blue-graded Marmotte (or Crêtes, followed by Gorges or Marolay then Soleil) all the way down. There's also a more scenic ridge-hugging option, starting on Marmotte, then peeling off onto Moyenne Verdette and then joining Combourcière for a final cruise down to the village. For us it's perfect, since it takes us right past our accommodation.
After a long day seeing the sights in perfect weather we relax a little for the rest of our stay in Les Sybelles, and make a point of driving over to ski Albiez-Montrond. Our verdict? Les Sybelles have come of age, and add up to a major ski area – and the scenery is indeed stunning.