Insight: Crest-Voland Cohennoz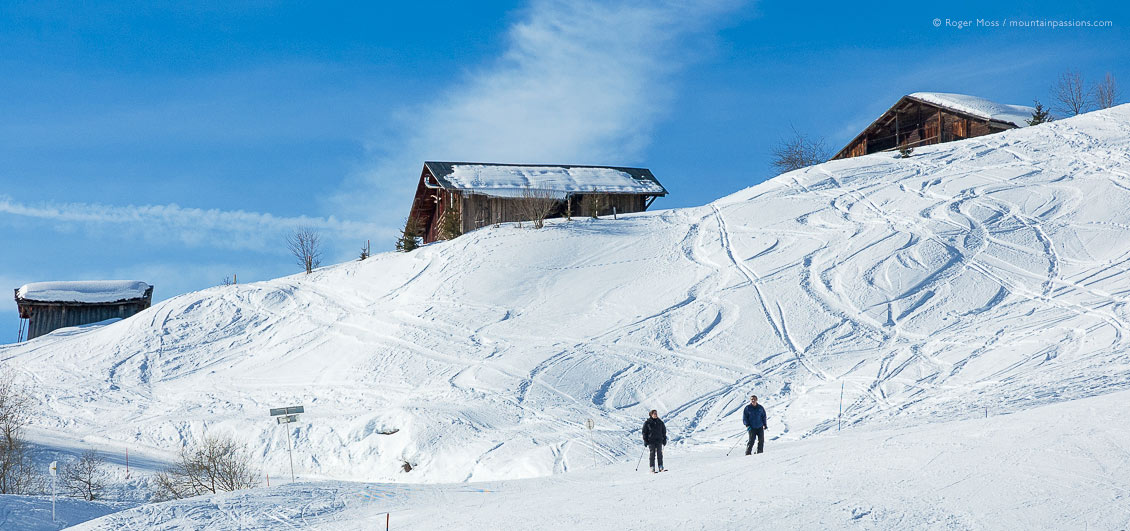 Insight: Crest-Voland Cohennoz
Our approach from the Val d'Arly, past venerable, unmodernised mountain chalets, suggests that this is going to be interesting. Sure enough, the sinuous route up to Crest Voland requires a steady hand — not easy when there's so much dramatic scenery to distract the eye at every turn.
Crest Voland is at first glance the classic mountain ski village, with a cheerful, welcoming style and a refreshingly strict low-rise planning policy. The ski-lifts are also located close to the heart of the village. And for us, snow conditions are perfect when we arrive, so next morning we set off early with Alexis, our ESF moniteur, on our own grand tour of the terrain above the Val d'Arly.
The sheer scale of the terrain becomes apparent as we work our way systematically around the mountain and down into Praz sur Arly, almost 900m below.
The circle game
We begin 1767m above Notre Dame de Bellecombe on Mont Rond, swooping down through silent wooded glades and heading back up to the exposed vastness of Mont Vores (2069m). The sheer scale of the terrain becomes apparent as we work our way systematically around the mountain and down into Praz sur Arly, almost 900m below. By now it's clear that today is going to be a high-mileage day – which is how we like it, particularly when the journey reveals a succession of new and varied surroundings.
Our lunch stop looks, feels and smells like an authentic chalet restaurant should, and La Montagnette enjoys a tranquil setting below the Roc des Evettes, between Praz and Flumet. Copiously warmed and refreshed, we press onward to tackle the assortment of drag lifts serving this area. Low-tech it may sometimes appear, but the system works, and gets us where we're heading, back up to Mont Rond for a final run back into Notre-Dame de Bellecombe, right where we started.
Bonus time
So, we've made a full circuit around the mountains in a single day and seen something of what the various areas have to offer. But we know that there's a lot more enjoyment to be had by digging a little deeper to exploring the many hidden valleys and glades we overlooked in the quest for the grand tour. Not that we've done that just yet.
Next morning we set off from Crest Voland to familiarise ourselves with another side of the Espace Diamant's engaging personality, namely the area extending into the adjoining Beaufortain valley. From Mont Lachat (1650m) we work our way through more pristine forest to the Chard du Beurre (1889m) and La Legette (1865m) for the exhilarating steep plunge between ancient mountain chalets above Hauteluce. Things get gentler as we approach the visibly popular ski village of Les Saisies, for the onward run over Mont Bisanne, whose 1940m summit offers an impressive panoramic viewpoint. After the inevitable photo-pause we press on, and drop into the developing ski hamlet of Bisanne 1500 on the Blue-graded Le Planay piste.
After riding the Rosières chairlift back to Mont Bisanne we've gained the altitude we'll need to make the long schusse which would normally take us back into Les Saisies. At the half-way point, though, we peel off and maintain enough speed to carry us onto the Green-graded forest trail for the long, winding cruise back to Cohennoz. Along the way the silence and beauty of it all is haunting, adding yet another dimension to the remarkable Espace Diamant. At Cohennoz our journey is almost over. One final haul back up to Mont Lachat allows us to descend once again towards Crest Voland for a welcome lunch break on the restaurant terrace of le Vent Volet. High above the village, we gaze back at the pistes and try to take in all we've seen and done in just two days. Our conclusion: this place really has come up with just the kind of unique package it takes to amaze us.