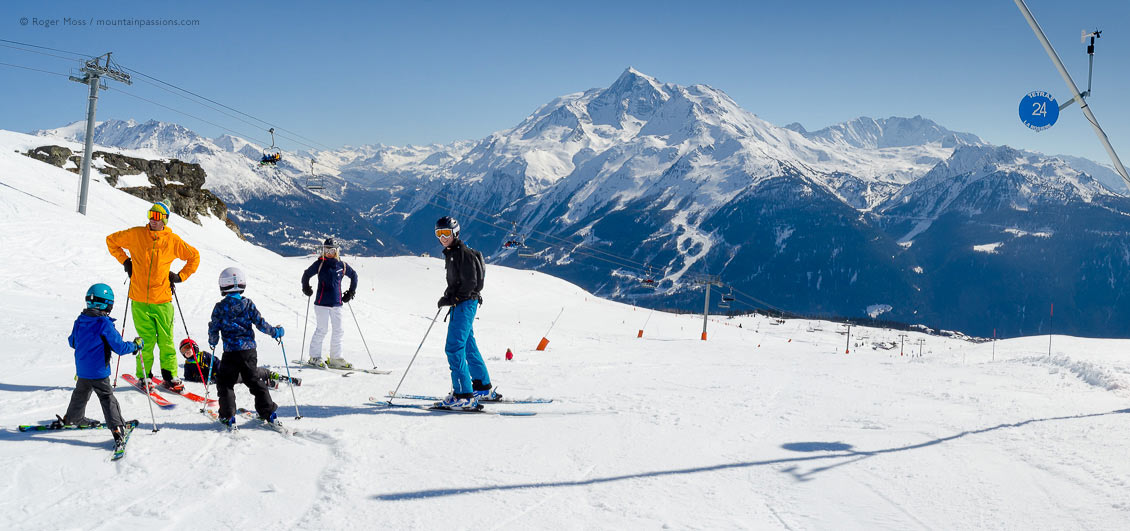 Insight: La Rosière
We'd glimpsed La Rosière and its' broad, south-facing slopes shimmering in the distance during our visit to Saint-Foy Tarentaise. On that occasion bad weather had thwarted our attempt to ski here, a situation we'd resolved to remedy as soon as another opportunity presented itself. Several seasons later, we're finally here, and rolling into the village of Les Eucherts with more than our usual sense of curiosity at just what might await us this time.
After installing ourselves in our apartment we head back out to stretch our legs by walking the forest path over to La Rosière 1850. When we get there the late-afternoon buzz is infectious. We grab one of the last available tables in the popular Arpin's Bar and peruse the piste-map over a vin-chaud before returning to Les Eucherts, while an evening chill descends from the mountainsides.
A brilliant sunrise and barely a breath of wind tell us in no uncertain terms that today we should aim high and head straight over to Italy…
No time to lose…
If our countless ski visits have taught us anything then it's that when the weather's perfect just get out and go for it; you never know what tomorrow might have in store. A brilliant sunrise and barely a breath of wind tell us in no uncertain terms that today we should aim high and head straight over to Italy to see what the Espace Saint Barnardo's La Thuile section might offer. The Eucherts Express lift drops us onto Tetras, a blue-graded run over to the Roches Noires Express, which offers a more direct haul up to 2330m. From here we take Belette, a long blue piste which drops us at the base of the Fort 6-seater chairlift serving the 2383m Col de la Traversette, still dominated by the ruins of the 19th-century Fort de la Redoute.
From here we get our first tantalizing glimpse of the snowy vastness which lies ahead. A spirited chilly onward descent on the red-graded Bouquetin piste brings us to the famous Bellecombe I draglift whose slow and near-silent progress feels somehow appropriate to the wildness of the setting. It also allows plenty of time to look around at the wonders of the 2188m Col du Petit Saint-Bernard, and broad valley totally subsumed in winter snows. Somewhere beneath it lie the remains of a Roman temple and possibly the route across the Alps taken by Hannibal and his troops.
Into the Aosta Valley…
Once liberated from the lift we're more than happy to pass on its steeper companion the Bellecombe II (which would drag us up to 2891m) and instead take the red-graded Col piste to our left for a jubilant schuss which finally sees us across the Franco-Italian border to explore Espace Saint Bernardo's La Thuile sector. The run brings us to the foot of the Piccolo San Bernardo Express high-speed quad chairlift, whose snug Perspex weather-protection hoods would probably also make a lot of sense back in La Rosière. At the top we peer over into a subtly different landscape, much of whose ski terrain is usefully north- or east-facing, helping to preserve good snow conditions. First impressions are that it's also relatively gentle, although as we'll discover, more challenging terrain is out there if you want it.
We set off first to explore the terrain below Le Belvedère, most of it graded red or black apart from a useful blue which cuts across the lot to provide intermediates with a direct route to the Fourclaz Express lift. Once across the Col du Fourclaz there's a healthy selection of red- and blue-graded runs to enjoy below several peaks: Belvedère (2641m), Gran Testa (2379m) and Chaz Dura (2579m). In practice the terrain is generally more user-friendly than the piste-map suggests thanks to Italian grading, which (a) doesn't employ green for easier runs, and (b) takes the length of pistes into account.
The latter comes home to us when we can no longer ignore the urge to head off to enjoy a real Italian lunch. The plan takes us back to the base of the Piccolo San Bernardo lift and onto the San Bernardo piste (signed no. 7), which would qualify for gentle blue- rather than red-grading if its impressive length were to be removed from the equation. Just past the mid-point we reach the welcoming Rifugio Lo Riondet, which in winter (when snow covers the road on which we're actually skiing) feels remote enough to have real adventure value, and serves up perfect meals for appreciative, hungry skiers. We love it – and we'll definitely be returning sometime.
Onto the steeper stuff…
When we finally wrench ourselves away and snap back onto our skis we continue down the epic piste until things become steeper and we finally enter the tree-line. It's possible to continue to red-graded terrain by switching to piste 3 for the final drop into La Thuile, but instead we take one of the blacks. Predictably, things soon get really steep but the snow quality is good, our edges bite and for the next couple of minutes we have a ball before rejoining the red piste, where things revert to cruise mode through a forested section.
Down in La Thuile (originally a coal-mining town) temperatures are falling fast and the ski village is about to pass into shade. We therefore take the Les Suches cable-car (more a gondola lift, really) straight back up to 2200m for another black run, this time on No. 5 (shown on the piste map as 'Muret'). Once again this feeds onto a red-graded lower section for the approach to the village, where we again ride the lift up to Les Suches.
Heading back to France and La Rosière
This time, though, we head back towards the border. A couple of chairlift rides drops us efficiently above the Col de Fourclaz for a gentle blue-graded cruise back towards the Chardonnet chairlift above the Col du Petit Saint-Bernard. A couple of minutes' impressively steep haul up the north-facing mountainside brings us back to the sunlight and faced with several options for our final runs back to La Rosière. By now the blue-graded Choucas is taking most of the returning skiers, so we take the less-travelled Blaireau for a red-graded drop onto the Lauzes piste.
One gentle blue cruise later, we're skiing back into Les Eucherts just as the lifts are closing and the sinking sun is turning the peaks of the Tarentaise Valley to pale, pastel pink. We won't forget our first day's skiing in La Rosière, and know that whatever the weather cares to throw at us from now on we've done the Big One – and we can also say we've finally seen the point of skiing here in La Rosière and the Espace San Bernardo.