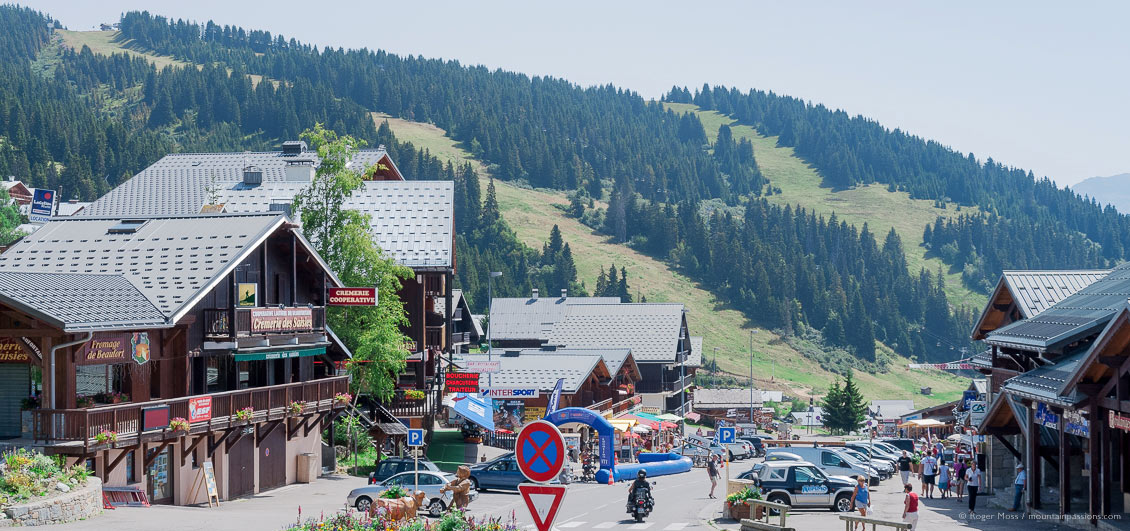 Summer in Les Saisies
Returning in summer to an area which you last saw during a ski trip is always an intriguing prospect, but Les Saisies is somewhere we already know in different seasons. If like us you've already driven the Route des Grandes Alpes then after rolling over the Col des Saisies you'll have caught your first glimpse of the centre of the village basking in the sunshine and surrounded by lush grassy landscapes dotted with dairy cattle grazing contentedly amid Alpine wildflowers. It's the kind of imagery, in fact, you'll find in jigsaws, calendars and postcards, so coming face-to-face with the real thing can all feel rather surreal.
The last time we saw the village of Hauteluce was rather fleetingly, after skiing down to the Chozal chairlift from Les Saisies…
Summer holidays in Les Saisies
It's real enough, though, to the people who live and work here, like French former Alpine Ski Champion Franck Piccard, whose four World Cup victories included in a gold medal in the Men's Super-G at the 1988 Olympics in Calgary. Franck was born and grew up in the village and despite having seen the world during his professional career, eventually returned and now happily runs both an hotel and a ski shop.
Tourism here was firmly focused on the winter sports visitors until the revolution in mountain accommodation, combined with the growth in activity holidays, began to attract summer visitors, too.
Now increasing numbers of walkers and particularly mountain-bikers come here to find perfect peace (and a few challenges) on the grassy (and not too steep) mountainsides. Road cyclists inspired by the Tour de France also come to ride the Route des Crêtes and to take on the challenges of some of the classic climbs from le Tour which are located nearby.
Our own fitness levels aren't quite up to that, but during our stay we certainly get out and walk. In the company of mountain guide Mark Tennent from Simply Savoie we explore some of the marked paths to be found above Les Saisies, as we recount in our feature Walking Holidays in Les Saisies.
Walks in the Beaufortain
We also make a point of following a marked route down to one of our favourite locations in the Beaufortain. The last time we saw the village of Hauteluce was rather fleetingly, after skiing down to the Chozal chairlift from Les Saisies.
The first part of the path down is among near-silent pine and larch forest, after which we're on a quite gentle mountainside dotted and traditional chalets whose vibrant floral displays briefly upstage the hypnotic views of the valley spread before us. Providing the soundtrack is the constant metallic clank of bells ('clarines') from the local Tarine and Abondance cattle grazing on the lush grass.
When we reach the village it's as charming as we remembered it, and we're not the only ones who feel that way, judging by how far things have moved upmarket recently. It's well worth exploring, and if time is tight you can do as we do and take a return bus ride, rather than retracing the footpath, this time with a steady climb.
Having got walking out of our system, we take a couple of mountain-bikes, ride the Légette chairlift up to 1860m and spend some time enjoying some downhill trails. Sticking to blue- and green-graded routes gives us time to look around, enjoy the scenery and travel (with a lunch-break en-route) over to the upper end of the village.
Cycling to Crest Voland
Not that the mountain-bike terrain is all above the village. We still recall the wild, away-from-it-all cruise on the long, partly-wooded piste we'd skied over to the smaller family resort of Crest Voland during our Espace Diamant ski tour. We fall in love with it all over again when we ride it on two wheels, this time with a lunch stop in the village of Le Cernix.
Getting back to Les Saisies from Crest Voland without the expected long climb turns out to be simple enough thanks to a minibus shuttle service (with a bike-rack trailer) thoughtfully provided for weary riders (though a free service, booking at the Tourist Office is advisable). It's an interesting ride, and longer than we'd realised, showing once again how good skis and bikes can be for covering distance on more direct off-road routes.
The Mountain Twister
There's one more activity we're planning to try while in Les Saisies. The Mountain Twister is a tracked luge at the upper end of the village, where it snakes its way down the mountainside, flashing over the heads of startled skiers or mountain-bikers, according to the season. As expected, it's a blast.
So is Les Saisies – both in winter and in summer. If the premium high-mountain experience and sophistication of Chamonix isn't for you, then you might just find that the friendliness, value and down-to-earth sense of fun on offer here is just what you're looking for, especially if you have a young family and want to encourage them to discover the natural world.
You can read in more detail about our mountain-biking experiences in and around Les Saisies in Family Cycling Holidays in the Alps.