Insight: Chamonix-Mont-Blanc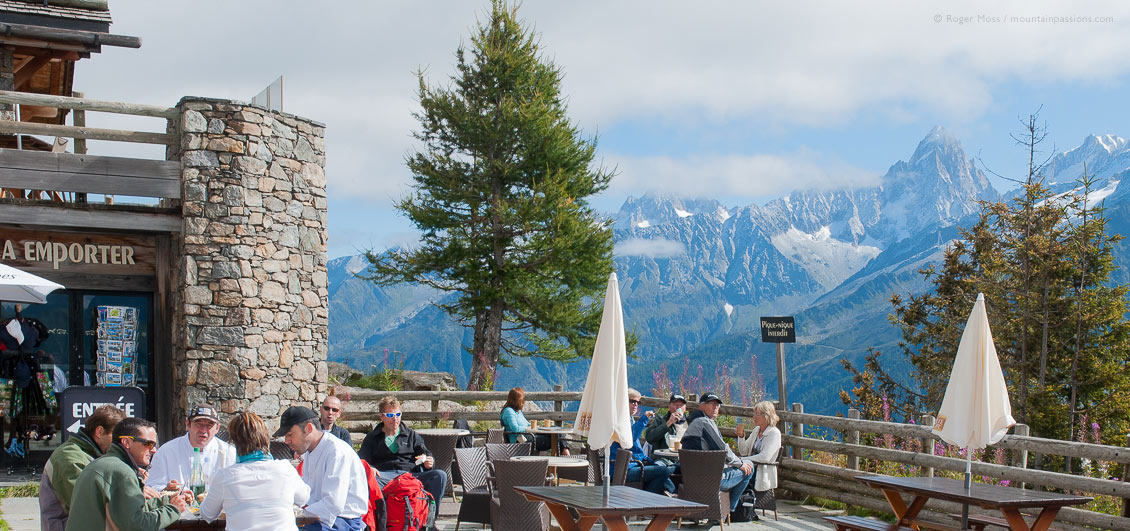 Summer in Chamonix
Chances are, anyone who has ever been here to ski or snowboard will have got to know Chamonix and its long, straggling valley rather well. In contrast to purpose-built ski villages, things here feel much more spread out, with many of the most tempting options lying at the end of a meaningful bus (or train) ride. It all adds to the sense of adventure, of course, with wondrous snowy magnificence at every turn.
Coming here in summer, on the other hand, reveals a totally unexpected side to the character of this small but beautifully-formed corner of the French Alps. If you arrive, as we do, in bright sunshine, your first reaction to setting eyes on it in summer mode for the first time is likely to be much the same as ours: " Why didn't we do this before?" One thing we have been expecting is our accommodation, a few km out of town in Les Houches.
Le Hameau de Pierre-Blanche had looked like a tempting option when we spotted it during one of our previous ski visits, and when we finally get to stay there it doesn't disappoint — not least since it offers a terrace with stirring views of the Aiguille du Midi.
In summer Le Brevent is a gateway to serious walking territory, plus advanced-level mountain-biking descents. We content ourselves with what we came for — uplifting overviews of the valley and across to the Aiguille du Midi, plus the eternally snow-capped summit of Mont-Blanc…
Le Brevent
Our first day begins overcast, with dull drizzle, so we decide to explore the marked forest trails from Les Houches and which eventually lead down to a small halt at Vaudagne for local rail services (free to holders of Carte d'Hôtes accommodation travel passes). Happily for us, the point at which the track becomes steeper coincides with a marked improvement in the weather, so we make our way back and this time head off to the Planpraz gondola lift just above Chamonix. The entire lift has been replaced since our previous visit, and now feels smoother and faster than its aged predecessor, with much roomier cabins. The haul is as steep as we remembered it, but much quicker, and minutes later we're at the 1999m top station.
When we step from the gondola conditions are clear, so we waste no time heading even higher for the classic overview of the valley, which means transferring to the nearby Téléphérique du Brevent cable-car. Still one of the essential mountain experiences to be had around the valley, the celebrated link was inaugurated back in 1930. Back then the cabins were primitive, with little or no comforts, but passengers were transfixed by the breathtaking sensation of crossing some 1350m in an audacious single span.Today the cars are much bigger and smoother, but the drama of the traverse remains, particularly as we approach the top station, at the end of a 504m climb.
Floating free
The 2525m summit is home to a panoramic restaurant, but otherwise it all feels rugged, exposed and far removed from more earthly preoccupations down on the valley floor. In winter Le Brevent is the departure point for some demanding Black-graded ski terrain (which feeds onto the more benign slopes lower down) but in summer it's a gateway to serious walking territory, plus advanced-level mountain-biking descents. Being equipped for none of the above, we content ourselves with what we came for — uplifting overviews of the valley and across to the Aiguille du Midi (3842m), plus the eternally snow-capped summit of Mont-Blanc (4810m).
The entertainment value of the return cable-car run to Planpraz is boosted by a group of weekend parapente flyers wheeling silently around us in search of thermals rising from the valley, and by the time we step back onto terra-firma the numbers launching themselves from Brevent are increasing steadily. Conditions like these are obviously irresistible, both to solo flyers and visitors taking tandem 'baptême' flights to discover for themselves just how it feels.
On mountain footpaths
Not that everyone comes to Chamonix to put their nerve to the test. One of the reasons we've wanted to return and see the valley in summer is to get physical on the marked footpaths — sentiers de randonnées — which wind their way up the sides of the valley. The choice is wide, and they're graded on the map in a similar way to ski runs, beginning with Blue for medium difficulty/fitness requirements. Next comes Orange, denoting panoramic trails above the valley floor. The toughest routes, involving significant climbs, are graded Red.
One route in the Brévent Flégère area has caught our eye, since it passes a Le Chalet la Floria, one of many crèmeries in the Chamonix valley. So-called because they were usually situated on or near transhumance routes between the valley floor and the high alpage and refreshment would have been direct from the cows. The only slight problem for new arrivals like us is that the route is graded Red, although it looks a safe bet as long as we stick to the lower section up to the café. There are several departure points between the Planpraz and Flégère lifts, but it makes most sense for us to set off from the former. (Note the Flégère cable car is closed this summer (2019) and will be replaced by a new gondola lift and lower station in time for winter 2019/20. Walkers will be able to use Brévent, and the Index chairlift – open for just over 1 month during peak summer to access the classic hikes to mountain lakes.) The climb feels quite steep, but in reality is as nothing compared to what lies in wait for those who venture higher up the mountain (but who then have the option of a lift descent). We also slip almost immediately into the forest, with only the hum of the town below to remind us that this is only the start of what could be a long and challenging climb into full-on nature.
For now, though, it's not exactly relentless, and things flatten a little, and allows us to catch our breath before the next climb. From time to time we pass waymarkers where paths intersect, and it's already clear that you could easily spend a lot of time exploring all the variations in this sector alone, let alone the multitude of options further up the valley.
Efforts rewarded
Eventually, though, the path becomes steeper, narrower and more winding. Fortunately, signs to the Chalet la Floria tell us that our tenacity in maintaining our pace onwards and upwards will be rewarded. Other walkers descending obviously know how it feels, and greet us with a sympathetic smile and an encouraging "Not long now!"
Sure enough, a few minutes later we round the final bend and catch sight of the chalet. It looks a picture, with most of the old stone facade being covered by billowing vibrant displays of geraniums — but we find it hard to believe the sign which tells us that we've climbed little more than 300m since leaving Chamonix. After taking a seat at one of the brightly-painted tables placed around the chalet terrace we order drinks and home-made tarte aux myrtilles and begin to take in the kind of hypnotic mountain views which seem to agree with us. We're still thinking as skiers, of course, to whom 300m of vertical sounds like peanuts, but to anyone heading up not down, the modest-sounding figure feels very different.
On the other hand, the historic chalet is merely a popular stop along a path which continues all the way up to the 1894m top station of the La Flégère cable car — or if you have truly boundless energy, onwards to the top of the Index chairlift (2396m). Somehow we don't see ourselves ever doing that in a single slog, however much the idea appeals. Plenty of people do, however, a thought which we ponder in awestruck amazement on the return walk down to Chamonix. Maybe that's why we manage to miss the path down to the base of the Planpraz gondola lift and emerge onto tarmac instead of where we'd left the car a couple of hours before. Happily, a near-level 10-minute walk gets us back to where we began, with a glow of achievement and a resolve to explore more of the Chamonix valley's justly-celebrated network of mountain paths.
Going up, in style
During our time in the valley we get to realise more of our longstanding ambitions, including seeing how it feels to step deep inside a glacier. We'll be describing this and other experiences on dedicated pages celebrating Chamonix's legendary Mer de Glace Mountain Railway, riding the sensational Aiguille du Midi Cable Car, and taking the historic Tramway du Mont-Blanc from nearby Le Fayet all the way up to the wild, remote Nid d'Aigle (2380m) high above the ski resort of Les Houches.