MountainPassions was born of a shared love for skiing, activities and mountain living in all seasons. We launched in June 2007 to provide independent, magazine-quality expert editorial illustrated with our own images, plus in-depth reviews of carefully-selected ski resorts. We only feature areas we've personally visited and skied in just the same way as our readers would, so we can tell you exactly what works and what doesn't. The same goes for our Tried and Tested accommodation descriptions.
Of course, behind every report and article is a personal, hands-on experience. We freely acknowledge the invaluable assistance and access given us to by the various professionals who enable us to produce our reports, and who accept our independent approach to our findings.
We specialise in France and launched with the ever-popular French Alps as our first priority, and have since added the Pyrénées and the Auvergne. Being based full-time in France, gives MountainPassions first-hand insight into what's happening, not to mention ready access to some of the finest skiing and most spectacular mountain scenery around.
Roger Moss, Editor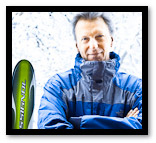 Roger is a journalist and photographer with more than 30 years' professional experience producing illustrated ski and travel editorial features for magazines and location photography for travel guides, both in the UK and overseas. He now specialises in France and is author of the Loire Valley Guide published by Footprint Travel Guides in May 2010. He regularly writes resort reviews for other ski websites and tour operators as well as ski and mountain features for newspapers and magazines worldwide. Roger has a refreshing mastery of the English language and can translate French into original and compelling English copy.
Roger has a background in advertising, both as a graphic designer and copywriter, in addition to a parallel career as a professional musician.
Former Editor of Everything France Magazine, he was a Member of the International Advisory Council of Atout France (French Government Tourism) and is currently Features Editor for Living Magazine, the leading English language magazine in France.
Roger began his love affair with skiing in Québec, and hasn't been the same since. "To me skiing is not only the closest thing to being able to fly, but also brings the possibility of exploring some of the most extraordinary landscapes I've ever seen."
Julia Moss, Content Director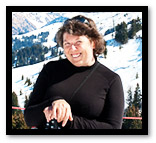 Julia has a Degree in Geography & Landscape Studies, and previously worked in Environmental Management and Sustainable Tourism in Cornwall, in the UK. She has worked alongside Roger since 2001, researching and organising travel information and managing and developing the website. Her role at MountainPassions embraces day-to-day management of the site, page production, liaising with contributors, social networking and ensuring all the information is correct and up to date.
Julia began her skiing in Courchevel and has since skied extensively throughout France and Canada. "I love the smaller, less well-known resorts. You instantly feel at home and there's always an excellent team of local professionals who are delighted to share their knowledge of the area with you."
Contributors
We're fortunate in having the input of a select group of experts in various subjects, including skiing, nature, mountain property, outdoor activities and environmental issues. The depth of their knowledge and their passionate commitment to their respective disciplines are evident in their writing, which is always credited to the author.
Support
We are also fortunate to work with award winning French Alps specialist Peak Retreats who specialise in charming and lesser known authentic ski destinations, and Ski Collection who seek out the very best value for money in high-altitude snowsure destinations. You'll find links to their handpicked 3 and 4 star self-catering ski apartments, chalets and hotels throughout our site plus regularly updated offers during the ski season.
Contact us
You can e-mail MountainPassions
With comments about features or other editorial enquiries.
With requests for information about commercial opportunities.
If you are experiencing technical difficulties or display errors.