Summer Resort News
12th June 2019
What's new in Chamonix
Chamonix is internationally renowned as an all-year destination. People come to gaze in awe at the splendour of the mountains, to ascend to the Aiguille du Midi and visit the glacier, and take part in a myriad of sports and activities on offer throughout the Chamonix Valley. Visitors have also come to expect world class hospitality, whether by staying in one of the luxury hotels or apartments, or by sampling the finest regional foods at the growing number of gourmand restaurants.
This year, there are even more events taking place over the summer months, here's a few of the highlights. The now established Yoga Festival kicks off in early July for its 6th year. Over three days, there's more than 50 yoga classes on offer to novice or passionate practitioners. Yoga classes will be complemented by lectures, workshops, shows and practices dedicated to children, concerts, and exhibitor market. The festival takes place in the mountains, facing the Mont-Blanc mountain range, in the town centre and indoors in the sumptuous rooms of the Majestic. www.chamonixyogafestival.com
Music fans of the jazz persuasion should head to Chamonix for the Cosmo Jazz festival which runs for eight days from 20 July. Daily concerts take place in extraordinary alpine amphitheatres throughout the Chamonix Valley and neighbouring Switzerland. This years festival will include a unique concert with the André Manoukian Quartet and 100 amateur chorists. https://cosmojazzfestival.com/
Other events include the Climbing World Cup 11-13 July https://chamonixsport.com; Night of the Bear at Vallorcine – an intriguing festival devoted to nature, the performing arts, literature and land-art. Join the full moon walks following the tracks of bears with expert guides – 9 & 10 August; Mountain Guides Festival with entertainments and activities throughout the valley from Argentière to Servoz, including traditional ceremonies, the bread festival, the tour of legendary boulders … The Festival Guitare en Scène, will join the celebrations and many free concerts. The profits generated by refreshment stands, in partnership with local caterers, will be donated to the Relief Fund of the Compagnie des Guides. www.chamonix-guides.com
New E-bike Circuits
Due to the growing enthusiasm for electric mountain-biking in recent years, the Compagnie des Guides de Chamonix has expanded its offer to include two new discovery tours on e-bikes around Mont Blanc this summer. This offer is accessible to a varied level of abilities. Departing from Chamonix, the route includes sections through Switzerland and Italy, with a selection of the most beautiful panoramas of the Mont Blanc Massif and atypical accommodation. For details visit www.chamonix-guides.com
Full renovation of the Flégère cable car in Les Praz
Commissioned in 1956 and renovated several times since, the Flégère cable car will be replaced for winter 2019/20 by a new generation Doppelmayr gondola. This new panoramic lift will have 10 seater ca-bins and considerably increased transport capacity. As part of this new development, the future departure station will be completely transformed into a modern facility which will include retail space, reception and information areas, an express purchase area (automated sales), an experiential space with large screens broadcasting images of Mont Blanc Natural Resort destinations. The waiting area in the lobby will include a cozy corner and coffee truck. Work began May 2019, consequently the cable car will be closed all summer, before reopening for the winter season.
Panoramic journey above the glaciers
Accessible from the summit of the Aiguille du Midi, the Panoramic Mont Blanc gondola offers the most stupendous 50-minute journey to Helbronner Point in Italy.www.montblancnaturalresort.com/fr/panoramic-mont-blanc
More Information
For inspiration and information about staying in the Chamonix Valley visit the official website at www.chamonix.com. We also have our own Chamonix reviews – see our Chamonix summer resort review or the Chamonix ski resort review. Chamonix is also the ideal place to go in a group because there is so much variety of things to do and see and plenty of choice for accommodation to suit parties of friends or family – see our feature Holiday with Friends in Chamonix
---
Skiing in the French Alps this Summer
After record breaking winter snowfalls and a season that seemed to go on longer than ever, you won't need to pack your ski gear away just yet. This summer sees the chic French resort of Val d'Isère opening their slopes for summer skiing alongside other high Alpine resorts including Les Deux Alpes and Tignes.
Combining skiing with a multi-activity summer holiday is the best way to make the most of a summer holiday in the French Alps. Resorts offer masses of often free activities plus exciting networks of VTT trails suited to all levels. When the ski slopes open as early as 7am and close around lunchtime, you'll have plenty of time to switch to another sport or simply to relax at one of the superb resort aqua-centres and spas. Summer is also a great time to learn to ski. Ski-schools operate throughout the season and and will get you off to a great start on the relatively easy glacier slopes.
Tignes
Open 22 June – 31 August 2019
NOW CLOSED
Tignes has closed the glacier for skiing early due to exceptionally warm weather.
Perhaps the best known resort for summer skiing, the glacier at Tignes offers 20km of runs plus a snowpark and cross-country skiing.
From 22-28 June the Funiculaire, Grande Motte cable car, Vanoise chairlift, Rosolin ski-tow, and the Panoramique chairlift are open from 0715h to 1300h.
From 29 June to 4 August, the Funiculaire, Grande Motte cable car, Vanoise chairlift, Rosolin ski-tow, Champagny, Termignon (ex. 3500), fil-neige Corniche, fil-neige Snowpark are open from 0715h to 1300h. Last lift down at 1635h.

From 6-31 August, Funicular & Grande Motte cable car – pedestrians only from 0930h to the last lift down at 1635h.
If you just want to go to the glacier as a pedestrian there's plenty to see and enjoy. Go up in the funicular and take in the views from the terrace of the Panoramic restaurant including the Mont Pourri, ridges of the Grande Sassière, the Grande Casse (highest point of La Vanoise at an altitude of 3,856m) and if you're lucky, a distant view of Mont Blanc. New this year are two open-top cabins giving brave passengers a unique 360-degree view of one of the most beautiful panoramas of the French Alps with views of Mont Blanc, the Cime de Bellecôte and the Aiguille de la Grande Sassière (3,747 m). Pedestrian access to the Funicular + Cable car costs €20 adult / €16 child (1 day). Access to the top of téléphérique cabins costs 10€.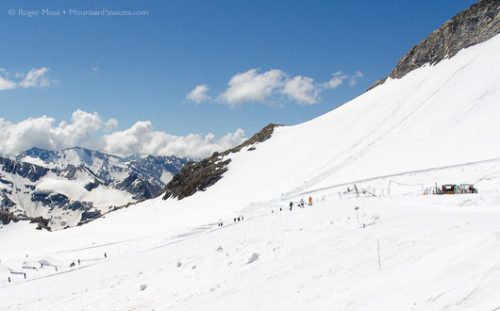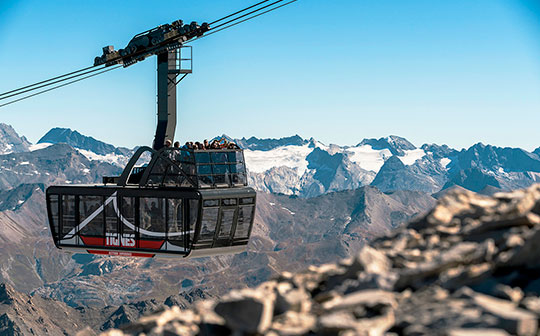 We visited Tignes during July a few summers ago with Alps Specialist Peak Retreats and stayed in the luxury residence Le Télémark self-catering apartments just a few minutes walk from the centre of Tignes Le Lac. You can see our full review of Tignes in summer in our resorts section.
Les Deux-Alpes
22 June – 25 August 2019
Open from 7am – 12-30pm every day, Les 2 Alpes opens 11 pistes on its snow-sure glacier for summer skiing. At an altitide of 3600m you're guaranteed a great ski experience and many skiers come here to train. An adult skipass costs 41.70€ though you can get a half-day pass which starts from a more realistic time of 9-30am and costs 37.50€. Buy a 2-6 day skipass and you get extra activities thrown in including a daily entrance to the swimming pool, taboggan runs and 1 hour of tennis (2 passes req'd).
Go at the start of the summer season and Les 2 Alpes will welcome you at their huge Outdoor Festival from the 21-23 June.
Val d'Isère
8 June – 12 July 2019
Summer skiing at Val d'Isère will be possible on the Pisaillas glacier until the Col de l'Iseran opens and from the Funival at Bellevarde where the Marmottes chairlift will be operational. Opening of both areas is dependant on snow conditions. The glacier will be open from 0700h to 1200h, the funival open from 0630h, last ride 1210h. Ski pass for 1 day costs 28.50€. Up to date info at Val d'Isère website.
---