Budget Places to Stay in the Mountains
Flexible and affordable options for ski accommodation
November 30, 2017
While ski hotels, apartments and chalets are becoming ever more sophisticated, it's easy to forget the younger skiers and snowboarders who will become the family skiers of the future. For many, all that matters now is simply heading out with friends and enjoying the snow from an affordable base.
With this in mind some enthusiastic new arrivals have high hopes of creating their own success stories in the French Alps. Here's a look at some affordable ski hostels and hotels that are offering an exciting new way to enjoy the mountains for budget-conscious skiers.
1: The People Hostel, Les 2 Alpes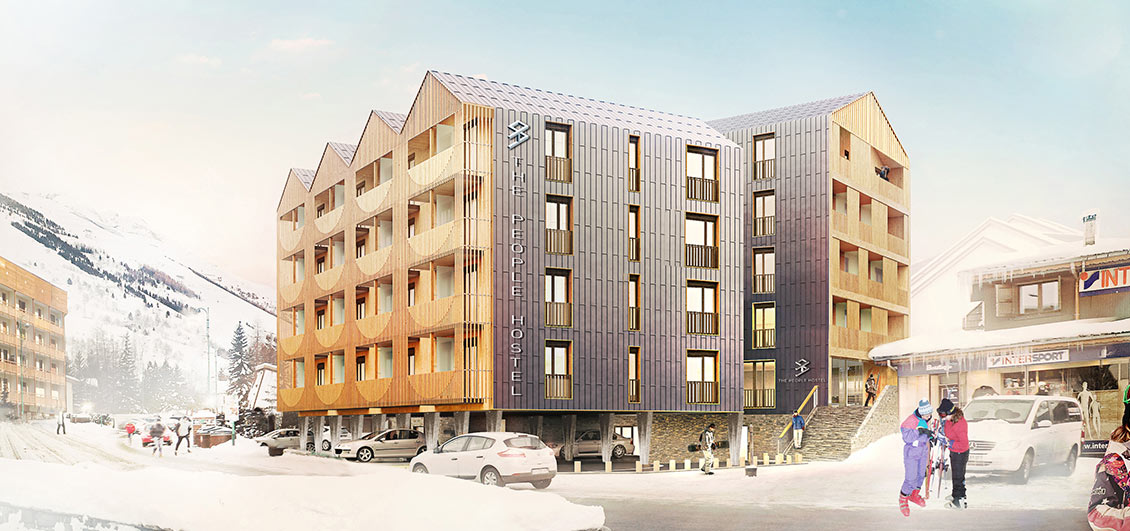 Les 2 Alpes is benefitting from a host of new property developments between now and 2020 aimed at creating higher quality accommodation. Coupled with improvements to the ski area in terms of new lifts and the addition of an exciting new Aquafun Centre, the resort is preparing itself to welcome thousands of extra skiers, already hugely popular with skiers and boarders attracted by exceptional high-altitude skiing and freestyle areas. In 2022, a new gondola will expand the opportunities for skiers even further when Les 2 Alpes and Alpe d'Huez are linked. Among the first new properties on the scene is the ultra-modern The People Hostel.
Opening in mid-December 2018 The People Hostel will offer 364 beds in a range of options from private rooms to shared sleeping. A member of the France Hostels brand which opened its first establishment in Lille, The People Hostel at Les 2 Alpes will comprise 45 private bedrooms, as well as 41 shared bedrooms each with 4, 6 or 8 beds. Situated just a few metres from the foot of the slopes, this superbly positioned hostel is available from only €19 per night.
The hostel will also have its' own restaurant and a bar open to the public, a chill-out room and a terrace with mountain views.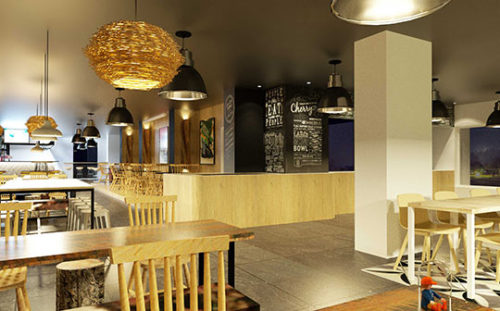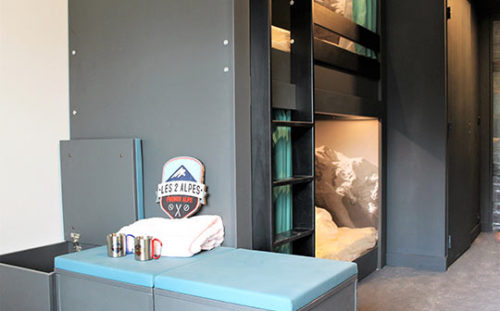 2: ho36 Les Menuires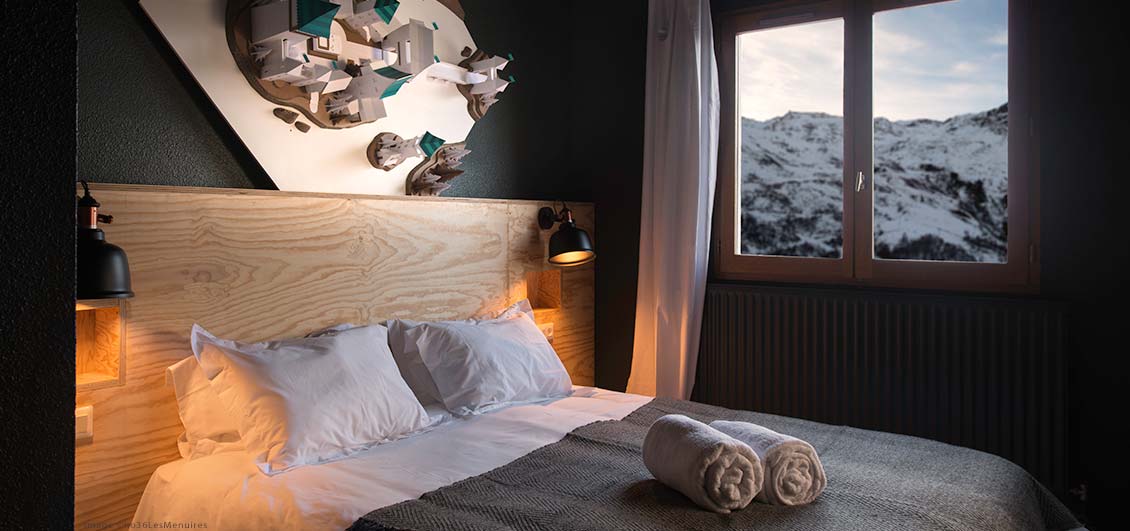 Described as a new generation hotel, or a 21st century take on the mountain refuge, the first mountain destination for ho36 is in the superbly located ski village of Les Menuires at the heart of the Three Valleys in the French Alps. Founders Franck Delafon and Johann Didou are bridging the gap between hotel and guest house with carefully designed, relaxing
interiors with meeting spaces, bar and restaurant – a formula that has proved so successful in their two city hostels in Lyon.
What seems to distinguish this and other new hostels from their older counterparts is the different levels of accommodation on offer. At ho36 Les Menuires, there's a choice of 35 individual or shared bedrooms with super-comfortable beds and bedding, and 4 beautifully indulgent private loft apartments.
The hostel's 12 shared rooms (for 4 or 6 guests) can accommodate up to 74 snow sports fans. They feature custom-made designer plywood bunk beds with an integral curtain system for complete privacy. Space-saving storage, huge drawers for luggage and backpacks, a wardrobe for all-weather jackets and ski suits… everything has been cleverly thought through to optimise space without compromising comfort, even at their modest prices.
The 19 classic and family rooms have all the calm and comfort that come with hotel service, including private bathroom and ingenious storage solutions. They also make a bold decorative statement, whose combination of deep green or blue walls with giant origami by Lyon artist/illustrators Popek & Tank create a totally on-trend contemporary style. Some also feature a balcony with stunning views.
The mansard-roof top floor is home to 4 private loft apartments offering generous living spaces with bedrooms, fully-equipped plywood designer kitchen with dining area, private bathroom, etc. All with direct access from the main entrance for maximum privacy and independence.
Comfort and value is the name of the game, and ho36 Les Ménuires go the extra mile with eco-friendly care products, superfast WiFi and what they describe as urban cool design by Alma Intérieurs. This style features 70's period details and work by individual artists to help in creating a warm and welcoming atmosphere throughout.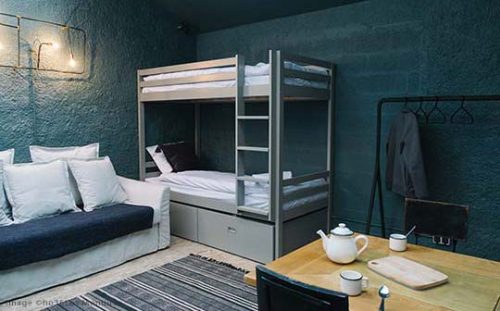 3: Moontain Hostel, Oz-en-Oisans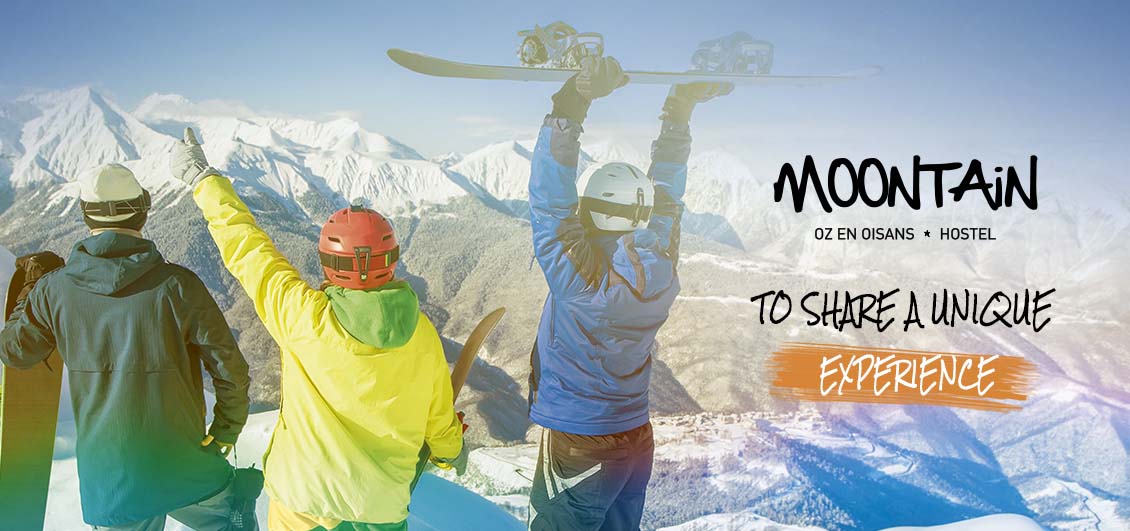 Oz-en-Oisans is part of the Alpe d'Huez Grand Domaine ski area and is linked by high-speed gondola direct to 250km of terrain for all levels. The compact, chalet-style village is traffic-free, so you can ski to the lifts on freshly-groomed snow each morning. Most of the accommodation consists of self-catering apartments and privately owned chalets – until now.
New arrival Moontain Hostel is a fresh concept, whose flexibile new-generation hostel and hotel accommodation make it unique in the mountains.
Ultra-Flexible Stays
As owner Christian Salomon puts it: "Moontain proposes a totally à la carte offer, so you're free to create your own stay without constraint – come when you want, leave when you want and choose services according to your desires and your budget, both before or during your stay". The focus here is on sharing, with opportunities for people to meet and get to know each other in a convivial setting.
Moontain offers complete flexibility with customised pricing and you can please yourself what add-ons you have, whether it's a full breakfast or some of the extra activities and advtentures on offer. There's also an on-site restaurant serving tasty local produce.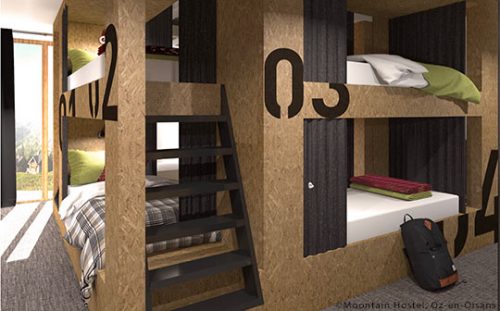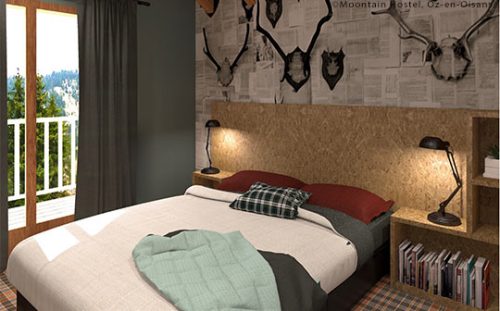 Free WiFi and Cash-Free Transactions
The innovations don't stop there. There's free WiFi – now the most-requested feature for hotel bookers – throughout the hostel. Here it also permits a cashless system of payment via individual electronic bracelets.
There's also a 24-hour laundry (ideal if you're on the road touring different resorts) and a luggage room for the safe storage of back-packs and other luggage.
Personalised Packages
New arrivals can get straight onto the slopes with pre-ordered lift passes and equipment, one of a range of services on offer. Guests can invite others to join them and share their activities via the Moontain Hostel app, the aim being to meet like-minded people and enjoy unique experiences in the mountains.
If it all sounds like your kind of ski experience, you'll find full details at moontain-hostel.com.
---
4: RockyPop Hotel, Les Houches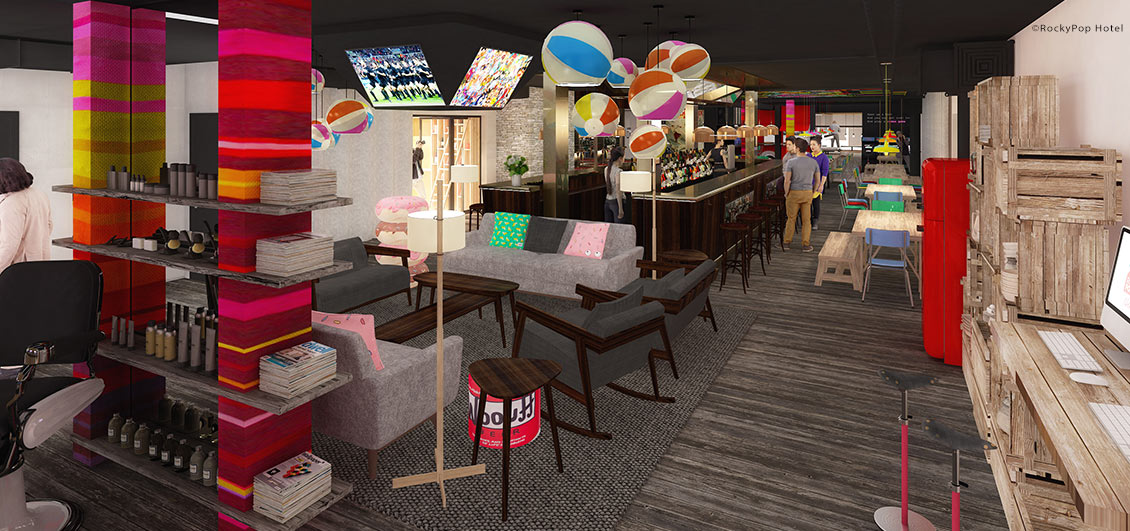 Invitingly labelled as being in the 'Portes des Chamonix' on the RockyPop website, this new 3-star hotel's location in Les Houches is just a short drive from the main town of Chamonix. In case you don't find it mentioned on their website (we didn't), Les Houches has its own rather lovely ski area.
We know who they are targeting with their publicity. It's claimed that you can drive to Chamonix in 4 minutes… which you can, but then you've got to find parking and get to a ski-lift. Clearly, even for car drivers it's just not realistic. However, RockyPop has certainly pushed the boundaries for accommodation in the Chamonix Valley by introducing a customised-pricing model and competitively-priced, hotel-standard accommodation combined with an unashamedly bold design concept.
If this sounds like it would suit you, see more details on the RockyPop website.
---
5: 1861 Châtel Hostel
For those on a tight budget, this recently opened hostel is located in Châtel in the vast Portes du Soleil ski area. Read our impressions of Châtel (our RH image shows some of the ski terrain near the border with Switzerland) in our Independent Resort Review. The hostel offers affordable accommodation – from just 20€ per night, in fact.
Accommodation is in dormitories, family rooms and double- or twin-rooms, all featuring not much more than somewhere to sleep, but there are plenty of facilities, including a bar and TV lounge, equipped kitchen, etc., to make things as comfortable as possible. With 5-star Tripadvisor ratings the hostel is obviously a big success with guests in it's first year.
To contact the hostel or make a booking visit the 1861 Châtel Hostel website.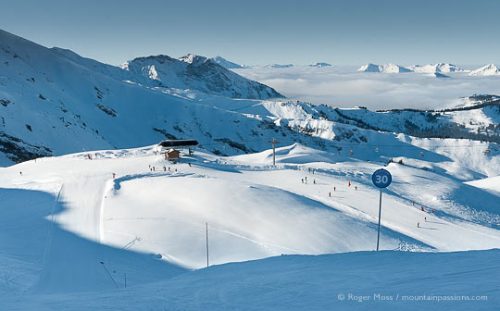 ---
6: Low cost ski holidays with Action Outdoors
Action Outdoors is the UK partner of UCPA, a French non-profit organisation that provides excellent value accommodation for younger people, although recently they have extended their service to families and individuals up to the age of 55 years old.
The concept is simple – good standard of accommodation that's inclusive of meals, instruction and ski passes in some of the very top resorts in France including, Chamonix, Flaine, Les Arcs, La Plagne, Les Deux Alpes, Tignes, Val d'Isère, Serre Chevalier and Val Thorens.
Action Outdoors has launched a special student ski and snowboard program for the 2017-18 winter season that allows a small number of friends planning a trip to get access to prices normally reserved for whole school or university groups. Prices for these Action Outdoors student holidays start at £386 per person and include 7 nights full-board accommodation with three proper meals a day, lift pass for 6 days skiing or snowboarding, equipment hire for 6 days, ski or snowboard instruction for 12 hours through the week and evening entertainments laid on by the staff of the UCPA.
For full details visit the Action Outdoors website.