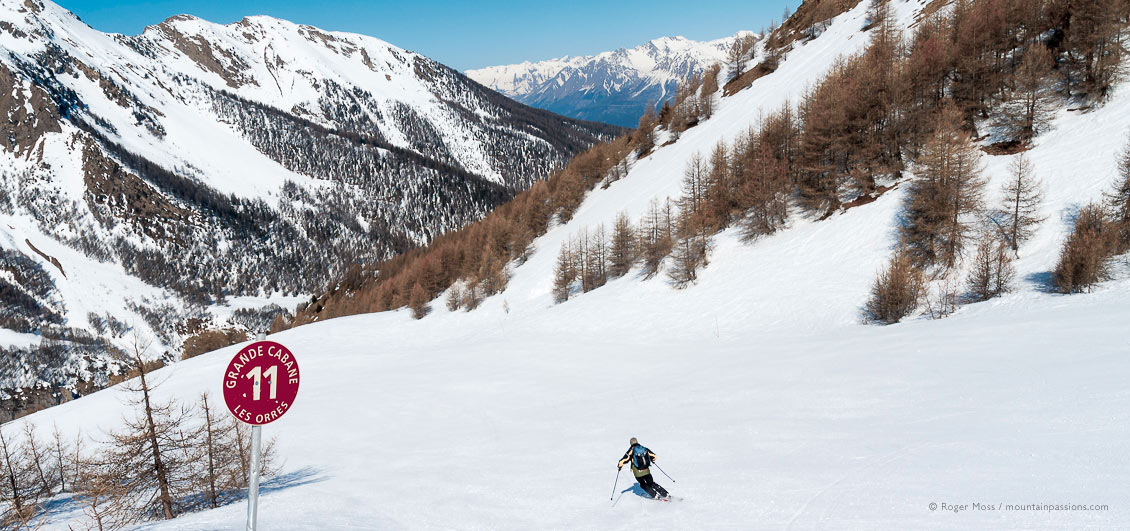 There's a good reason why virtually all the media attention focuses on French Alpine resorts in the north, either in Savoie or Haute-Savoie.  They're only part of a much bigger picture, of course, but for skiers flying to France, choosing a ski resort  involves factoring-in easy transfers from budget flight destinations like our old friends Lyon and Geneva.
No surprises there, except that recently our previously most-visited page – 'Best Resorts Near Geneva' – has been overtaken by its counterpart 'Best Resorts Near Grenoble'. Hmm…
"Grenoble opens up all kinds of possibilities…"
Well-kept secrets don't stay that way forever, and once you've discovered what's on offer in more southerly resorts than you're accustomed to skiing, you can't help wondering what might lie even further south. I certainly did, which why I ended up putting a lot of mileage under my skis in fun places like Albiez, l'Alpe d'Huez, Les 2 Alpes, Chamrousse, La Norma, Orelle, Saint-François Longchamp, La Toussuire, Val Cenis, Valfréjus, Valloire, Vaujany, Termignon, etc.
It's a long list (and there were others..) and got me thinking: 'This is great – why don't we just keep going..?'.
"Over the Col du Lauteret and…"
So on my next ski trip I did just that. I headed over the Col du Lauteret and dropped in on Serre Chevalier, long considered as something of an alternative choice, since the name refers to the ski domain shared by a straggle of villages spread along the valley. That means you get big-mountain skiing with a choice of bases – friendly, year-round communities with their own individual personalities.
I've also stayed in neighbouring Briançon (France's highest city, and probably the smallest) which has masses of character plus direct access to "Serre Che'" via a high-speed gondola lift.
"Lunch in Italy, anyone..?"
Just beyond Briançon is Montgenèvre, my all-time favourite medium-sized ski resort. Why? Well, apart from it having become just a nice place to be, since through traffic was consigned to a tunnel, there's the killer bonus of being able to ski straight across the adjoining border into Italy, to enjoy the pistes of Clavière, Cesana, Sansicario, Sauze d'Oulx and Sestrière.
Down here, despite often epic snowfalls, the Mediterranean influence is already evident, with the same clear blue skies which characterize skiing further south in the Hautes-Alpes and Alpes d'Haute-Provence. Places like Le Dévoluy, Les Orres, Orcières, Pra-Loup, Puy Saint-Vincent, Risoul, Val d'Allos and Vars have all given me truly superb skiing among some of the most dazzling scenery I've ever encountered. You won't hear their names dropped casually into conversation – or at least, not yet – but they offer fantastic, unpressured skiing to locals and others who take the trouble to discover them.
"I'll be back…"
But the rewards don't stop there. Away from the spotlight things are more down-to-earth, with lower prices plus a warmer welcome, from people who for the most part aren't just there for the season. Oh, and let's not forget those steely-blue skies.
I've recounted my experiences at all the resorts I've mentioned above in the Insight section of our detailed, independent resort reviews – take a look and I think you'll understand why I'm a genuine fan, and why I plan to go back to ski them whenever I get the chance.